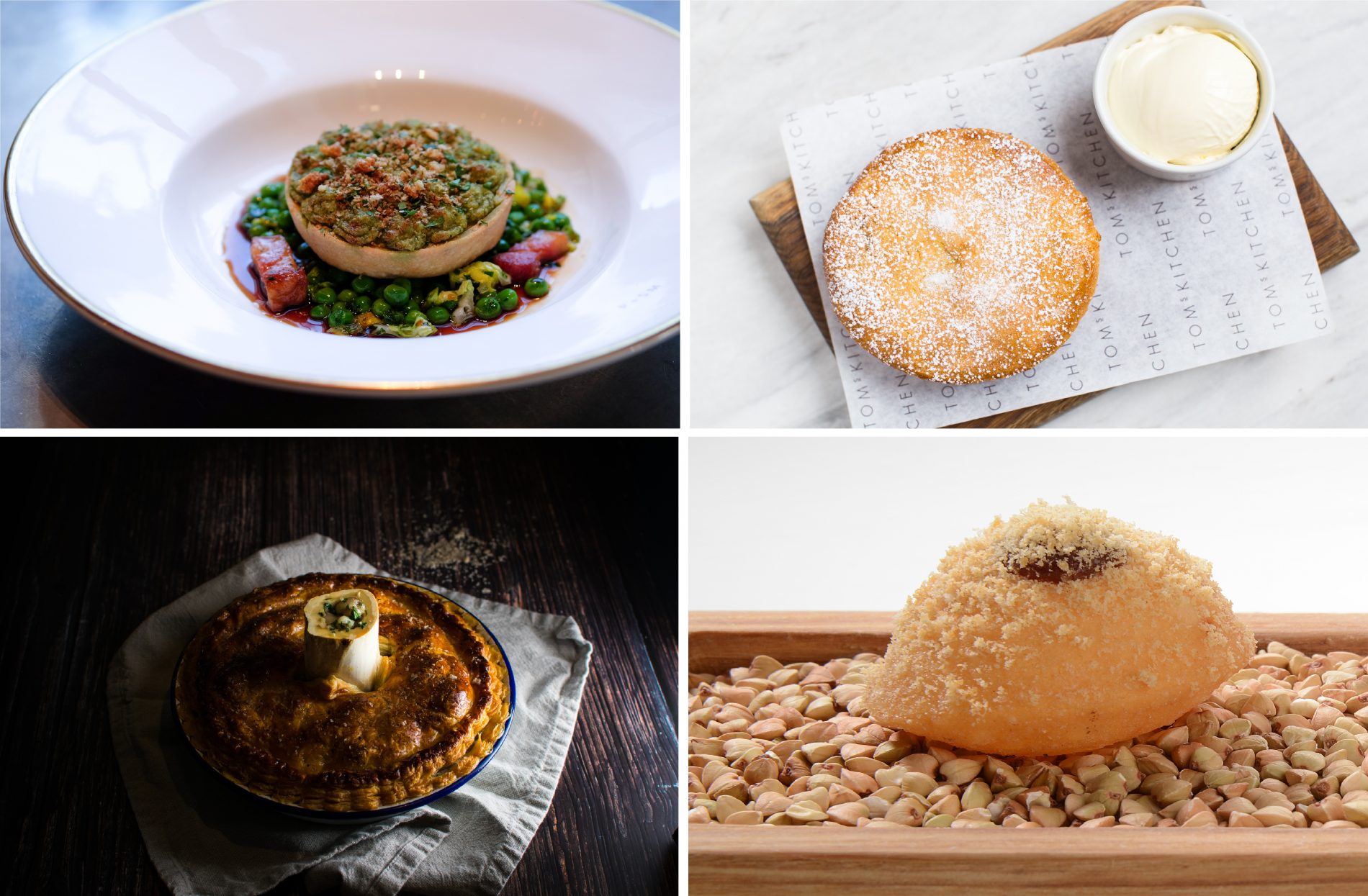 This week (4th to 10th March) is British Pie Week and to celebrate it in style, we put together some of the best sweet and savoury pies you can find in London!
Pithivier Pie at The Baptist Grill
Executive Chef Tony Fleming serves his signature pithivier at the Baptist Grill at L'Oscar hotel, Holborn, with seasonal and frequently changing fillings including Butternut squash with sage, parmesan and mustard fruits (£20). Ideal for celebrating British Pie Week, the luxurious pithivier is a staple of Fleming's, offering the typical rich and comforting flavours found in a pie but with an elegant twist.
Classic Chicken Pie at Plum + Spilt Milk
Plum + Spilt Milk is celebrating British Pie Week this year with a bespoke Classic chicken and leek pie with wild garlic mash, braised peas, bacon and lettuce. Served only from 4th – 10th March, Chef Mark Sargeant has curated the comforting classic pie to be served with contemporary sides to compliment the elegant restaurant interiors.  Priced at £19.50, this is the ideal option for those looking for a luxurious pie this March.
Baked Apple & Blackberry Pie at Tom's Kitchen
Sweet, buttery pastry encasing a warm blackberry and apple filling; this pie is the ultimate comforting dessert for a winter's day. Founded by highly-acclaimed chef, Tom Aikens, the Tom's Kitchen restaurants in Chelsea, Canary Wharf and Birmingham are renowned for serving contemporary British dishes and comfort food classics, using the finest seasonal ingredients, with an emphasis on where food comes from and how it is grown.
Atul's Chicken Tikka Pie at Kanishka
The perfect combination of two favourite dishes, Atul Kochhar's Chicken Tikka Pie is on the menu at his new restaurant Kanishka, on Maddox Street. As the first Indian chef to win a Michelin-star, Atul's pie shows suitable finesse – chicken tikka masala is served in a crisp puff pastry alongside cumin scented berry compote.
Traditional Lancashire Butter Pie at Northcote
Begin the perfect meal with Lisa Goodwin-Allen's modern take on a traditional Lancashire great; the Lancashire butter pie. The Michelin-starred restaurant at Northcote, located in the heart of the Ribble Valley, offers a modern take of the butter pie as a canape at the restaurant. This finessed product of traditional Lancashire cuisine combines onions, potatoes and pastry to create a simple but splendid dish.
Beef shin and bone marrow pie by Steve Groves, Roux at Parliament Square
Head chef Steve Groves is best known for his refined plates and dainty dishes at Roux at Parliament Square. However at home, he is far more likely to be whipping up a one-pot wonder or sharing dish for him and his family. For pie week, he has penned a recipe for his delicious beef shin and bone marrow pie, the perfect supper for a cold wintery night!
Ingredients
Serves 4
1kg Beef shin, diced
2 garlic cloves, chopped
10 shallots, peeled and halved
200g Chestnut mushrooms
1tsp chopped thyme
500ml red wine
500m Beef stock
60g Plain flour
2x 4-inch centre cut veal marrow bones
300g Puff pastry
1 egg beaten
Method
1 – Pre heat oven to 150 ⁰c
2 – Marinate the beef in the red wine, garlic, shallots and thyme overnight. Strain the beef and reserve the wine. Separate the beef from the herbs and vegetables then season with salt and pepper and toss in the flour. Sear in batches in a heavy bottomed casserole dish.
3 – Colour the shallots and mushrooms in the casserole dish then add the wine with the herbs and garlic, reduce until syrupy then add the beef stock and browned beef. Cover with a lid and cook in the oven for around 3 hours or until tender.
4 – Allow to cool slightly and turn the oven to 180 ⁰c.  For the bone marrow you can just pop one of the bones in the centre of the pie with a good pinch of salt and pepper and allow it to melt into the pie below. For this pie I have pushed the bone marrow out of the bones and diced it, season it with salt, pepper, finely diced shallot, parsley and a few capers and mixed it through the beef.
5 – Place the marrow bone in the centre of a 22cm pie dish and spoon the beef mixture around. Roll the puff pasty out to around 3mm thick ensuring that it is large enough to cover the pie. Cut a cross in the middle to make a hole for the bone then lay over the top of the pie and cut around the edge. Brush with the beaten egg then season with sea salt and black pepper. Bake the pie for 30-35 minutes or until a deep colour is achieved on the pastry.
6 – Serve with buttery mashed potato and fresh steamed green vegetables.