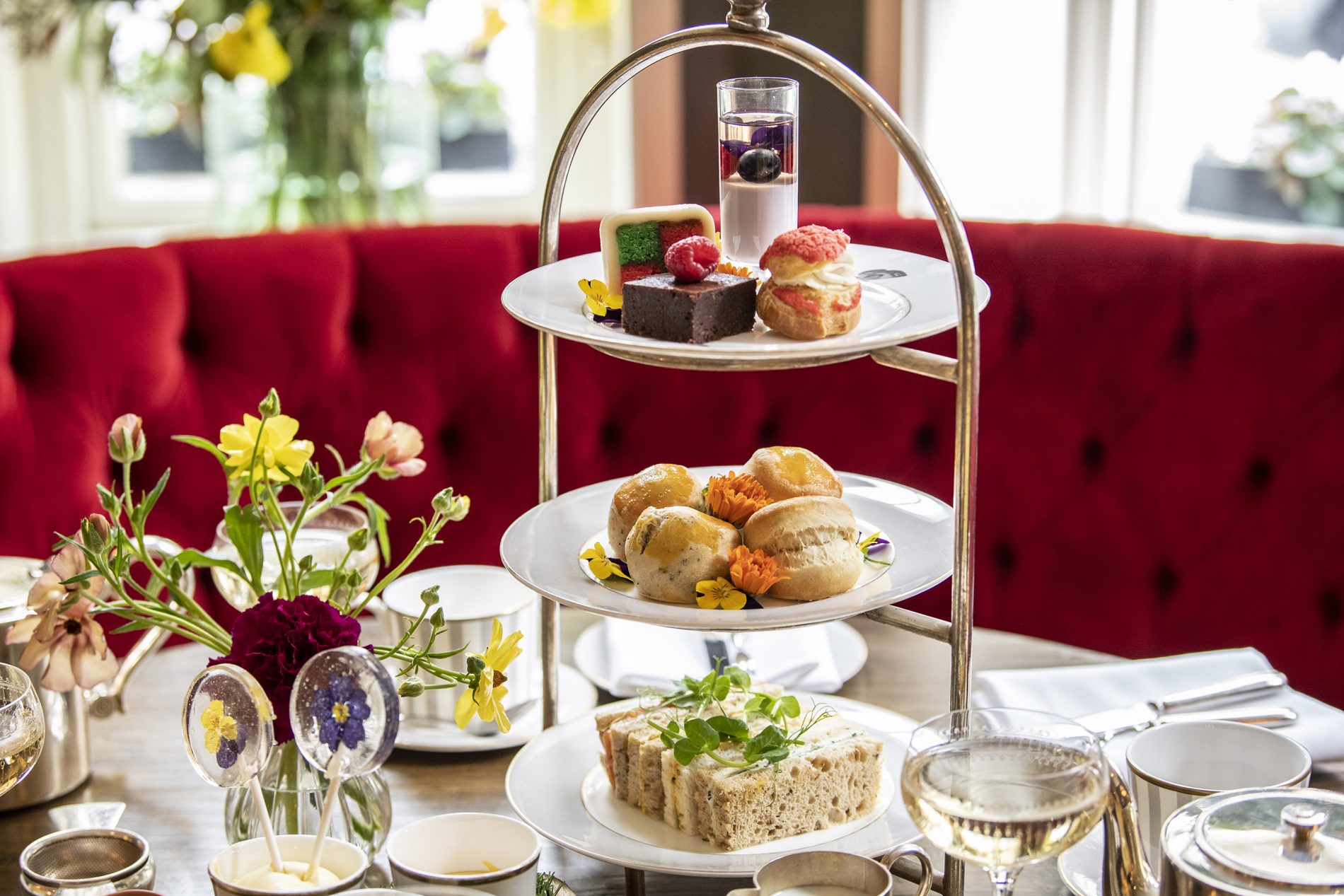 Spring is here and local favourite, 108 Marylebone Lane is delighted to unveil its new English Country Garden Afternoon Tea. This season also marks the launch of 108's first ever full menu of Vegan Afternoon Tea treats. The quintessentially British Afternoon Tea is designed to encapsulate an idyllic English country garden in springtime and can now be enjoyed by all. The new offering is complete with an extra floral twist; a lollipop encasing an edible flower allows guests to take a taste of 108 Pantry's English Country Garden home.
Having long been known for its gluten free and dairy free Afternoon Tea, 108 Pantry is now making sure it's delectable delights, created by Executive Chef Russell Ford and Pastry Chef Moinal Islam, are available to everyone with their new vegan menu. The best of the season can now be enjoyed in a full Vegan Afternoon Tea menu of delicious plant-based savouries, sweets, scones and spreads.
The launch of the Vegan Afternoon Tea allows guests to enjoy a slice of the British springtime with a menu bursting with floral flavours and the freshest, seasonal ingredients. Highlights of the new menu include savoury sandwiches filled with Smashed Avocado, Roasted Piquillo Peppers & Rocket or Barbecue Baked Sweet Potato, Coriander, Lime & Cashew Mayo on Onion Bread. New vegan sweets include delicious plant–based choices such as Lemon Drizzle Cake, Cashew & Blueberry 'Cheesecake' and Salted Caramel Slice with Toffee Popcorn.
Highlights of the fresh incarnation of the Classic English Country Garden Afternoon Tea menu include Truffled Copper Marans Egg Mayonnaise and Heatherfield Smokehouse Smoked Salmon with Lemon Crème Fraiche. Delights on the Classic menu, with almost identical gluten free options including Lavender Panna Cotta with sparkling wine jelly and Elderflower & Strawberry Battenberg. The delectable Afternoon Tea will be served alongside 108 Pantry's assortment of rare teas for £32, and with a glass of English Sparkling Wine for £42.
Homemade scones with a selection of preserves and clotted cream will also be available alongside a charming floral lollipop that guests can take away with them. The lollipops are a delicious candyfloss flavour, and have delicate edible flowers set within them.
The English Country Garden Afternoon Tea captures the essence of the changing weather with a menu which takes inspiration from authentic British cuisine and embraces the four seasons, using ever changing seasonal ingredients. From grass meadow serving boards, edible flowers and fork and spade fashioned cutlery, guests are sure to be transported to a tranquil English Country Garden scene in the heart of London.
Also available as an additional alcoholic accompaniment are four English Sparkling Wines: Sussex, Nyetimber Classic Cuvée; Kent, Gusbourne Estate Brut Rosé; Sussex, Ridgeview 'Cavendish' Brut 2014 and Hush Heath Estate, Balfour. A special English Sparkling Wine cocktail, 'Lady Ruby', will also be available for £12.