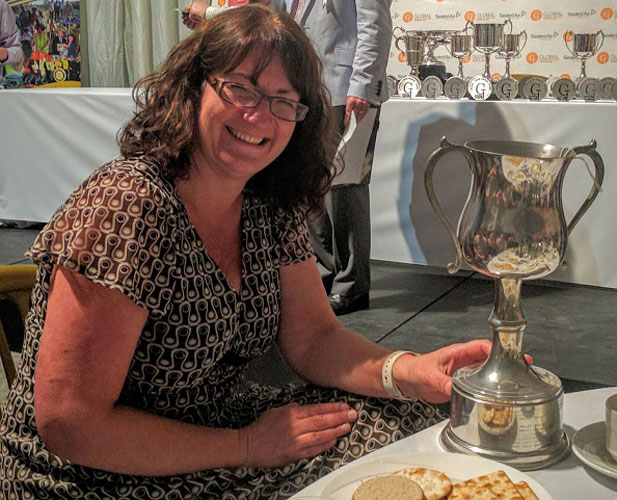 The UK's largest independent cheese producers and producers of renewable energy, Wyke Farms, have announced the appointment of Diane Cox as official 'Technical Director' in charge of Cheese and Butter Grading.
Renowned former Technical Director Nigel "the Nose" Pooley has graded approximately 520 million packs of cheese and butter in his lifetime. Nigel has announced his retirement and is handing over the cheese iron to Cox. Nigel has been training Diane for more than 10 years in order for her to replace him and his famous £5m nose. In 2009, his nose was estimated to be worth the impressive amount to the company, by way of insurance.
Having worked her way up from Site Technical Manager to Group Technical Manager, Cox will step into the role as an official Wyke Farms cheese grader immediately. Her responsibilities will include selecting the Wyke Farms cheese and butter only when it has matured to perfection, making sure the flavour is consistent throughout the 15,000 tonnes produced every year. Diane will report to Rich Clothier, third generation family member and Wyke Farms Managing Director.
Rich Clothier said: "This is a big transition for Wyke Farms. Replacing Nigel is no easy task. Diane's background is a great fit for this role and I have no doubt she will continue to make sure our cheese and butters are of the consistent high quality our consumers demand.  She has been part of the family for some time now, we are delighted with her promotion."
The company is in talks with insurance companies to protect Diane's nose/sense of smell and plan to secure a policy covering her assets for up to £5 million pounds.
Wyke Farms has grown to become one of the largest family-owned cheese makers in Britain selling over 15,000 tonnes annually. The company has been producing its award-winning cheddar for over a century.
Diana Cox
Nigel Pooley