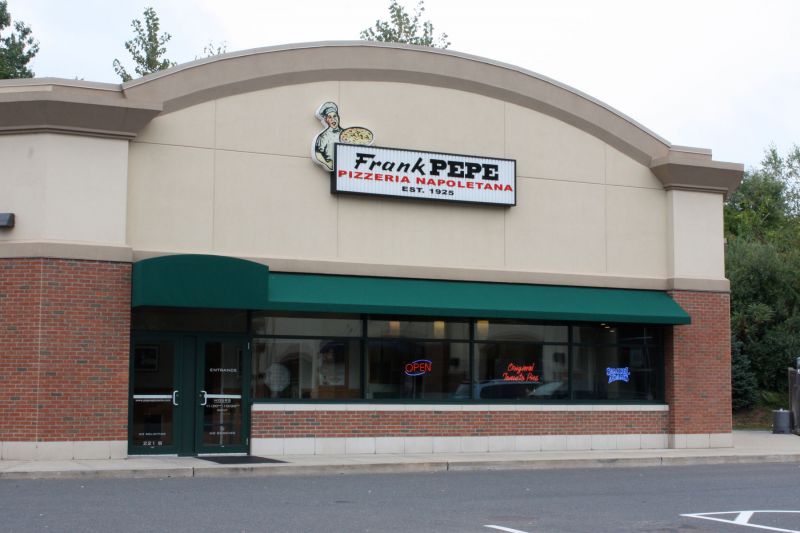 New Haven, Connecticut-based Frank Pepe Pizzeria Napoletana (widely-known as "Pepe's"), world-famous for New Haven-style pizzas since 1925, is pleased to announce the public opening of their first Boston Area location (their eighth) at The Chestnut Hill Mall (recently renamed The Shops at Chestnut Hill) in Chestnut Hill, MA on Wednesday, December 16, 2015.
Open seven days a week from 11AM, Frank Pepe of Chestnut Hill will serve guests the signature thin-crust pizzas they've enjoyed for years in 12", 16" and 18" sizes.  Perfect Pepe's Pizzas, a unique combination of crunch, chew, and char are only produced using Frank Pepe's original 1925 recipe and the coal fired, hand-built brick oven he used in 1925.  The oven built on site in Chestnut Hill is a brick-by-brick duplicate of that oven, including iron castings from the original mold. Pepe's Specialty Pizzas include the original White Clam Pizza, a combination crafted by Frank Pepe himself (fresh clams with grated cheese, olive oil, fresh garlic and oregano), Spinach Mushroom and Gorgonzola (mozzarella and grated cheese), and Quattroformaggi (crushed Italian tomatoes, mozzarella, asiago, goat cheese and pecorino with olive oil and basil. In addition, guests can enjoy a traditional "Pepe's Salad" (seasonal greens, grape tomatoes, cucumber, shredded red cabbage, Kalamata olives, Pecorino Romano cheese and balsamic vinaigrette) or Caesar Salad, along with a selection of red and white wines by the bottle, glass, or carafe. Non-alcoholic beverages including New Haven's well-known Foxon Park soda and an assortment of imported and domestic craft beer will also be offered.
"The number one priority is maintaining our family tradition of serving fresh, high-quality pizza that tastes as good as what we've been serving in New Haven since 1925," said Gary Bimonte, Grandson of Frank Pepe and Director of Quality Assurance & Training. "Our guests are an extension of the Pepe family, and we're thrilled to finally be a part of the exciting dining scene in Greater Boston."
"Our guests deserve to have an authentic Pepe's experience every time they walk into one of our restaurants, which is why we're so passionate about creating a warm, familiar, and family-friendly atmosphere with each new location," said Ken Berry, President & CEO of Frank Pepe's Development Co., LLC.
Inspired by the look and feel of the New Haven location, Designer William Andriopolous of Norwalk, CT-based Andriopolous Design Associates created an atmosphere for Frank Pepe of Chestnut Hill that evokes the comfort, familiarity and tradition of the original.  The 3195 square foot, 84 seat restaurant is visually dominated by the view of its 14 by 14 foot (!) brick oven and the even larger "paddle area," where expert pizzaiolos create made-to-order masterpieces on a marble counter and use 16 foot-long paddles to place them in the giant 104,000 pound oven.  Framed by an arch of traditional white ceramic tile, the "paddle area" also boasts a white antique-style tin ceiling and custom-made art deco-style pendant lighting that complete the iconic look and feel of the center stage prep area.
Bringing the Pepe experience full circle is an array of signature design elements that have been incorporated into the main dining area: an antique-style tin ceiling painted in a historic green hue, painted wooden booths featuring a wainscoting backing with vintage coat rack hooks, historic photos of Pepe's 90 years in business, and vintage wallpaper featuring subtle neutral brown and light gray tones, which first appeared on the walls of the New Haven location.  Traditional Pepe's elements incorporated into the space include a neon sign that spells out "The Original Tomato Pies" and the classic Frank Pepe's "bakers sign." Adding a modern yet ageless touch to the space are ceramic floor tiles featuring a cherry finish, which flows out of the restaurant and into a 10-seat indoor patio bordered by black wrought-iron railings. A pick-up counter conveniently located just inside the main entry and designated "Reserved for Pepe's Takeout Only" parking spaces make To Go orders quick and convenient.
Founded in 1925 in New Haven, CT by Frank Pepe, who immigrated to the United States in 1909 at the age of 16, Frank Pepe Pizzeria Napoletana operates locations in New Haven, Fairfield, Manchester, Danbury, West Hartford and Uncasville, CT, and Yonkers, NY.
Frank Pepe