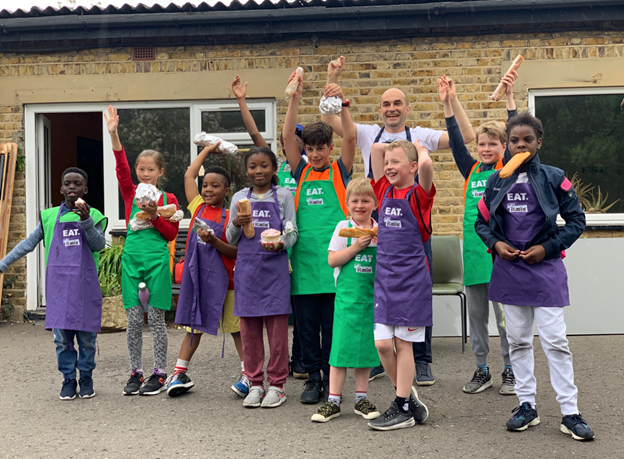 EAT. builds national partnership with children's charity initiative, Fit and Fed, to reclaim the summer for children at risk of holiday hunger and inactivity
EAT. is proud to partner with Fit and Fed, an innovative holiday programme led by StreetGames, to launch a summer campaign, highlighting the importance of providing real food to real people, and the relationship between nutritious food and fitness during the summer, which will run from 19th June until 31st August, aiming to raise over £25,000 for the charity.
Devastatingly, an estimated 3 million children are at risk of experiencing holiday hunger in the UK. The triple threat of hunger, isolation and inactivity means that many children are losing 80% of fitness built up over the school year and are more likely to be obese and suffer from poor mental health.
Fit and Fed works to reclaim the summer by supporting projects in the heart of local communities across the UK, giving them free access to sports and healthy meals.
Across all of its UK stores, EAT. will hero four 'Fit and Fed' stickered products, including a new Wiltshire Ham & Piccalilli Bloomer, and Mozzarella, Pesto & Tomato Baguette, to raise money for the charity, donating 25p from the sale of each product to Fit and Fed, in addition to charity boxes to raise further donations.
A number of EAT. shops will have smoothie bikes, allowing customers to actively blend their own fresh fruit smoothie, all for a £2 donation which will go straight to Fit and Fed.
EAT. is already working closely with some of Fit and Fed's London-based projects, including one project which is based on the edges of the largest Housing Estate in London where 7,500 people live.
Executive Chef at EAT., Arnaud Kaziewicz, and MasterChef: The Professionals finalist in 2016, comments: 'We are so proud to work with StreetGames on their Fit and Fed initiative and have experienced first-hand the benefits their projects bring to children during the holidays – from social interaction with others, delicious, healthy food, sports activities and fun. The funding goes towards making sure projects like these can continue to be run, and also allow other projects to be set up.'
From 19th June, four Fit and Fed hero products, including a Wiltshire Ham & Piccalilli Bloomer, will be on sale at all EAT. stores across the UK, with 25p from the sale of each product donated to the charity, changing children's lives one bite at a time.
NEW Mozzarella, Pesto & Tomato Baguette (from £3.85) – Creamy mozzarella and juicy tomatoes with Genovese pine nut pesto and cracked black pepper on a soft white baguette.
NEW Wiltshire Ham & Piccalilli Bloomer (from £3.85) – Chunky Wiltshire Ham & Tangy Piccalilli with Garlic Herby Mayonnaise and Lettuce in our Dark Rye Bloomer.
BEST-SELLING Mexican Chicken, Guacamole & Quinoa Salad (from £5.50) – Our Chef's favourite! Guacamole, chilli chicken, wholesome quinoa and grilled peppers with crunchy corn… everything you expect from a Mexican inspired dish.
NEW Summer Berry Pot (from £2.75) – a fruit pot of Strawberries, Blackberries and Blueberries.
Holly Oades, Customer Director, EAT., said: 'We are delighted and proud to build on our existing relationship with Fit and Fed. In 2018 we raised over £10,000 through our charity box collections in store, and since then have been working closely with Fit and Fed on how to build on the support for this fantastic charity and help in their goal to reclaim the summer holidays for children across the UK. Our ambition for this summer alone is to raise over £25,000 and generate as much awareness for Fit and Fed as we possibly can.'
Mandy West, Head of Corporate and Major Donor Fundraising, adds: 'We're tremendously excited to be involved in this campaign. The team at EAT. all have an enormous sense of enthusiasm for this work, and we are absolutely thrilled to be collaborating with them to do more for young people with less. Together, we can put a stop to holiday hunger, inactivity and isolation'.
EAT. will aim to support the charity across all channels in store and online to encourage customers to donate and send squads out of their shop environment to collect further donations and offer samples of the new 'Fit and Fed' stickered products on sale.  Through EAT.'s Charity Committee there will be opportunities for EAT. employees, from shop to head office, to get involved through fundraising and volunteering.