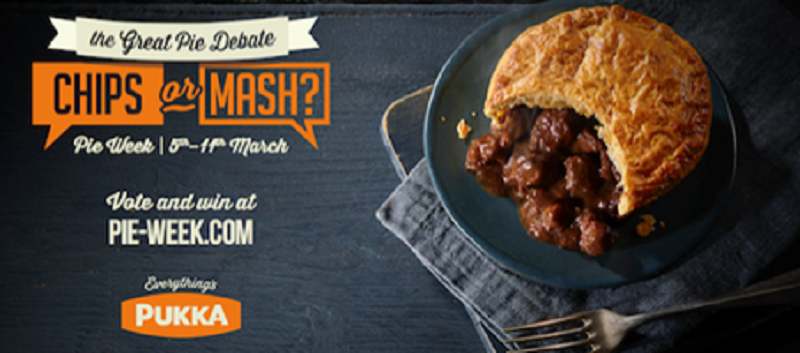 This week (5th – 11th) is the British Pie Week and with this occasion the number one pie brand Pukka Pies would like to invite the nation to be part of their new campaign fronted by Freddie Flintoff and vote mash or chips as their favourite pie accompaniment.
The campaign was launched today and consumers can vote for their chosen pie accompaniment online at www.pie-week.com. It is set to reach over 7 million people through outdoor promotion, social media, radio, and PR.
"It's hard to say no to a tempting plate of pie, so it's great to be fronting Pukka Pies' campaign which celebrates our nation's love of the classic dish. It's a tough choice so I am excited to see which accompaniment takes top spot in the UK," said Freddie Flintoff, presenter, broadcaster, and cricketing legend.
Between Monday the 5th and Thursday the 8th of March, Pukka Pies will be giving away £100 a day, as well as hundreds of free pies to a number of lucky voters in The Great British Pie Debate at www.pie-week.com.
"We want to amplify the UK's love of pies even further with our new campaign, which is set to engage consumers by letting them decide which pie accompaniment comes out top," said Lindsay Filmer, Head of Marketing at Pukka Pies. "Whether it's mash or chips that takes the crown, there's nothing better than a convenient, tasty Pukka Pie to celebrate Pie Week."
Pukka Pies has seen record breaking sales in 2017 due to the launch of its multi-million pound 'Everything's Pukka' campaign and is continuing to drive sales growth this year as well.
Pukka Pies is the UK's number one Hot Pie Brand across the foodservice and grocer sectors, supplying fish and chip shops, stadia and supermarkets with the highest quality light, flaky puff pastry with 144 layers, select cuts of meat and flavoursome gravies.