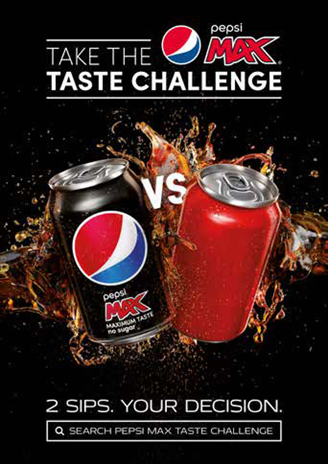 Pepsi MAX is bringing back the Pepsi MAX Taste challenge after experiencing an increase in its share of the cola category, achieving volume share of 21.2% in the three months to July.
Originally launched in the 1970s, the famous Pepsi Taste Challenge is back for 2018 in a bold and refreshed way. Pepsi MAX encourages people to take part in a blind taste test of two sips to decide the better tasting cola. The multi-million-pound campaign, which includes TV, OOH and digital advertising, aims to reach 90% of the total UK population and encourage consumers to re-appraise their cola choices.
"We know that consumers enjoy the taste of Pepsi MAX and that once they've tried it, they buy more, more often. This is expected to grow even further with the increased exposure and awareness generated by our Taste Challenge campaign this summer so would recommend customers stock up now," said Bruce Dallas, Marketing Director at Britvic GB.
The Taste Challenge will be supported with heavyweight experiential activity, giving the nation the chance to take part, with pop-up sampling in 44 locations across the UK. Throughout the summer 100,000 taste challenges will take place. For full details of the locations, visit www.pepsi.co.uk.
Earlier this year, the Pepsi MAX summer of football activity was kicked off with the 'LOVE IT. LIVE IT. FOOTBALL' TV advert. The brand also ran an in-store partnership with Walkers to create an occasion-based solution ahead of this year's summer of sport. The snacking and cola partnership in the grocery channel achieved the brand's highest ever levels of feature and display in grocery, ultimately driving sales for customers.
PepsiCo products are enjoyed by consumers more than one billion times a day in more than 200 countries and territories around the world. PepsiCo generated more than $63 billion in net revenue in 2017, driven by a complementary food and beverage portfolio that includes Frito-Lay, Gatorade, Pepsi-Cola, Quaker and Tropicana. PepsiCo's product portfolio includes a wide range of enjoyable foods and beverages, including 22 brands that generate more than $1 billion each in estimated annual retail sales.