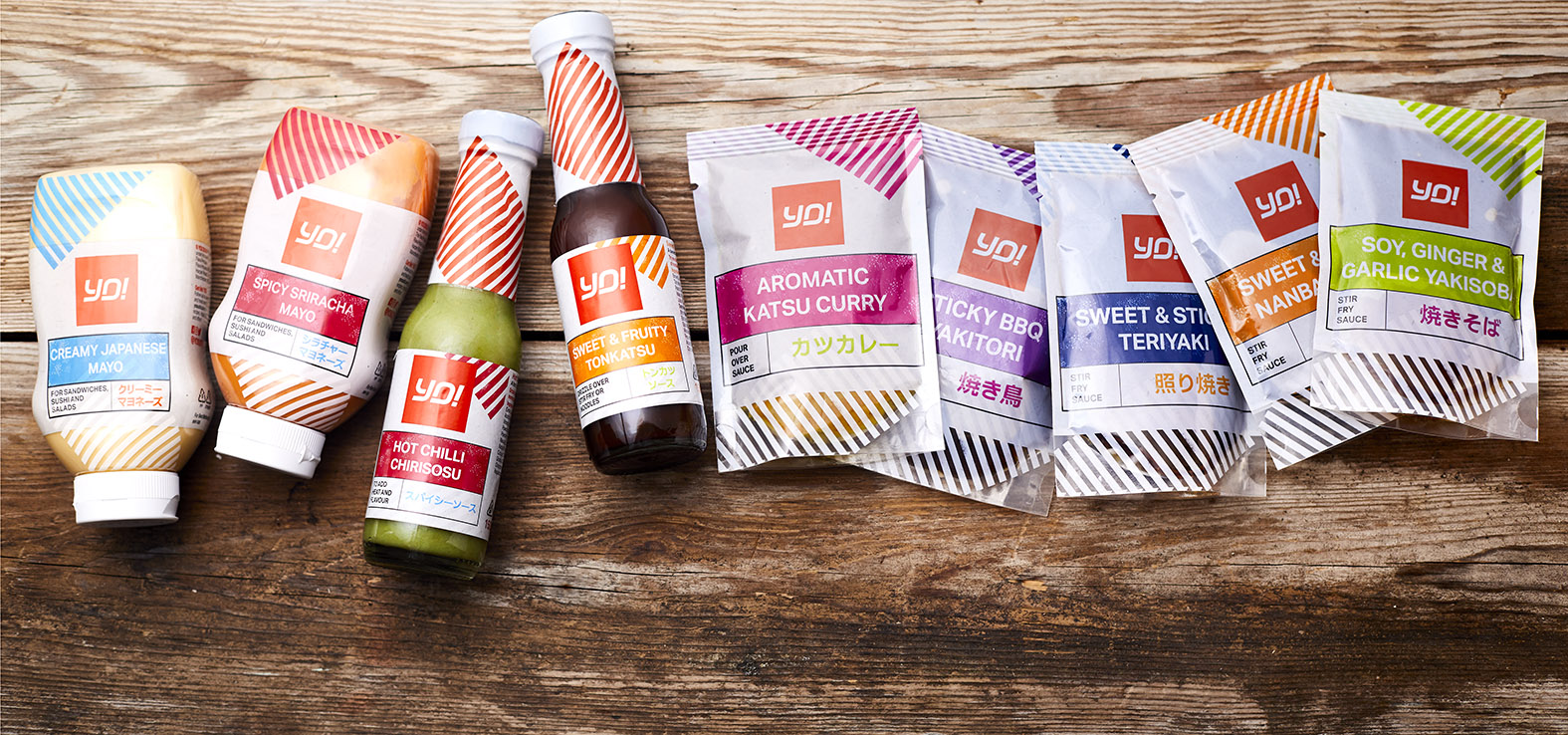 Stir up a taste of Tokyo in your own kitchen with YO!'s first at-home product range
Everyone's favourite sushi and fresh Japanese food restaurant, YO!, is bringing its furiously fresh flavours to you with its first product range hitting supermarket shelves from mid-May. Re-create your most loved YO! dishes in the comfort of your own home, using a selection of delicious, easy-to-use products, from sauces to seasoning, and marinades to mayos.
Designed to tantalise every taste bud, the Japanese-inspired range includes vegan and vegetarian-friendly options, as well as two rich and creamy mayonnaises. Whether you want to flex your culinary skills with a YO! classic – Hello Katsu Curry! – or spice up a less than exciting dinner with some new flavours, the new range brings YO!'s fun, fast and fresh experience home for the very first time.
Proving that Japanese food is so much more than sushi and raw fish, there has never been a better time to get YO! cook on:
SAUCES:
Aromatic Katsu Curry (£1): pour over sauce paired brilliantly with breaded chicken, prawns and tofu for a mild, fragrant and creamy curry.
Sweet & Sticky Teriyaki (£1): tastes sensational with strips of beef, chilli and fresh noodles due to its rich and savoury honeyed soy sauce.
Sweet & Sour Nanbanzuke (£1): the perfect way to add tangy sweetness to cod, vegetables and fresh noodles.
Soy, Ginger & Garlic Yakisoba (£1): brings subtle heat and tang to chicken, crunchy vegetables and fresh noodles.
CONDIMENTS:
Sweet & Fruity Tonkatsu (£2): the perfect sad sandwich pick-me-up with a dark and rich fruitiness to rival any boring BLT.
Hot Chilli Chirosou (£2): start your day with a bang by drizzling the hot chilli and wasabi sauce over scrambled eggs.
Creamy Japanese Mayo (£2.29): a rich, umami mayo that brings out the best in sushi, burgers and fries.
Spicy Sriracha Mayo (£2.29): hot, rich and creamy, best with fried chicken, fries and sandwiches.
The seven new sauces, condiments and mayos will land in selected Tesco stores* from 12th May, with a further retail rollout from the Autumn, in a selection of 100g pouches, 150g glass bottles and 250ml squeezy bottles. For more information on Tesco stockists please visit, www.yosushi.com/product-range. To find out more about YO!, visit www.yosushi.com or follow @yosushi on Instagram, Twitter or Facebook.