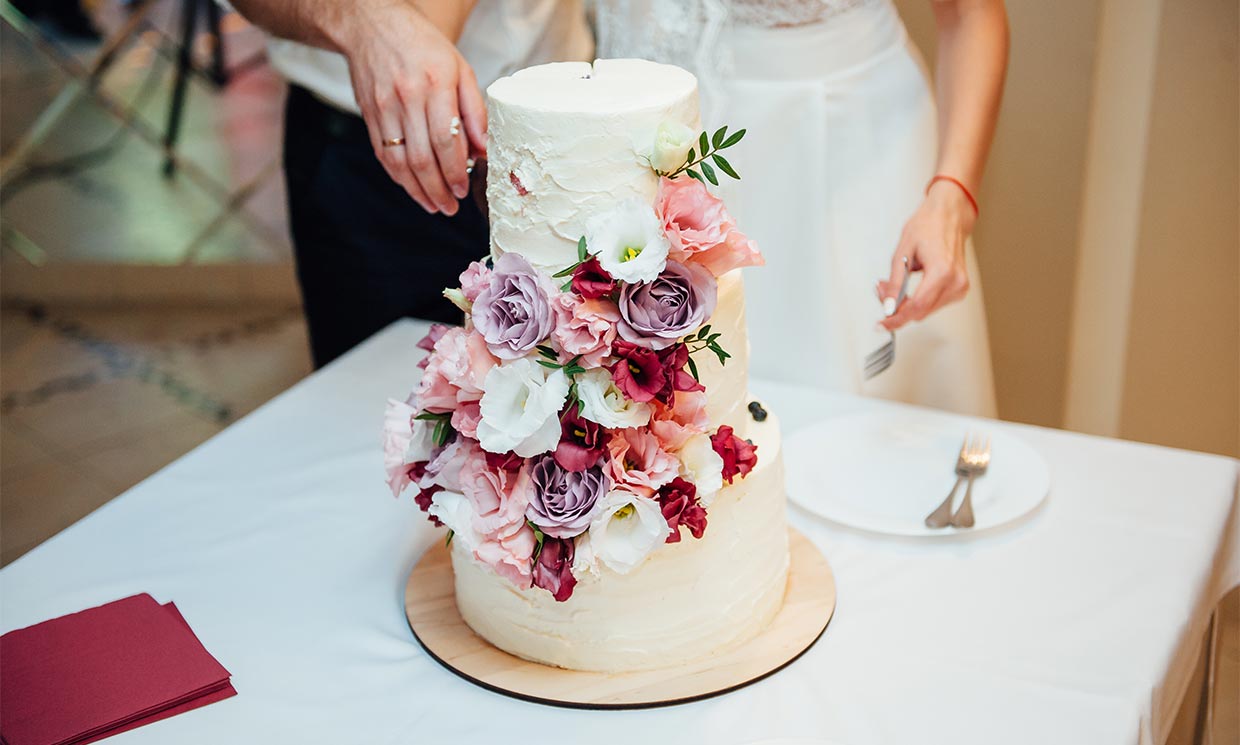 Your wedding cake is one of the focal points of your big day, so if you really want it to stand out to your guests as having the wow-factor, opting for an unusual style is a great way to achieve this. Your wedding venue will be decorated within your theme, but if you want your cake to really stand out then here are 6 creative ideas for you to explore…
Projection Cake
It may seem like a strange idea but having a projection cake on your wedding day is guaranteed to leave your guests amazed. The principle is that you have a plain block-colour cake, and then a video is projected onto it. The projection can be memories of you and your loved one, movie scenes or even some sparkles! The cake itself become part of your entertainment instead of just a part of your decoration.
Crystallised
A strong trend in regard to wedding cakes in the past couple of years is that of a Geode style decoration. A geode is a rock that has been cracked open to reveal a breath-taking crystal arrangement varying in colour and style. The crystal effect is achieved with sugar and food dye, and it really is a uniquely stunning twist on a typical wedding cake.
Fake Cake…
A more and more popular idea to have at your wedding day is to have a wedding cake…not made of cake! For example, stacking up cheese wheels gives the aesthetic of a wedding cake, however it appeals to a more savoury palette rather than sweet. The same can be done with pork pies, another savoury favourite, to achieve the same effect. The decoration can be olives, grapes, figs and various cold cut meats, meaning that your fake-cake will be just as beautiful as a real one!
Naked Cake
A naked cake is as the names suggests – naked! The point of a naked wedding cake is to accept that less is more, typically focusing on the 3D decorations such as flowers or berries. A plain sponge cake that has minimal icing, or none at all, a naked wedding cake tends to take less out of your budget without sacrificing the elegance of a traditional wedding cake.
Two Faced
More often, couples want to incorporate their hobbies or interests in their decorations to their special day, however this cake idea is a brilliant way to also keep the traditional style of a wedding whilst expressing yourself at the same time. The cake is split into two sides, a traditionally decorated side, but then an unconventional side too. This means that you get the best of both worlds!
Marbled Delight
Having one main colour to a wedding cake is the tradition, however more couples are choosing the marbled effect as a decoration. This style gives a really luxurious feel and is usually paired with gold leaf accents to really set the design off and make it stand out. The marble trend can be seen all over, but having it as a wedding cake design is a great way to give a custom feel to your wedding day.