5 different kinds of cake at 5 different bakeries|Instagram feasts
We think we can all agree that cake is simply the best thing in life. There's never a wrong time for cake, it's always appropriate, and you probably won't get in trouble if you eat it. You could be at your grandma's funeral, depressed, stressed out from work or uni – but as soon as everyone has their slice of cake, everything will feel better.
When I say "everyone", I mean EVERYONE! Even people who don't like dessert will still have a piece because they know how good it tastes, and you can't say no to someone who baked a beautiful cake just for them! The point is: It doesn't matter how full up we feel; there's always room for cake! And that cake tastes even better when it's served up in the most photo-worthy venues.
Let's look at 5 different kinds of cake at five venues starting with Peggy Porschen SW1W.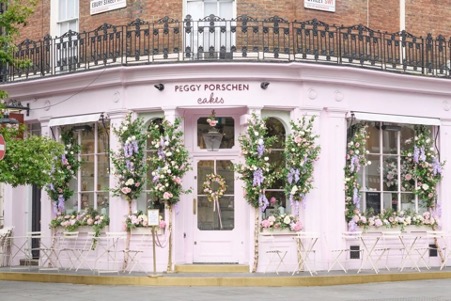 Photo by Peggy Porschen
Peggy Porschen – Cupcakes
What's not to go crazy about a place that serves up pink-coloured goodness? Peggy Porschen Belgravia is your go-to for all things sweet and feminine. With an exterior made from the most delicate of pastels, this café will have you hooked with its signature buttercream icing on every cake they offer – especially if it's proudly displayed in front!
Peggy's Layered birthday and celebration cakes are delicious, but the individual cupcakes are what makes this venue so unique. With so many themed treats to eat, Peggy's is a great place to start.
What makes Peggy's so IG friendly? It's not just because it's a beautiful shop, decorated inside and out like a Barbie's magic key house, and not just because the cakes are stunning (they are). It's the location. Found in upmarket Belgravia, it's the entire package that makes this seductive cake boudoir so fabulous.
Cutter & Squidge – Brownies
If you want to find a way to make someone feel special, Cutter & Squidge is your go-to bakery. With cake creations that will stop traffic and tempting sweets designed to each client's specifications (we've seen everything from devilishly sweet salted caramel cakes to squidgy chocolate brownies with just enough sweetness) this place has got it all!
A great spot in need of some flavour? They guarantee deliciousness personified and there are only natural ingredients used – no high fructose corn syrup here, ye honourable patrons! So, go on, taste what these guys can do because, after all, What's life without cake?
What the gram loves about Cutter & Squidge apart from the food is the decor, homey yet inspirational – who wouldn't want grass growing up their walls?
Ole & Steen – Danish Pastries
We know a lot of people who would love to get their hands on some Danish pastries. If you have been looking for Scandi-style baked goods, be sure and check out Ole & Steen!
The bakery has been in business since before most of us were born. They first opened up shop as just two friends with an oven right off the streets near Copenhagen's bohemian quarter.
Now you can find them closer to home in all the London locations that span through areas like Canary Wharf to Richmond. So whether it's one sweet tooth satisfier after another, this place has got what is needed.
If you look at Ole & Steens Instagram page, you will see they take great shots of all the food, displayed in huge racks, so everyone inside and out gets a glimpse of goodness.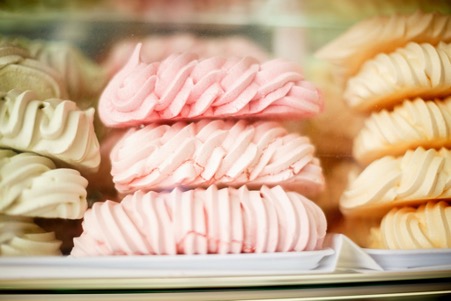 Photo by Janita Sumeiko on Unsplash
Meringue Girls – Edible Kisses
Meringue Girls make a must-have treat for anyone who loves the perfect balance between sweet, chewy notes on one side and soft mellowness on another. The edible kisses have been favoured by clients including H&M, Vogue, Selfridges – even Chanel!
You can't go far wrong with these yummy little gems that will make any day better (and maybe take away some stress too). Only sold online, but that doesn't stop them from appearing on Insta at any notable party.
We can't just talk about cakes; we must mention bread and doughnuts too.
Bread Ahead – Doughnuts
Bread Ahead is a brand born out of a London market and now operating in four different locations. You don't have to look too far – find them at Borough Market and Soho's Lafayette Grill & Bakery, where their menu spans all things bread-related; they even offer classes for those who want to learn from the master bakers!
Their Instagram is one popular spot with people looking into trying something new – doughnuts included.
Lastly, for good measure, let's talk about the Hummingbird Bakery.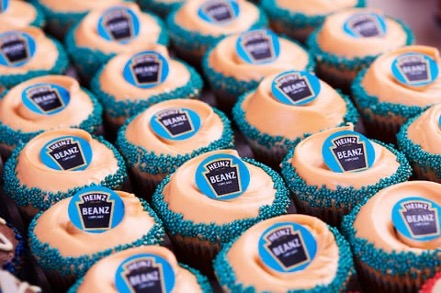 Photo by the Hummingbird Bakery
Hummingbird Bakery has been known for their unique cupcakes, and now they are taking on another popular baked good, condiments. This time around, the famous bakery in London will be bringing some of Heinz's most loved items such as beans, ketchup or even salad cream into dessert form! Not sure how it tastes?
We've got your back with these tasty treats that might surprise you more than expected, so don't wait any longer because Hummingbirds only sell these bakes during a limited time frame.