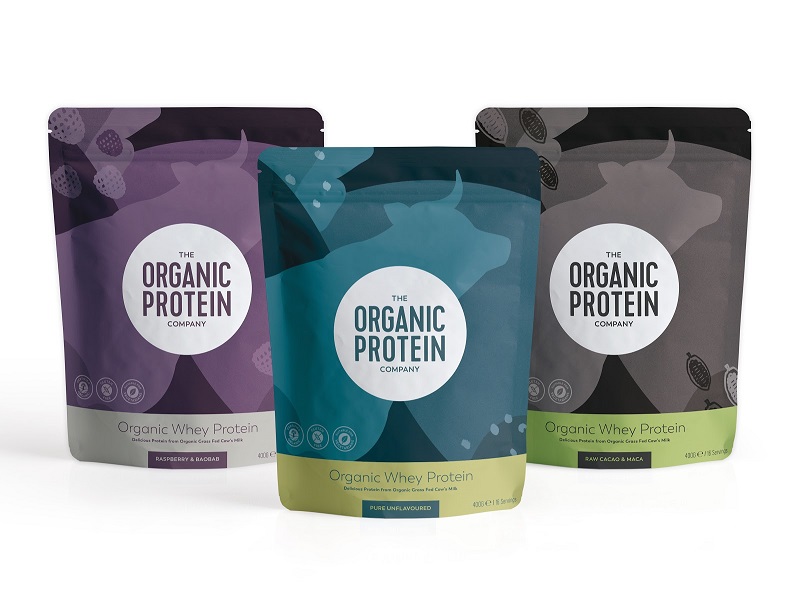 The Organic Protein Company has made available two new all-natural flavoured organic whey protein products: Raw Cacao & Maca and Raspberry & Baobab. Both of them can be found in 400g pouches or as the new 25g single serving sachets.
The new products perfectly fit into the company's multiple award-winning pure unflavoured organic whey powder range launched in 2014. They are all available on Amazon UK, Ocado, Whole Foods, and in more than 200 independent health stores nationwide.
The company has also decided to rebrand its packaging which will communicate better the brand's values of ethical sourcing and transparency. "It will also reflect the growing demand from people seeking extra protein for health and wellness reasons," added Managing Director Daniel Whitehead.
The Raw Cacao & Maca Organic Whey Powder contains raw cacao, raw maca, a dash of unrefined coconut sugar and a sprinkle of pink Himalayan salt, while the Raspberry & Baobab Organic Whey Powder contains freeze dried organic raspberries, baobab and a dash of unrefined coconut sugar. The two products have no artificial flavours added or anything else that is not stated on the label.
"The Organic Protein Company has always chosen to be transparent about what's in its protein powder, stating on the pack where every ingredient its sourced, along with a link to independent lab test certificates on its website, to reassure customers that the nutritional information on the packs is correct. We have independent lab test certificates available for our nutritional profiles. By holding itself up to scrutiny The Organic Protein Company is committed to deepening the trust it has built with its customers since its launch in 2014," explained Daniel.
For every pack sold, the company will donate 25p to Compassion in World Farming, collaboration that started at launch in 2014.