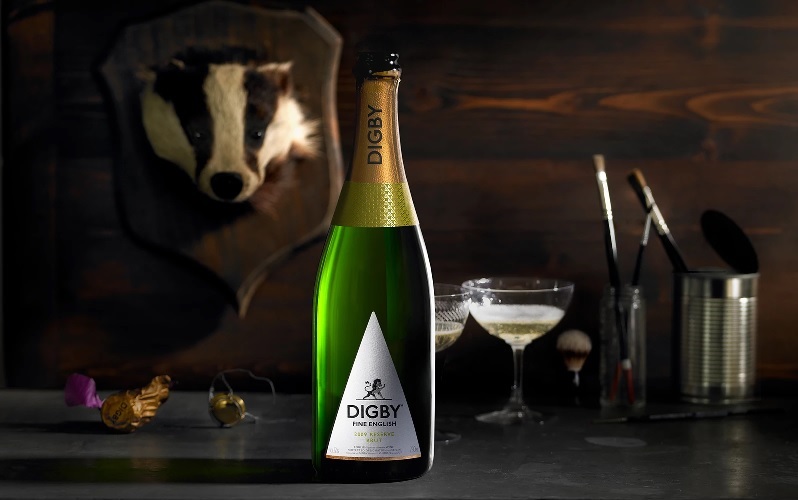 Digby Fine English is truly leading the charge in transforming English fizz into an internationally desirable category which has been reflected by their three Gold medal wins, so far this year. Digby achieves racy yet sophisticated house style through the refined art of blending, using grapes grown by its meticulously groomed partner vineyards in the chalky soil of Kent, Sussex, Hampshire and Dorset.
2010 Vintage Reserve Brut
Digby Fine English's 2010 Vintage Reserve Brut, its flagship wine, has been awarded a Gold medal at the Champagne & Sparkling Wine World Championships, the most respected, comprehensive and rigorous international sparkling wine competition in the world. The well coveted awards will unveil Trophies & Best in Class later this year with Digby Fine English hopeful for another win. Elegant yet forward, this vintage sparkling wine is a blend of Chardonnay, Pinot Noir and Pinot Meunier grapes. The slow ripening conditions of the long Indian summer produced outstanding fruit quality giving it its fantastic taste. High energy on the nose with a rich body reflecting five years of lees ageing, the Vintage Reserve Brut has a well-integrated seam of acidity drawing the sipper through layers of lemon magnolia and lightly poached apples to a long finish of brioche and gunpowder.
Leader Pink NV Brut
Digby Fine English's Leander Pink Non Vintage Brut has been awarded a Gold medal at the International Wine Challenge awards 2019 scoring 95 points and being described as, 'delicious mature notes of spice, coffee, cream and plums. Pretty in its lightness and well balanced.' Jubilant yet gracious, Digby Leander Pink NV Brut is the quintessential partner to the Summer Season. The blend celebrates England's most vibrant Pinot Noir with rich, aged Chardonnay and ethereal Pinot Meunier. It is a gloriously more relaxed rendition of their racy yet sophisticated house style, with an elegant pink hue to compliment Leander Club's official pink colour. Plus part of the proceeds of each bottle sold helps Leander Academy in Henley-on-Thames to develop teenage athletes into Olympic rowing champions.
Non-Vintage Brut
Digby Fine English's Non Vintage Brut NV has been awarded a Gold medal at the WineGB Awards 2019, sponsored by Rankin and Waitrose. Made up of 40 percent Pinot Noir, 25 percent Pinot Meunier and 35 percent Chardonnay providing a round, rich, open heart; a blend for love, adventure and fun. Digby outshone 254 other wines that were entered to win one of only 39 gold medals.
Trevor Clough, Co-Founder & CEO, says: Our English wine adventure is all about excellence and fun, and we are tickled pink about this hat-trick of Golds for our three main wines. Supreme quality is the promise to the world that is helping make Britain internationally renowned in the glass. What a dream!
The brand has previously won an extensive array of trophies and accolades for its range, with its flagship wine 2010 Vintage Brut winning Gold at the UK Wine Awards along with the 'Most Outstanding Classic Style' trophy, and Non Vintage Brut won Platinum / 97 Points in Decanter World Wine Awards 2018.
In addition to it's Gold medals this year, Digby has officially opened its doors to the Digby Fine English Tasting Room in the heart of Arundel, West Sussex. Located steps away from the historic and beautiful Arundel Castle and a few minutes from where the wine is made, the new brand home is set to host, educate and entertain customers from around the world. As Digby Fine English continues to be an innovator in the English wine category, this new addition will allow more visitors and Digby enthusiasts to experience the renowned British brand.
The Digby Fine English Tasting room is open from Wednesday to Saturday 10am-6pm and Sunday from 11-4pm or until 8.30pm by appointment. The Tasting Room is also available for private and ticketed events from 6pm-10.30pm upon request.
Address: 55-57 High Street, Arundel, West Sussex, BN18 9AJ
Telephone: +44 20 7112 8887