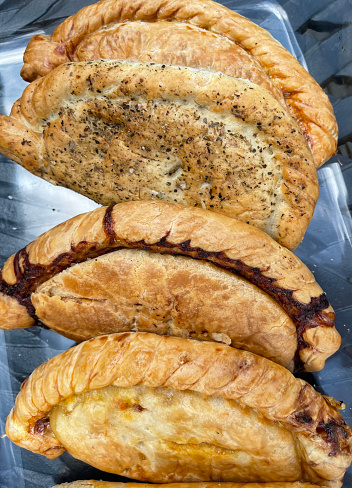 Cornwall is perhaps best known for its beautiful, picturesque beaches, a haven for surfers from across the UK. It is also the no.1 holiday destination popular amongst local and international tourists. The county has its fair share of history, evident from castle ruins and tin mines that you are never too far from. The counties history is also something to be celebrated with lots of local produce and scenery that never gets boring.
If you happen to be in Cornwall and are visiting family or going back home, you will be expected to take a couple of Cornish gifts. Fortunately for you, we have a few ideas.
Cornish Clotted Cream
Clotted Cream tastes great; it is rich and looks great, so it is considered the pride of West Country. If anything, it's the perfect gift you don't need to take it overseas.
Clotted cream is traditionally made by heating milk gently, with the cream rising to the top and then taken off. The skimmed milk is then left behind, given to turkeys and pigs. Today, a special separator is used; the cream is first pasteurized, and then it is baked to form a crust and finally chilled till it is set.
The Cornwall or Cornish Pasty and Dairy
The Cornish pasty is globally recognised and referred to by the locals as "oggies." The pasty is traditionally a dish filled with swede, beef, onion, pepper, and salt, but there are variations of this filling available.
Cornish dairy products also generally make excellent gifts like Cornish ice cream and fudge. Clotted cream is another hot favourite with its position as being protected under current EU law. Rodda is probably the most prominent clotted cream manufacturer in Cornwall.
Cornwall is also historically famous for producing excellent cider, but it's something that most large breweries have automated these days. Though the ales and stouts are top-class products making for excellent gifts.
Cornish Art
Cornwall is a beautiful place, and Cornish art is beginning to make a name for itself. Many artists are now world-renowned, with their paintings worth several thousand pounds. However, if you are looking for an affordable Cornish gift with character, we'd advise that you visit the Bearhouse Gallery in Launceston.
The Bearhouse Gallery officially opened in 2016, and it is an excellent place for stockists and collectors who want to step into the world of Charlie Bears. These bears are indeed a work of art, and the place itself is enchanting. The Charlie Bears are beautiful and are available in various sizes and types.
The Charlie Bears offer a multi-sensory space, and the visitors here will experience something truly out of this world. While we are all for visiting the place, you can't present this as a gift to someone in London! The good news is that the Charlie bears are affordable, hand-made, limited production by Charlie. If anything, these will have lots of sentimental value for the person they are presented to.
Every bear is made by hand and has its unique characteristics, so they are referred to as bears with personalities. However, Charlie bears are available in 2500 different designs and across 500 retail stores, as well as the option to purchase online.
Cornish Scene Photography
Nothing like a photograph to tell a friend you remember them. Emily loves Cornwall, it is her favourite place, and that's why she captures it in so many different unique ways with her camera. The prints are sold online and are available at a bargain price if you ask us.
Emily's photography captures Cornish's beauty in incredible detail, which is why your friends and family for whom you buy them will not be disappointed. If anything, you may also want to buy one for yourself.
Conclusion
Cornwall is a beautiful place that's known for more things than one. That said, finding a gift that's truly specific to the location can be challenging. You can always buy one of the run-of-the-mill cookie-cutter gifts online or at a local souvenir store, but that does not capture the city's essence.
While the above gifts should point you in the right direction, feel free to explore everything else that Cornwall has to offer to find the perfect Cornish gift for yourself or your loved one. If you're short of time, the ones we've highlighted above are a great start!