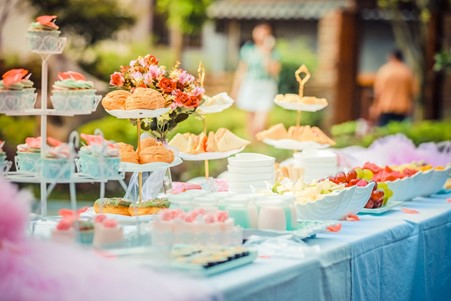 80% of weddings in the UK were postponed in 2020, according to the UK Weddings Taskforce. However, for 2022, they predict that at least 350,000 weddings will take place and that couples are planning big celebrations to make up for the restrictive years. Whether the nuptials will be a fancy gala or a country-style wedding, food will always be a significant part of a wedding festivity and will always be remembered by guests. Here are four wedding food trends that experts say will not be easily forgotten.
Say "I do" To A Sustainable Menu
An increasing number of people are becoming environmentally conscious and are aware that weddings do have a major impact on the earth's health. A sustainable wedding menu starts with the 100-mile seasonal diet rule. Make sure that the meat and produce for the wedding meal will come from within 100 miles of the venue. Support local food shops that offer organic ingredients, including your wedding cake. A plant-based menu is also earth-friendly and no longer has the "distinction" of tasting awful. More and more people request vegan or vegetarian meals and a plant-based menu will simplify guests' options. It's not only earth-friendly. It's also healthier.
Your Wedding, Your Choice
Traditional wedding menus will take a backseat in 2022 and couples will be serving their favorite food. Yes, you can serve pizzas, dim sum, or sushi. You can also have a menu that's inspired by food that means something personal to both of you. Get inspiration from the first-anniversary meal you had or your favorite restaurant. Don't feel that your choices are limited to what has been customary in weddings. Opt for food that is meaningful and tasteful.
Feasting Tables
As weddings become less formal, dining has also followed suit. Feasting tables or grazing tables is another trend that started in 2019, but is making a comeback and will be big in 2022. Interactive tables, as they're also called, are food stations where guests can pick and choose what to eat throughout the wedding reception. Grazing tables can have an assortment of deli meat, cheese, and fruits, or it could be a spread of different kinds of sushi or hot pretzels with dipping sauces.
Food Trucks
Following the theme of more personal and intimate weddings, food trucks are another source of a unique wedding meal. It doesn't have to be the main entree. Guests can get food from the truck during the cocktail hour or the after-party. You can opt to have an international menu where you can serve tacos, burgers, or bouillabaisse.
Weddings are celebrations of love and the menu should also reflect the personalities of you and your partner, what you both want, and what you think your guests will enjoy. Although a wedding is a traditional ceremony, your reception and the menu need not be as conventional. A wedding that's uniquely yours will be more memorable for you and for your guests as well.