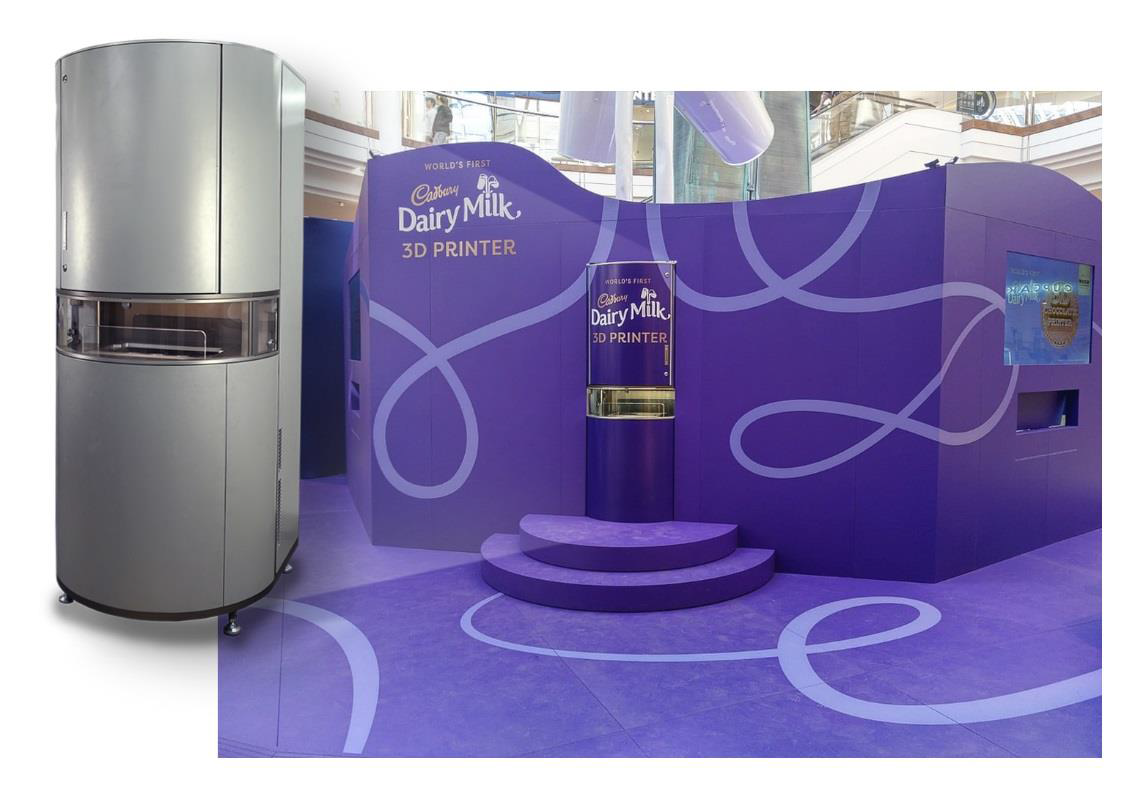 From 3P to 3D! 3P's innovative technology helps launch the world's first Cadbury Dairy Milk 3D printer.
Exciting news for all chocoholics! Launched to coincide with World Chocolate Day, chocolate fans are now able to enjoy 3D printed, customisable Cadbury Dairy Milk chocolate as a result of a collaboration between 3P Innovation Ltd and Mondelez International, proud custodians of the Cadbury brand.
The first-of-its-kind prototype machine has been installed at the famous Myer department store in Chadstone, Melbourne, Australia. Available for four weeks only, from 7 to 28 July, Melburnians can get their hands on a selection of extra-special milk chocolate charms, from novel shapes to Australian symbols such as kangaroos and flip-flops. They are produced using a brand new, innovative 3D printing machine designed and manufactured by 3P, a leading custom engineering and automation house based in Warwick, UK.
3P worked closely with Mondelez to develop a completely new and different method to manufacture Cadbury Dairy Milk. The multi-lane technology provides the opportunity to print an endless range of different chocolate shapes and sizes, without using the traditional moulding process, or the need to invest in expensive capital equipment.
"Confectionery printing presents many challenges, such as scalability to enable mass-production and chocolate design limitations", explains Nim Mistry, Project Manager at Mondelez.
"In addition, prior advances made in 3D chocolate printing have failed to address one of the most critical aspects of quality for chocolate manufacture: chocolate tempering. We worked closely with 3P to design and develop a highly-innovative solution which tightly controls the conditions of the chocolate throughout the manufacturing process," Ms Mistry explained.
"This innovative solution was essential in ensuring a smooth, evenly-coloured chocolate and satisfying snap when you bite into it. It means customers can enjoy the same high-quality Cadbury Dairy Milk chocolate they love in a fun and personalisable format."What started as a 'Test and Learn' project has resulted in a successful prototype that is producing great quality products."
3P developed the machine from an initial concept idea on paper to a fully-functional, high-quality prototype being show-cased to the consumer. It demanded top quality build and reliable, consistent performance as soon as it reached the store.
A user-friendly operating screen allows for immediate, low-cost changeovers between products, meaning that lower-volume batches can easily be produced; for example to celebrate 'one-off' major national events or to provide highly-personalised gifts. Designs for new chocolates can be downloaded to the machine in seconds, allowing Mondelez to rapidly manufacture and test new products in days rather than weeks.
The machine produces 8 chocolates at a time, which is a new development for 3D printing applications. This multi-lane approach provides the balance between flexibility and a sensible production rate, meaning that the machine is viable for commercial production. Other industries, such as pharmaceuticals, stand to benefit from this, where 3D printing of, for example, personalised drug therapies can become a reality.
"Working in collaboration with one of the biggest chocolate brands in the world has been a privilege and a very rewarding experience for us," says Tom Bailey, Managing Director at 3P.
"The combination of our well-proven process development methodology and production technologies with their product development know-how has resulted in a new and disruptive technology that can potentially shape the future of chocolate manufacturing and excitingly, what started as a 'Test and Learn' project has resulted in a successful prototype that is producing great quality products."