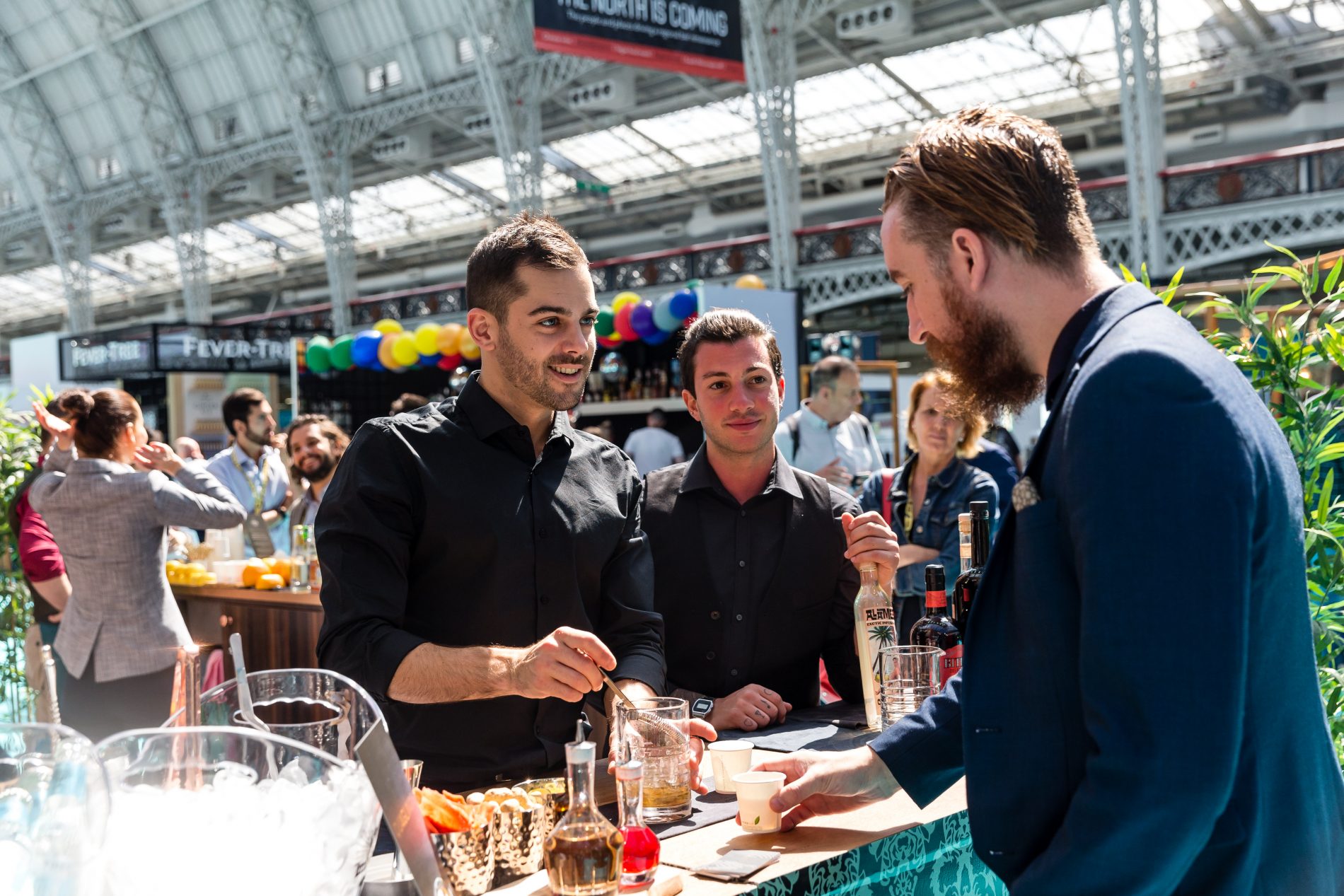 A leading line-up of beer and cider seminars and exhibitors led to a memorable anniversary show at this year's Imbibe Live
Whether it was whiskey, sake, no and low products, wine or craft beer, Imbibe Live 2019 provided the hospitality sector with the perfect location to source new products for their drinks lists. From 1-2 July at Olympia in London, thousands of bartenders, bar owners, sommeliers, publicans and hotel managers came together, demonstrating the event's continued place at the heart of the licenced on-trade industry.
But it was not just about beverages this year. Following an increased demand from visitors, Imbibe Live housed the brand new The Snack Show, which featured a host of snacking products, from crisps and jerky to nuts and biscuits.
Low/no in demand
One of the major trends in the current market has been an increased demand from consumers for low and no alcoholic beverages. This burgeoning trend was evident at Imbibe Live, where there was a marked increase in the number of suppliers presenting innovative new products with either low ABV or no alcohol.
The importance of leveraging the no/low movement was highlighted by Saturday Kitchen's Jane Parkinson, who revealed that around a third of young adults do not drink alcohol and a half of the adult population are looking for lower alcohol drinks. During an exclusive session at the event on Tuesday, she gave an engaged audience an insight into the modern wine list and the processes behind producing great tasting, low alcohol wines. Pernod Ricard's Daniel l'Anson also hosted an interactive tasting that proved that low alcohol does not equal low flavour, also providing key insights on how to seamlessly introduce the category into a menu.
On the show floor visitors found an abundance of no and low products that could help them cater for all consumers. A highlight from the beer category was Small Beer Brewing Co.'s Original Small Beer Lager, a refreshing 2.1% lager with masses of flavour. Lyre's Non-Alcoholic Spirits also caused a stir within the spirits category with its non-alcoholic homages to the greatest tipples of all time, including Absinthe, Dry London Spirit and American Malt & Coffee Liqueur. And Berkshire-based start-up, Saicho, had a successful show down at the wine bar with its range of sparkling cold brewed teas, including its Darjeeling sparkling cold brewed tea – a non-alcoholic wine substitute with notes of muscatel, nectarine and wood spice that pairs brilliantly with grilled meats.
Spirits are thriving
Another segment of the market that continues to thrive is the spirits category and Imbibe Live did not disappoint in this area, presenting dozens of new products including a new vermouth from Martini called Fiero, and a brand-new vodka producer in the form of Broken Clock Lingering Vodka. While gin remained hugely popular, there was significant interest in unique new products on the market, like Dead Man's Fingers new Hemp Rum that is tapping into global interest in Cannabis and CBD products.
Visitors also remarked on the wide variety of international suppliers in attendance this year, with Tennessee whiskey, German-made gin and blended premium Colombian rum garnering interest from UK pubs, bars, hotels and restaurants.
Ronak Kataria, Director at The Drinks Basket, commented on the scope of international producers: "We do everything from beers, wines and spirits, so coming here is a fantastic one-stop shop when it comes to international brands. We do go to other wine shows and gin shows, but nothing is as geographically diverse and comprehensive as Imbibe Live."
High-quality mixers galore
With flavoured carbonates experiencing a growth of 5.6% during the last 12-month period, mixers are high on the agenda for hospitality professionals looking for the best complementary sidekick. Fentiman's had a successful show, providing visitors with a chance to try its latest and most popular mixers including Pink Grapefruit Tonic Water, Rose Lemonade and Ginger Beer & Muddled Lime. Schweppes showcased a selection of its mixers including its Quenching Cucumber Tonic Water and Dark Spirit Mixer Muscovado. It also excited visitors with its Coca-Cola Signature Mixers including Spicy, Smoky, Herbal and Woody variants. And Lixir Tonic, mixers created by bartenders from the North East, shared its all natural, artificial flavour and sweetener free range of premium mixers including Blood Orange & Cinnamon and Elderflower & Lemon Tonic Water.
Jordan Palmer, co-founder of Lixir commented: "The number of no and low brands is increasing and it's great to see the category better represented at Imbibe Live."
A wealth of information
In addition to the fantastic display of products, the licenced on-trade had access to some of the greatest minds during the show, each discussing the most pertinent issues and providing invaluable advice.
A highlight from The Chef's table was the packed-out Vegan Food & Wine Pairing Masterclass, delivered by guest speaker David Havlik, Head Sommelier at the highly acclaimed Gauthier Soho. David highlighted the importance of catering to a growing demographic of consumers that are vegan. People choosing to eat in this increasingly popular way don't want to have to second guess everything they eat, so providing them with high quality and well-thought out options is an absolute must in the current on-trade landscape. David shared his in-depth knowledge on the subject by providing some examples of these dishes, some of which included Chilled Beetroot & Cherry Veloute, Warm Charred Leek Grenobloise and Summer Truffle Tortellini.
Another favourite from the 2019 line-up was Adjunct Baby, an exploration of the additional ingredients used in brewing to transform ordinary beers into something truly unique. The session was delivered by Brooklyn Brewery's infamously debonair brewmaster, Garrett Oliver, who explained that beer is arguably the most versatile drink, even above wine. Garrett summarised his session by stating: "Beer can taste like anything, make it like crème brûlée, make it mimic a cocktail. It'll go into anything. Beer is anything and beer is people!"
On Tuesday, the Industry Matters theatre hosted Miguel Lopez, the founder of Lab for Fitness. Bartenders and sommeliers listened intently as he explained how they can improve their well-being by making simple adjustments to their diet and lifestyle. In the final session, Jeremy Scorer from Hospitality Industry Training put the spotlight on the skills shortage in the sector. He announced that the industry needs to attract 993,000 new people by 2022 but revealed more than half of 16-24 year olds don't want to enter the sector. He highlighted ways that businesses can overcome potential recruitment issues and provided examples of apprenticeship programmes.
The Winemaker's Cellar hosted six exclusive wine tastings over the two-day event, attended by sommeliers from across the UK. Opening the features programme on day one, Mackenzie Paton flew in from New Zealand to host an over-subscribed Ata Rangi Pinot Noir Masterclass, where attendees tried wines from 2009, 2013 and 2016 whilst learning the history of Pinot Noir in the Martinborough region. Later that day, Master of Wine, Anne McHale presented a comparative tasting of six different expressions of Gamay, discussing both the challenges and the opportunities it presents for the on-trade industry. The Sommelier Wine Awards also offered attendees insightful sessions on judging a wine competition, led by industry expert and SWA team leader, Tom Forrest.
Hot competition
Centre Stage played host to three nail-biting competitions over the two-day event. The Tapsters 2019 Final kicked things off on Monday, with the mission of 'finding the best beer and cider team in the land'. There was an unprecedented number of entries this year, which were whittled down to two teams: New World Trading Company and Brewhouse Kitchen. After five neck-and-neck rounds – including off-flavour identification, cider throwing and a beer and cider food pairing – Brewhouse Kitchen took the trophy, winning an all-expenses paid trip to visit the 525-year old Stiegl brewery in Austria. Head Judge, Pete Brown, commented that "every year there is a new benchmark in the quality of bar staff".
Later that day, the Bartenders v Sommeliers competition returned for its 11th and final year. With both sides entering the competition with five victories each, there was a lot at stake. A packed-out Centre Stage enjoyed a wild series of challenges including The Magnum Pour and the Cascade, with the Bartenders taking the ultimate win as reigning champions. Finally, on Tuesday, Birmingham was crowned the Cocktail Capital of the UK 2019 in the Shakes and the City 2019 Final, winning a jackpot of £1000.
Lindsey Coleman, Event Director at Imbibe Live, commented: "Over the two-day event, Imbibe Live brought together sommeliers, owners, buyers, bar teams, suppliers and industry professionals from the licensed on-trade. From the Winemaker's Cellar and The Cocktail Lounge, to The Beer and Cider Hub and Centre Stage, the extensive features programme was packed-out across both days, providing invaluable market insights and tastings from some of the industry's leading experts. We're delighted that Imbibe Live remains such a popular destination for the hospitality industry and look forward to welcoming attendees back in 2020."