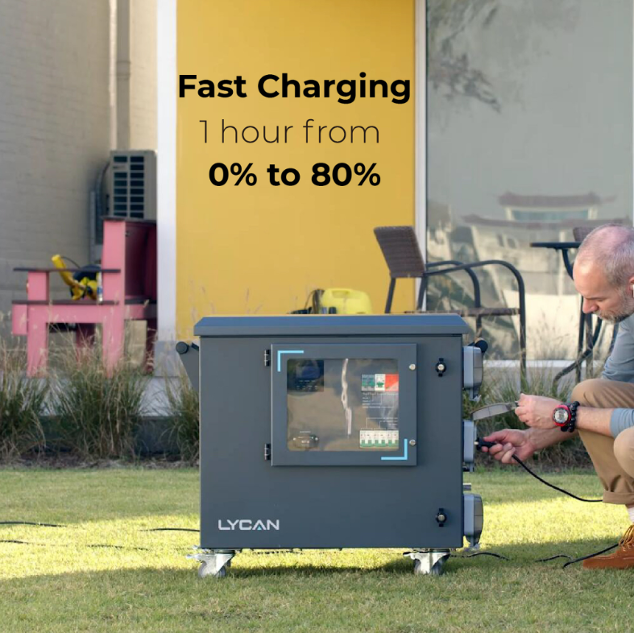 As you can see from the components, a solar generator is nothing more than an all-in-one solar energy system or a mini off-grid solar system in a box. For those looking for renewable energy in remote areas, there is always the option to simply build your own DIY solar energy system by sourcing and installing each of the components. Below we will outline the pros and cons of using a DIY solar energy system versus a solar generator.
Pros: portability
Overall, portability is the only clear advantage solar powered generator have over DIY solar systems. Solar generators are designed to be charged and taken to remote locations as easily as possible. Even if your solar panels are permanently mounted on your roof, you can plug in your solar generator to charge and move it to another location when it's full.
This is where standalone DIY solar power systems are limited in that they can only be used where they are installed. Even in small spaces like a cabin or RV, the ability to put your power plant where you need it is invaluable.
Pro: Multiple ways to charge
In addition to charging with sunlight, solar generators can of course also generally supply their batteries with alternating or direct current. If you have a self-sufficient off grid solar system, then you are limited to the electricity generated from sunlight.
While this may be enough for low usage or ideal locations, it's always a good idea to have a backup plan. With a portable power system, the battery can be recharged in an emergency when sunlight is scarce.
Pro: Ease of use
More than anything, however, solar generators are designed to be easy to use. With everything housed in one convenient device, solar generator users don't have to worry about redundant wiring or the quality and performance of individual components.
In addition to the helpful screens, generating electricity with a solar power plant is extremely user-friendly. In most cases, all you have to do is set up your solar panels for campers and then connect the devices you want to power.
When you're a full-time van lifer or you're in an emergency situation, the last thing you want to worry about is every extra step necessary to power your life-saving equipment. Compared to a standalone solar power system, solar generators take away the time and stress of installing and maintaining individual electrical components.
Disadvantage: cost
Unfortunately, it's true that a quality solar power generator can cost you more than you hope to spend. If you just need a tiny bit of power, then you may be able to find all of the inexpensive components of a DIY solar power system at a fraction of the cost of a solar generator.
So if you're not scared or too busy installing the components yourself, you'll likely be able to lower your investment costs with a standalone DIY system. Of course, some solar generators offer an enormous price/performance ratio. In some cases, solar generators can even cost less than the sum of their components.
Disadvantage: Performance limitations
As we mentioned earlier, solar generators may not be the best option for powering an entire home. Although there are some devices that can do this, full house setups are usually better than traditional solar energy systems.
With the freedom to size a battery and inverter to precise specifications, stand alone solar power box systems can be sourced and installed to meet every need in a household. When portability or ease of use aren't a concern, DIY systems can deliver the best overall return.
One of the main appeals of any do it yourself project, other than the complete satisfaction of a task well done, is saving cash. When you select to mount solar panels on your home on your own, it suggests that you won't need to spend for any individual else's knowledge or labor, which normally includes a considerable amount of expense to the task.

According to research study performed by the United States Department of Power's National Renewable Energy Lab, labor commonly represents around 10% of the overall price for mounting photovoltaic panels. Provided the average price for mounting solar panels is $18,500, that means a cost savings of virtually $2,000. That's a significant amount of cash to maintain in your savings account. Federal solar tax credit may be what you want to know.
However, there is a compromise. If you aren't paying someone else to do the work of installation, it implies you are doing it yourself. That implies a considerable quantity of manual labor as well as time invested to establish the system, which you'll be doing on your own. You additionally may not be able to declare particular motivations supplied to house owners who set up photovoltaic panels. A few of the tax discounts that mentions deal for going green call for a licensed company to do the setup for you. To make certain you're really saving money, it's worth looking into these motivations and how much they will certainly save you.

It is possible to do the process of setting up solar panels by yourself. There are solar systems designed specifically for DIYers that, while often time-consuming, ought to be greater than practical.

It deserves noting, however, that several DIY photovoltaic panels are not created to link to the traditional energy grid. They are developed more for off-grid functions, like powering Motor homes or various other rooms that are not usually served by a basic utility. If you are only seeking to supplement your conventional energy resource, DIY photovoltaic panels can get the job done. If you are aiming to power your whole home with solar energy, it may be better to trust a professional.

Installing a full solar power system needs a minimum of some knowledge of electrical contractor job so you can properly handle the wiring and various other technological elements. You will likely have to operate in reasonably dangerous settings, including doing service your roof covering and also working with buried cords. The stakes are high for an accident; went across wires can result in malfunction and also electric fires. It also might be illegal for you to do this work without a professional's help, depending upon your district's zoning legislations. It is recommended that you buy monocrystalline solar panels, the power generation efficiency will be higher.



As constantly, speak with a qualified specialist if you have any type of inquiries regarding your house set up task.

As stated, most DIY solar panel tasks are not implied to change standard power resources. They offer the capability to supplement power from the grid or power smaller rooms like a recreational vehicle or a tiny house. However, for a full-size home, a skillfully mounted solar system is most likely ideal.

There are some setups that are suitable for a DIY solar task. If you have a garage or shed that needs electrical power, you can go off the grid and keep it powered with solar panels. DIY solar panels commonly provide a little bit extra flexibility in size and also placement, so they can be established in an alignment that works finest for you in these settings. DIY solar panels are also valuable as a back-up alternative if you were to lose power for the electrical grid, as long as you have an useful solar battery to keep the generated power.

Solar panel generally last concerning 25 years, yet that doesn't indicate there won't be issues along the way. Do it yourself solar panels specifically can be based on requiring maintenance since the high quality is not assured.

Perhaps you attempted to save in your up-front expenses and purchased more affordable panels that are more prone to wear and tear. Sadly, you can wind up getting on your own in replacing them. Unless a failure drops under the guarantee of the manufacturer, you might need to change the panel on your own. It's much easier to mistakenly void the guarantee if you're mounting the panels on your own, also.

Usually, professionally set up panels feature some sort of service warranty from the business that does the installment. They will be able to service any type of issue that you may be experiencing, and may even cover the expense.