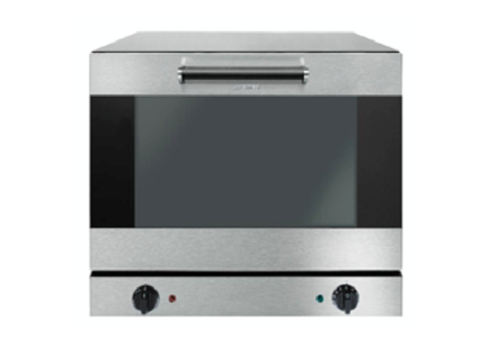 Smeg Foodservice is thrilled to announce the launch of its new ALFA43XUK compact oven. Perfect for baking and reheating, from pastries and morning goods to sausage rolls and lunchtime pasties, it is the ideal compact solution for busy catering.
Now including a fully stainless steel outer cabinet to make it even more durable, the oven replaces the best-selling ALFA43UK as used by some of the UK's leading operators, including Chicago Town and Co-Op. With a compact footprint of 602mm (W) x 584mm (D) x 537mm (H) this oven is perfect for smaller kitchens while maintaining the top functionality and performance.
Features include easy to use manual controls and an easy to clean enameled cavity and double glazed door, providing for a stress-free cooking environment. With a 4 tray capacity, 0-60 manual timer, 50-250 degrees temperature range and fan option the oven enhances any current restaurant offering and helps caterers reheat and bake to produce fresh tasting food.
The ALFA43XUK is priced £645 + VAT and is available from www.rhhall.com. For further information please visit www.smegfoodservice.co.uk