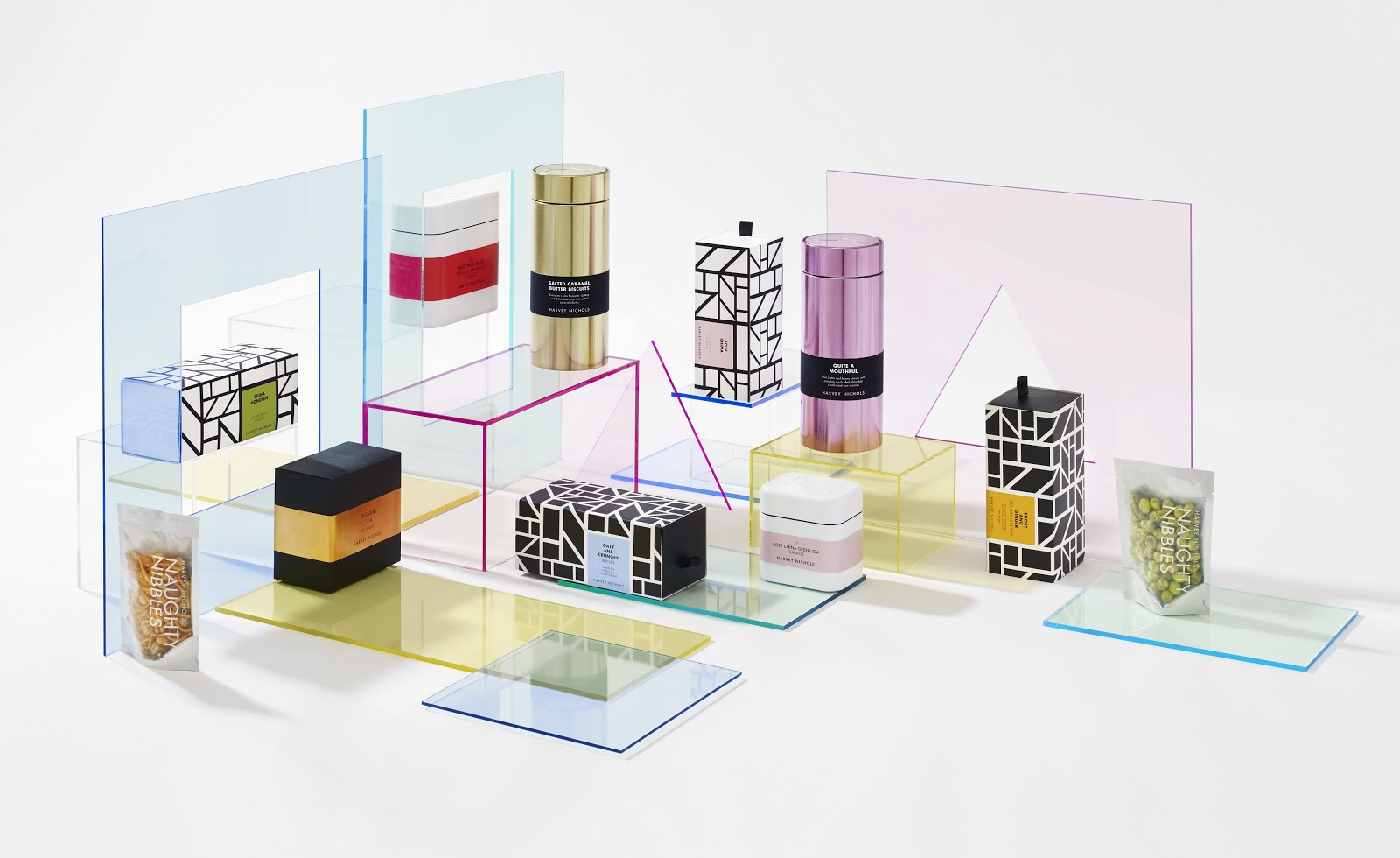 Harvey Nichols has launched the trendiest food products, with vibrant colours, elegant patterns and witty words, to hit the shelves this summer – the Own Label range – which are available for purchase in all stores.
The Naughty Nibbles snacks are the first new Own Label products to be launched this year. Currently stocked in all stores, the snacks come in clear iridescent packaging, allowing customers to see the tempting treats within each bag. The range features seasoned, plain and chocolate covered nuts, as well as some unusual flavours such as dark chocolate edamame, completed with a smart tagline, such as Dark Chocolate Cashews 'The little black dress of naughty nibbles'. Naughty Nibbles are available online and in all Harvey Nichols stores. My Snack on-the-go packs are priced £1.50-£2.95 and sharing Party Packs are priced £3.95-£5.95.
Hitting the shelves this month is the Harvey Nichols Own Label Biscuit range, featuring metallic tins, stylish pull our biscuit boxes and a mini shortbread collection. The chic yet handy reusable tins have been specially designed with airtight lids to keep biscuits fresher for longer and will come in a series of metallic lipstick colours to represent the flavours; silver; citrus, pink; fruity, gold; buttery, copper; caramel, ginger and chocolate. The biscuit range will be priced between £4.95 and £10.95.
Following on from Biscuits, the Harvey Nichols Tea range, made up of elegant tins, pull out branded boxes, apothecary-style jars, mini matcha tins and colourful refill packs, will launch in September 2018. The new tea tins have been stylishly designed embossed with the brand logo and developed with a practical airtight lid to re-use and keep the tea fresh. Having gone through a series of tastings to find the finest blends, the range offers of a variety of popular flavours, special teas and two new Organic matcha green teas from Japan.The tea will be priced between £7.95-£9.95, while the matcha tea AAA will be priced at £29.95 and the matcha tea AAA+ will be priced at £39.95.
"We are extremely excited to be launching our new Own Label food packaging this summer. Like a fashion collection, we have built the range up with lots of different elements, so that everything works together, but does not look the same. Using bold patterns, high gloss, colourful metallics and playful words, we believe we have created an uber-stylish range of gifts you can eat using the language of fashion, instead of food," said Shirley Aubrey, Food Development Manager at Harvey Nichols.