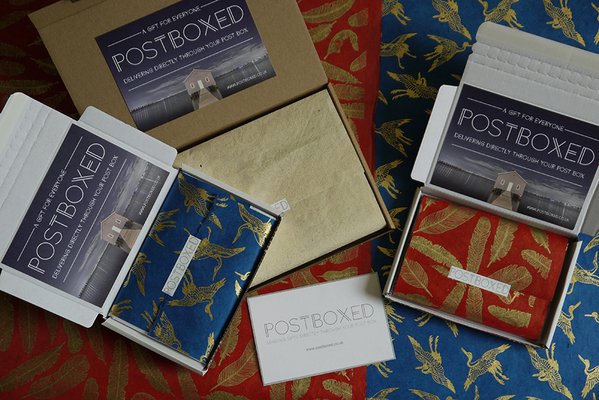 LONDON, November 3, 2015 – Over 10m parcel deliveries are due to fail this Christmas as recipients won't be home to receive them, according to Postboxed.co.uk, the go-to hub for postboxed gifts, a hassle-free way of avoiding missed deliveries by ensuring parcels fit through recipients' post-boxes.
Shoppers who miss a parcel delivery during the working week receive a 'Sorry we missed you' card from Royal Mail, requiring them to travel to their local delivery office to collect it. A record level of online shopping this year is expected to result in 10.4m parcels being 'carded' in December, a 12.6% increase on Christmas 2014.
The situation is worsened this year as Royal Mail has been granted an exception to its universal service agreement, allowing it to close over the Christmas period. Therefore, if a 'carded' parcel is not collected by December 24, it will not be available for collection at a delivery office until December 29. The closure is taking place despite the fact that a significant proportion of shoppers cannot collect items from delivery offices even when they are open2. The issue is expected to be most acute in London3.
Postboxed.co.uk launches this week to offer a hassle-free solution to the problem: all its gifts measure less than 7 inches (17.5cm) by 1.4 inches (3.5cm) including packaging, which are guaranteed to fit through 99% of post-boxes/ letterboxes in the UK4. It launches at a time when companies are trialling elaborate solutions to the nationwide 'missed delivery dilemma', including drones and apps that rely on using members of the public to deliver packages.
Markus Polleichtner and Liza Mirelman, co-founders of Postboxed.co.uk, said:
"We founded the company after getting completely sick of travelling to our local delivery office to collect parcels. If you just want to give friends and family a gift, why should it come with the onus of either annoying a neighbour, standing in a queue or searching your garden for a missing parcel? And while we think using drones to deliver parcels is all well and good in the future, there is only one way of ensuring your gifts definitely make it to a recipient's hallway this Christmas: make sure it's a postboxed gift. Simple."
Although the main cost of missed deliveries is carried by delivery companies, there is still a personal cost to shoppers. It costs 70p per item to collect parcels from your local Post Office branch instead of travelling miles to a delivery office5, and it can cost anywhere between £6-£12 to side-step the 'missed delivery dilemma' by having a parcel delivered on a Saturday. If a second delivery is missed after a failed first attempt, the parcel is returned to the sender, forcing them to repay all delivery costs if they resend.
Postboxed.co.uk helps to reduce the huge environmental impact of missed deliveries6. Affordable, fast and reliable, it offers free next-day delivery for gifts over £25, and postage and packaging at £2.85 for gifts priced below this level.