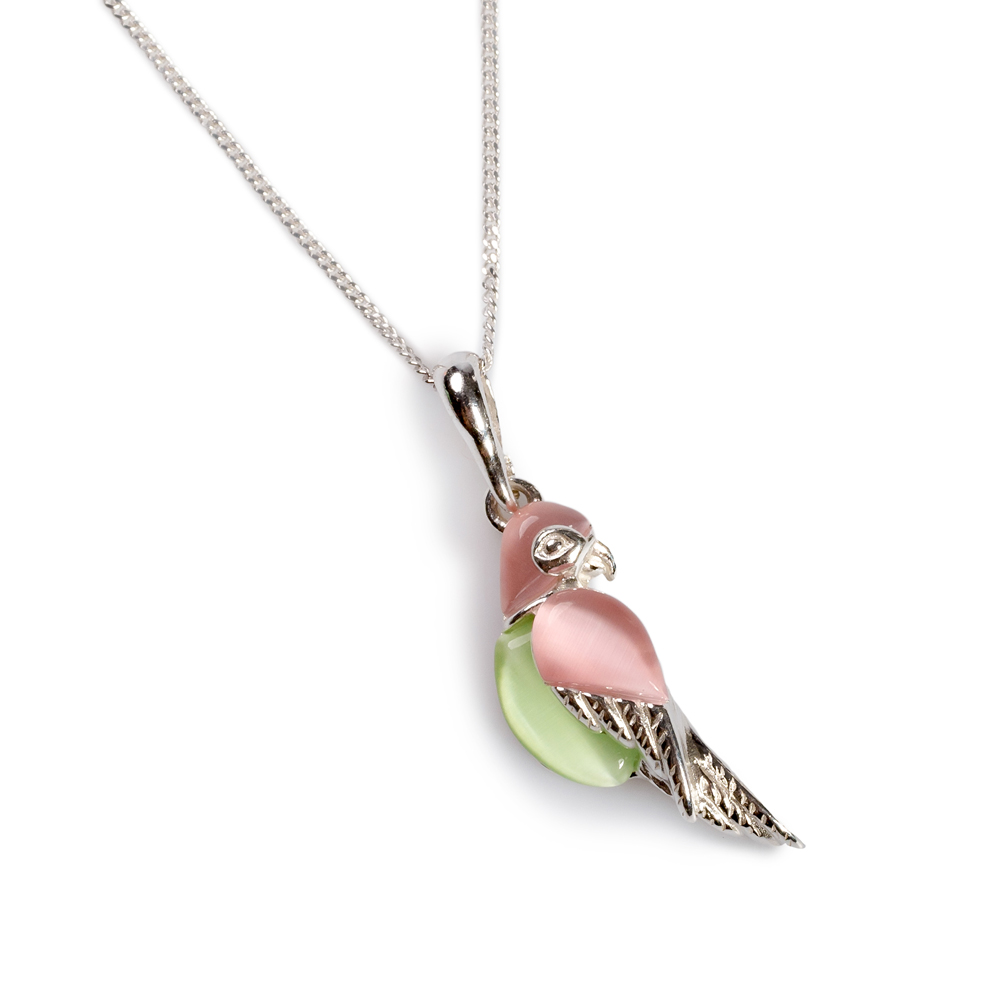 Henryka, the fast-growing sterling silver jewellery brand, is maximising a successful summer season by soft-launching its new Pastel collection. The brand is trialling the new seven-piece range to gauge wholesale and customer feedback ahead of a full launch in the spring of 2019.
What sets apart this collection from the previous ones is that it uses man-made gemstones, which mimic pink opal and aventurine but with a more striking depth and saturation of colour.
The Pastel collection is composed of three pendants and four pairs of earrings, centred on the new Henryka Tropical Parrot motif, which caught the eye of retailers at the Company of Master Jewellers' August buying event. The Tropical Parrot pendant in sterling silver is priced at RRP £85, while the matching sterling silver earrings have an RRP of £110.
Meanwhile, the rest of the range continues to show a flair for statement earrings with one, two and four stone earrings set with alternating pink and green man-made gemstones in sterling silver. Prices range from RRP £65 to £115.
The final two pendants continue the design codes of Henryka's Natural Stones offer (part of the broader Shapes & Stones collection), with subtly-shaped pink and green man-made gemstones set in sterling silver. Both pendants are priced at RRP £65.
The motivation behind the early introduction of the Pastel collection has been motivated was the warm reception of the SS18 Exotic Palm collection, which also centres on statement earrings and pendants. Both ranges push the boundaries of Henryka's design aesthetic and highlight an appreciation for market trends.
"We have focused on a tropical theme for the summer of 2018, which is evident in our Exotic Palm collection. The Pastel collection continues in this spirit but with beautiful bright colours, which are achieved through man-made gemstones. Henryka prides itself on offering a broad range of natural gemstone pieces, but this marks a first step into something a little different for our customers. We look forward to receiving your feedback," commented Henryka sales manager, Hollie Francis.
On Henryka's newly redesigned website, Pastel collection products are carefully described as man-made stones to avoid confusing the consumer. Pieces are designed to introduce a vibrant pop of colour that will take fans of the brand through to the autumn months and winter holidays.