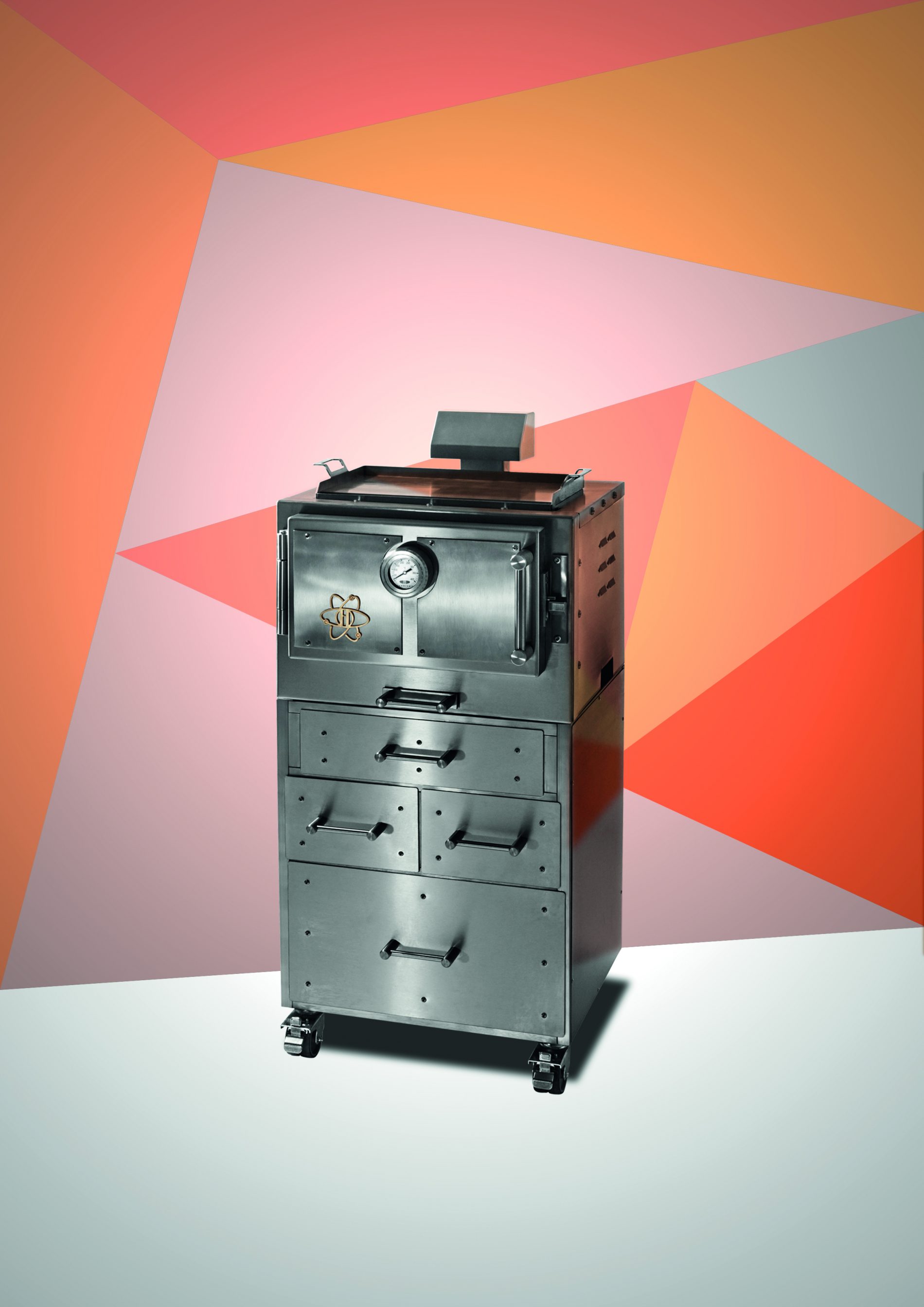 Harrison Ovens, the luxury, British Charcoal oven company known for its exceptional, handmade, high performing, professional ovens, is proud to announce the launch of the Harrison Atom. Closely following the launch of the game-changing Harrison Icon; the first charcoal oven created that can simultaneously cook at two temperatures, the Harrison Atom boasts both a hot plate plancher and pan aperture making it the most versatile and compact oven of its kind. 
Unlike any other, the Harrison Atom is an extremely high performing oven that can use both charcoal or wood; reaching up to temperatures of 400°C and making it the most economical on the market. As such it can bring to the creative chef a breadth of cooking styles – from cold-smoking and ultra-low temperatures, through to a searing intensity of heat for very fast cooking. The engineering of the Harrison Atom means that food is given moisture and flavour enhancement and the classic design and minimal kitchen footprint also make it an ideal choice for any kitchen.  
For professional use, be that in the kitchen or for theatrical use outdoors, the Harrison Atom has character that goes beyond its cooking capabilities and iconic design. Much like the wider Harrison Oven range, the Harrison Atom is unique as it is made to order and hand crafted in Kent using only British materials. 
Daniel Thumwood commented:
"The launch of the Harrison Atom is truly an exciting one. This is a game changer for any Chef, it's the first charcoal oven to integrate the hot plate plancher and pan aperture which allows for exceptional versatility when cooking. We created the Harrison Atom to enable innovative chefs to cook with charcoal or wood using multiple techniques with one oven. The Atom has been designed to be the most compact and versatile oven in the Harrison Ovens range.
We're really proud of this product – it's size and versatility makes it perfect for smaller restaurants, food trucks and street food outlets. We are also launching it for the home market. Like the Icon, the Atom is the first of it's kind and we look forward to seeing what our creative customers cook on it!
Championed by those working within the professional market, Harrison Ovens can be found in the kitchens of the culinary worlds good and great, including those of Yotam Ottolenghi, Jason Atherton, Neil Rankin, Richard Corrigan and James Cochran.