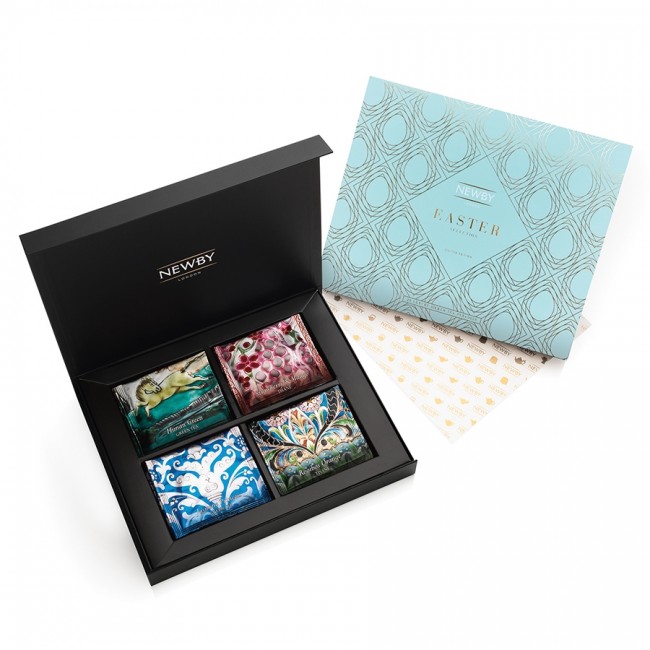 With its lovely long weekend, Easter is the ideal holiday to spend with family and friends, and to celebrate the festivities this year, why not treat someone special to Newby Teas' exclusive Easter Silken Pyramids Selection Box – a perfect alternative Easter gift.
Expertly curated to feature an assortment of premium whole-leaf green teas and tisanes, this gorgeous gift offers a break from devouring all the chocolate and instead indulge in a delicious cup of tea. Whether its a revitalising cup for breakfast, an afternoon moment of peace and serenity, or to simply catch-up with family and friends – there's a plethora of ways to enjoy Newby's selection box througout the Easter weekend.
With its egg-themed Art Deco design and striking duck egg blue colour, Newby's Easter Silken Pyramids Selection Box oozes sophistication and luxury, from its exquisite gold embossed packaging down to the quality of each individual blend – a superb gift for anyone who loves the finer things in life!
Each stunning gift box is filled with twenty of Newby's delicious floral favourites, chosen for their complementary mix of fresh, sweet and fragrant tastes. The sublime blends of Hunan Green, Jasmine Princess, Rooibos Orange and Strawberry & Mango all come individually wrapped in lustrious and colourful sachets, retaining the same quality and character as when they left the tea garden.
Selecting only the best leaves, award-winning Newby's teas and tisanes are the world's finest, making the Easter Silken Pyramids Selection Box a truly unique gift unlike any other.
Newby's Easter Silken Pyramids Selection Box is priced at £22 and exclusively available to buy via the Newby Teas website: https://www.newbyteas.co.uk/tea-gifts/gift-sets/silken-pyramids-limited-edition-easter-selection