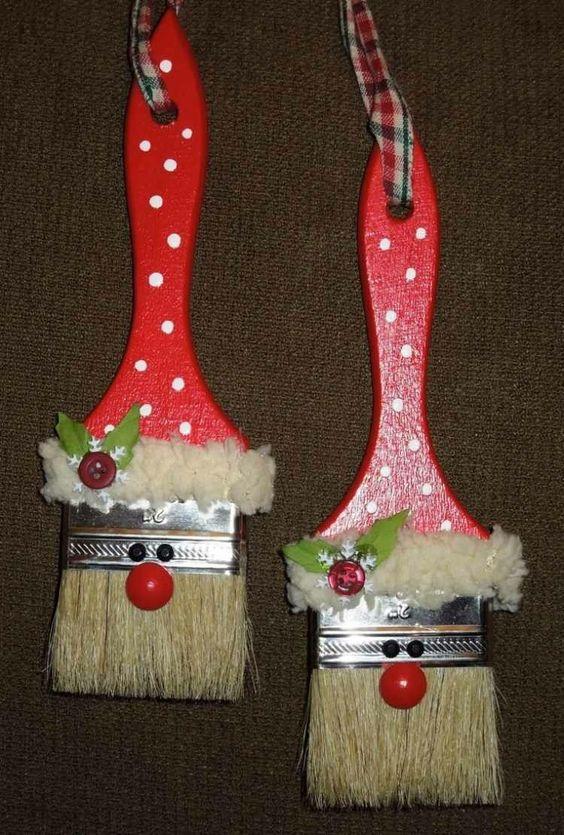 Christmas is the most wonderful time of the year and it's made even more wonderful when you can spend quality time with your family creating crafty Christmas decorations. There's something really special about spending time with family and friends whilst getting creative, with so many unique ways to add a touch of Christmas magic to your home. From hanging paintbrush Santa to a body poufGrinch, there are some great ways to bring a unique touch this Christmas. 
Hanging Paintbrush Santa's
With an adorable bristle beard and stylish string for hanging, these hanging paintbrush Santa's are great fun to make and really cute to look at. All you need to do is simply get yourself a few large paintbrushes like these, some paint, cotton wool and string. Paint the body of the brush red, with some delicate white spots for added character, then glue your cotton wool to the neck of the brush. This creates Santa's hat, with the bristles providing the perfect beard to complete the look. To ensure your Santa's hang safely, get some durable patterned string to tie through the brush loop and hang on a hook in any room to bring the Christmas spirit. 
Recycled Candle Bauble Holders
Ever wondered what you can do with all of those beautiful glass holders that once had your favourite candles in? Well, with Christmas just around the corner you can utilise them properly and turn them into bauble displays. By filling your old candle holders with some shiny baubles, you can transform the original holder and create a lovely Christmas display. This would look perfect in the bathroom, kitchen or hallway where you may keep the décor levels a little lower. For added effect, why not try adding some delicate fairy lights to the jars too to really make the decoration come to life.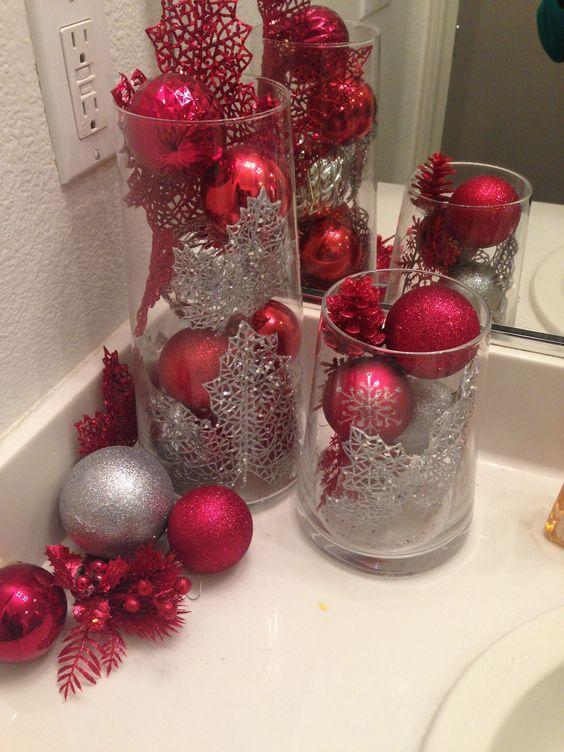 Image Source: Pinterest
Bath Pouf Grinch
This is a great one for the kids, especially if they love the Grinch. Get a bright green bath pouf just like this one and print off an image of the Grinch smiling. Carefully cut out his eyes and mouth and attach them to the bath pouf. Once you've created the face, add a cute little Santa hat to the top of the pouf and you have yourself a Grinch to hang in the house. This decoration is so easy to make its great fun for the kids and is really cheap to make too. You could look at other characters such as Peppa Pig with a pink bath pouf and Winnie The Pooh with a yellow one.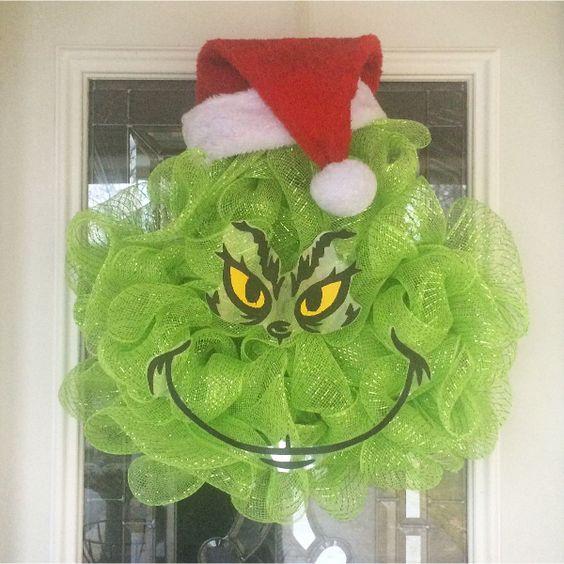 Image Source: Pinterest
Delicate Spotty Pinecones
Whilst they may be very easy to make, they provide a beautiful decoration for your Christmas tree. These cute little pinecones only require two other items to make them look as cute and colourful as this and they take minutes to make. Invest in some brightly coloured, small pom poms and some shiny string. Use glue to stick the pom poms to the edge or many of the pinecones edges and use the string to delicately hang the new decorations to your Christmas tree!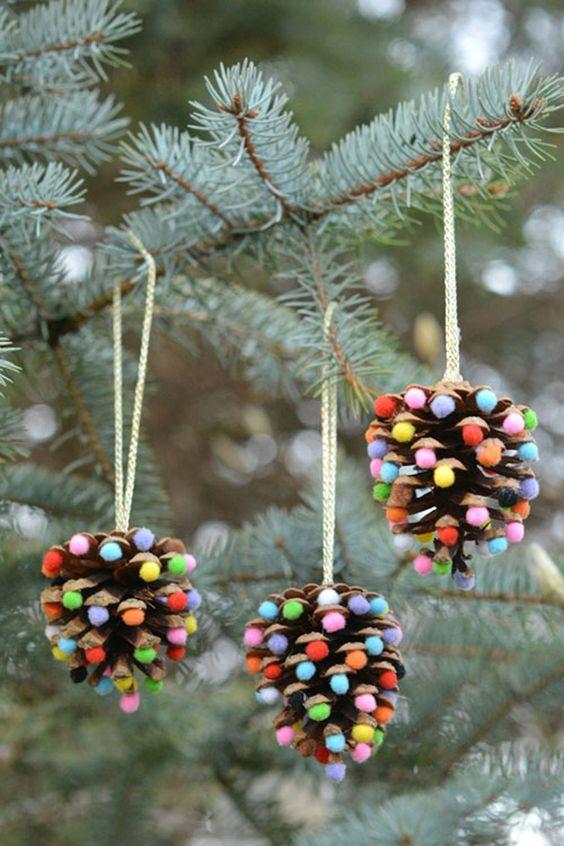 Image Source: Pinterest