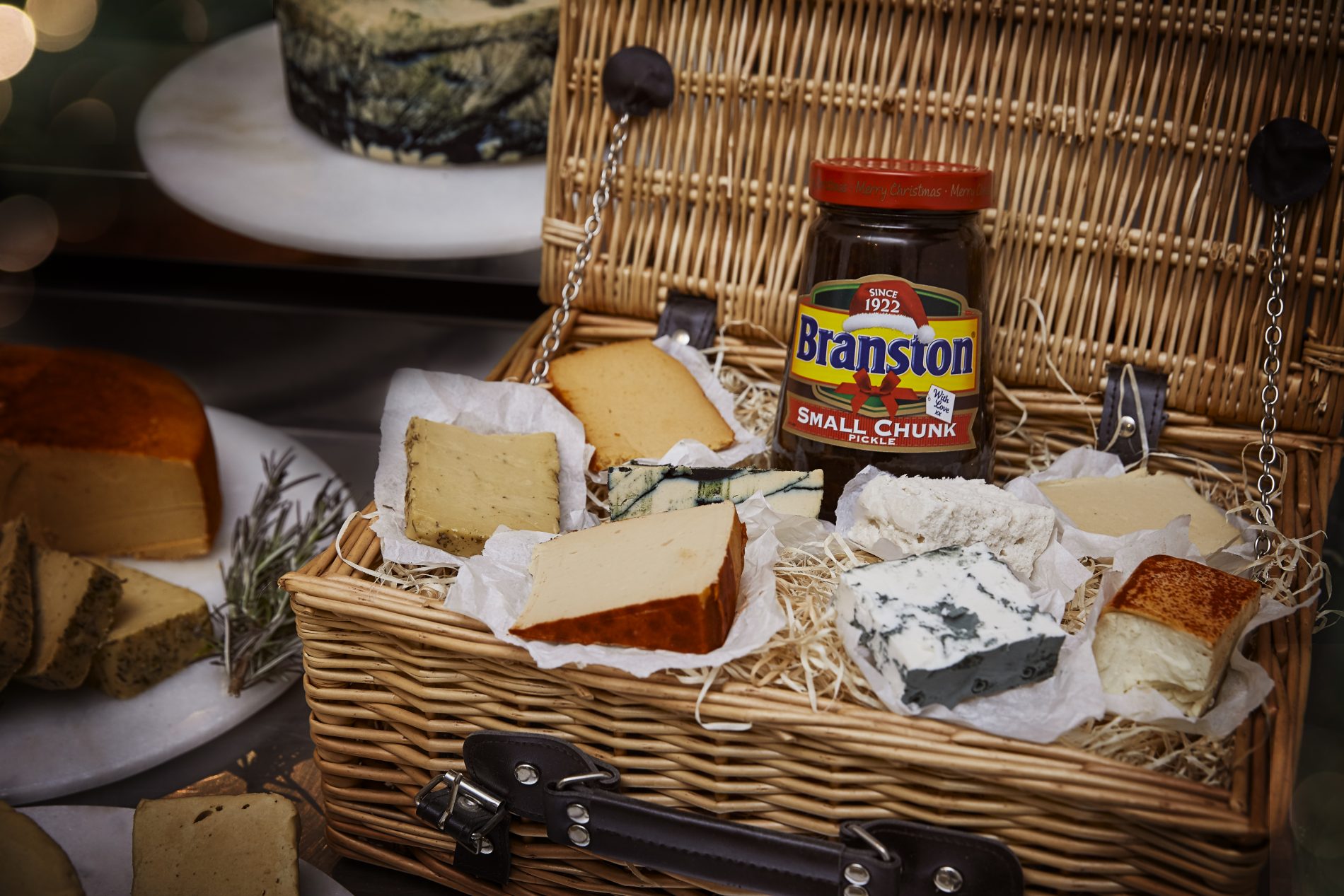 As the prime cheese-eating season falls upon us, iconic festive staple Branston pickle has partnered with La Fauxmagerie, the first plant-based cheesemonger to be established in the UK, to ensure that no one needs to compromise on their cheese eating occasions this Christmas!
The collaboration between the UK's best-loved (vegan) sweet pickle and cheese disruptors La Fauxmagerie highlights Branston's commitment to bringing delicious pickle and cheese pairings to all, no matter what your foodie inclinations may be. Did someone say Bring Out the Branston?
La Fauxmagerie's vegan cheese and pickle pairings
La Fauxmagerie has crafted tasting notes which pair a flavoursome vegan cheese selection with Branston's tangy pickle range. From the Original pickle everyone knows and loves, to the easy to spread lavishly Small Chunk, or the newest member of the Branston family Smooth pickle, Branston and La Fauxmagerie invite you to be the ultimate cheese and pickle party host, as they help you to cater to all of your guests' needs and tastes this Christmas.
Sisters Rachel and Charlotte Stevens, the masterminds behind La Fauxmagerie, say: "Branston is a classic British staple on any cheese board. The pickle's characteristic tangy flavour pairs beautifully with creamy, cheddar-style plant-based cheeses such as the Farmhouse or even in gooey toasties with the Red Queen. We are excited to offer vegan cheese fans the chance to buy our exclusive Branston x La Fauxmagerie December Taster Box, full of delicious vegan cheese and Branston pickle, as well as the chance to bestow our knowledge for plant-based cheese."
Nisha George, Branston Senior Brand Manager, says: "The Christmas season is firmly upon us and we're so excited to be heroing a vegan partnership made in heaven. Pairing with La Fauxmagerie's tasty vegan cheeses our Branston pickle is a delicious vegan choice that brings punches of flavour to any cheeseboard occasion! Delivering crunchy texture and delicious tangy taste, let your tastebuds revel this Christmas with Branston pickle and La Fauxmagerie!"
Branston x La Fauxmagerie December Taster Box (£25, lafauxmagerie.com)
The Christmas cheese and pickle selection will be available on La Fauxmagerie's website and in-store for purchase as part of the 'Small December Taster Box' – on sale from 1st December until the end of the month for £25. These limited-edition boxes are the perfect purchase for yourself or a plant-based loved one to indulge and enjoy that festive tradition of cheese and pickle, allowing festive memories of yester-year to come flooding back, but this time with a modern and plant-based take, helping you to Bring Out The Branston this Christmas. The La Fauxmagerie x Branston December Taster Box can be bought at lafauxmagerie.com. The boxes include the following vegan cheese & pickle pairings:
Farmhouse by Kinda Co. & Branston Small Chunk Pickle – Farmhouse is a semi-hard cheddar style cheese made from cashew nuts, with a strong cheddar-like profile and sweet buttery notes. Its smooth, mouth-watering umami flavour, much like that of a mature dairy cheddar, make it a natural companion to Branston Small Chunk pickle. A classic British staple on any cheese board, Small Chunk's characteristic tangy flavour pairs beautifully with this creamy, cheddar-style cheese.
Papa Rica by I Am Nut Ok & Branston Original Pickle – Papa Rica is a smooth, smoky cashew cheese with a bold hit of Paprika. The combination of this cheese with Branston Original pickle packs a punch with its strong smoky finish as the Branston brings the tang and a deliciously lingering aftertaste. Best enjoyed on oatcakes or water crackers for added crunch.
Muenster by The Arty Vegan & Branston Smooth Pickle – Muenster's firm bite provides the perfect base for the Smooth Branston Pickle, with its smokiness nicely complementing the tanginess of the Branston. The smoothness of this particular pickle also provides the perfect texture and 'spreadability' to achieve a more balanced cheese-to-pickle ratio. An absolute joy to devour on crispbread.