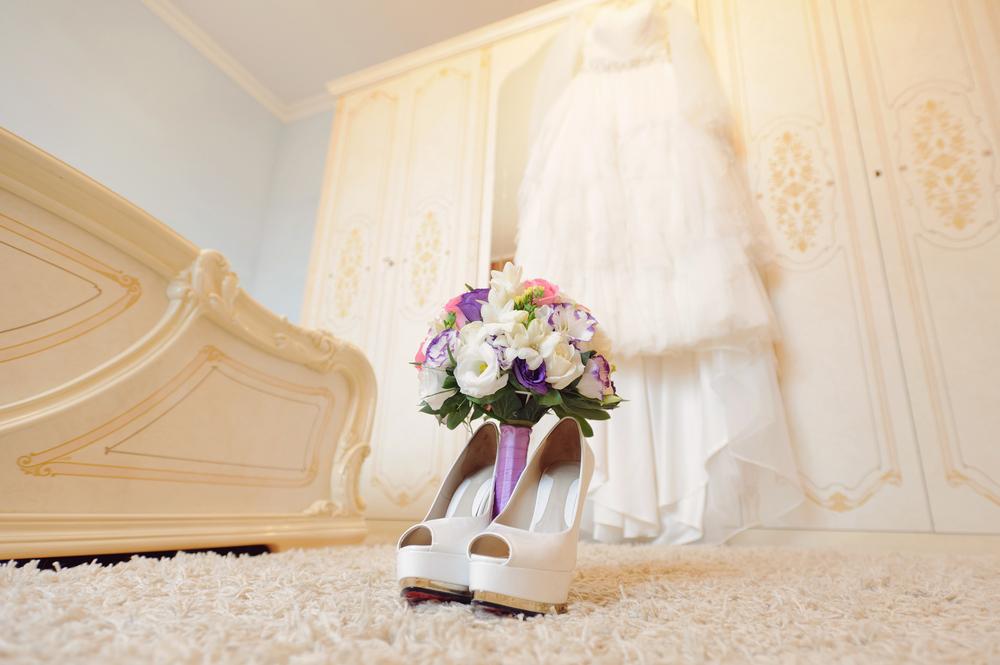 The killer question you might be asking yourself to lead up to your big day is should I wear high heels? And if so, how high? What style should they be? How much should I spend?
We understand it is a big decision for your big day. We suggest putting some thought into it as the heel height and design you choose may have an impact on how comfortable you are throughout your wedding day. You will more than likely be on your feet for 10-12 hours, so we suggest going for a heel height you are familiar with – and it goes without saying that flat shoes and kitten heels are without a doubt the most comfortable choice of footwear.
We have put together this guide to choosing the perfect wedding shoes that are right for you and your big day – take a look at the different options below:
Platforms
If you are a petite bride or your groom is just extremely tall then you may wish to opt for a platform shoe. These are also a great option in making the high heel shoe easier to walk in as the platform offers support and extra cushioning making the heel feel less high. A covered platform shoe is a modern fashion style for bridal footwear.
Stilettos
Most brides will choose the elegant stiletto no matter what pain comes with it. High heel wedding shoes are perfect for brides who are already used to wearing these types of shoes, and we would recommend wearing a heel height you are most accustomed to. If you have decided on a large style Princess dress for your special day then a high heel could be the right option for you as they provide an excellent posture. Other types of dresses that require a bit of height are fishtail dresses or floor length fitted gowns.
Mid Heel
Perhaps you are not brave enough to commit to the high heel stiletto so you could try something in between. Mid heel wedding shoes with a heel height between 7-8cm are a great choice for brides who are used to wearing heels but may not wish to wear a long gown. Mid heel wedding shoes can provide comfort for the whole wedding party, not just the bride. Wedding guest, bridesmaids and the mother-of-the-bride can all benefit from this style. Try a peep toe or court shoe with mid heel to add a formal finishing to any outfit.
Flats
You and your groom may be of similar height and so flat wedding shoes might be an option for you. Not being able to wear high heels could also be due to medical reasons, but designers have provided so many beautiful flat bridal shoes to compliment your dress you would not notice the difference. Whether you choose a flat bridal pump, peep toe or ballet style shoe, take them along to your bridal fitting to adjust the length of your dress accordingly and get ready to dance the night away! Flat shoes often come at a much more affordable price too, check out these cheap flat shoes from Uppersole for a range of designs.
Kitten Heel
Struggle to balance in high heel stilettos. Not a problem. A short kitten heel wedding shoe could be the one for you. Try a tapered, cone-shaped or block heel style and this will give you the posture you need to complete your graceful bridal look. Kitten heels are a great all-rounder – a more practical option but still add elegance to your ensemble. You can try an assortment of kitten heels from courts, peep toes and sling backs that can be perfectly paired with a shorter wedding dress.
Block Heel
Looking back at previous wedding shoe designer collections, the trendy retro inspired block heel made an appearance a few years ago. This shoe option is ideal for brides who require extra stability when it comes to footwear. Block heels are easier to walk and stand around in, especially when waiting for photographs on your wedding day. Most block heels also come with a strap to add even more support. So, this comfortable and fashionable combination might be the choice for you!