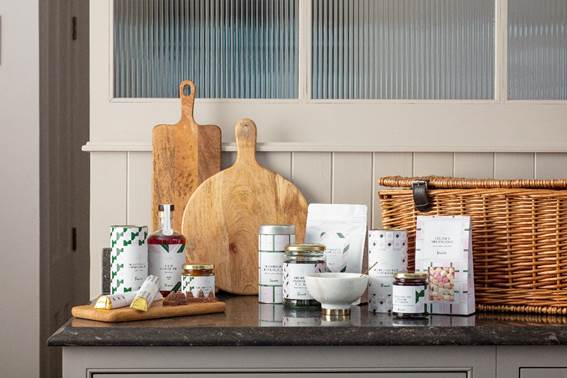 Luxury department store Fenwick announces its first foray into food and drink with the launch of its exclusive Own Brand Food and Drink range, available instore and online.
Fenwick has scoured the British Isles for the best growers, producers, bakers, chocolatiers, roasters and distillers crafting the most irresistible, artisanal food and drink for the exclusive launch. The carefully curated range consists of thirty extravagant edibles and gourmet delights which combine creativity and craftsmanship with proudly local ingredients, promising delights for every occasion.
Stand out products include sublime sweetness in the form of Dark Chocolate & Stem Ginger Biscuits, Blonde Chocolate Toffee Biscuits, Hand Roasted Arabica Coffee crafted in Newcastle and a 'grown-up' drinking chocolate which offers notes of cobnut and toffee for a regal, velvety decadence in a cup. For those who like something a bit stronger, there are two delicious gin liqueurs included – Blackberry & Ginger and Plum and Northumberland Street Honey, which is made from natural honey extracted from the store's very own beehives on the rooftop of the Newcastle store.
Adding an undoubtable taste of Christmas to customers' tables this year, Fenwick's own brand range includes seven seasonal delights. From flaky sweet mince pies and loose hand-blend tea for visiting guests, to festive gin liqueurs to raise a glass with, there's something to suit all occasions this festive season.
The Christmas range comes beautifully packaged in bespoke illustrations from Fenwick's 2019 Artist in Residence; Julie Verhoeven and make for the perfect gift or centrepiece for celebrations.
Leo Fenwick, Head of Brand at Fenwick, said: "We have always credited our shoppers with exceptional taste and are delighted to be able to satisfy those tastes with the launch of our Fenwick range. We have worked incredibly hard in the curation of the range and have engaged with the finest suppliers in the UK in its creation. Our core range will develop and expand over time with the regular introduction of new products. We will then introduce seasonal capsule collections such as our Christmas collection, during the year. We are very proud of the range we are launching and can't wait for our customers to try the produce within it."