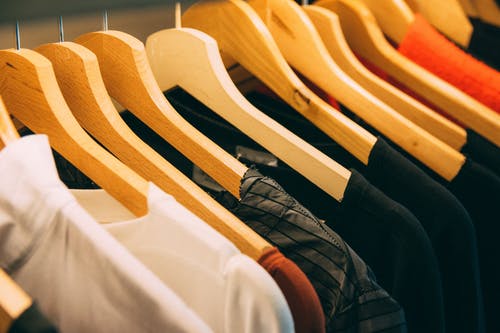 T-shirts are the simplest pieces of clothing we can combine with almost anything. There are a variety of designs and fabrics, and styles such as V-necks, crewnecks, collared, and you can wear them on outings, parties, gatherings, or any other event if you know how to mix them right. They are comfortable and can adapt to your style however you decide to wear them.
Popular names like Marlon Brando made wearing t-shirts even more famous. His iconic look from the movie "A Streetcar Named Desire" where he wore a classic white t-shirt is partly responsible for achieving the fashionable status of tees. Nowadays t-shirts are very popular among fashion designers who put their logos on, which makes their t-shirts expensive pieces of clothing. 
T-shirts are popular not only among men but also women. Blending them with fashionable pieces from your wardrobe can be a great way to express your unique style. Whether it's a plain t-shirt, or a V-neck, decorated with powerful or fun quotes or designs, you can wear it for outings or even to the office. Below are some ideas on what to choose regarding style and type, and also how you can mix up your spring outfit this year.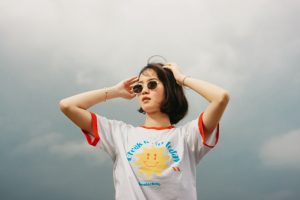 Designed t-shirts
Printed t-shirts have been worn since the 1960s as a form of self-expression, protest, advertising, and even as souvenirs. Screen printed t-shirts were used for marketing purposes and since the 1990s, companies produced t-shirts with corporate logos or messages as part of their advertising campaigns.
Design t-shirts are a must-have outfit in a woman's closet. It looks great for several occasions such as casual shopping, an outing with friends, a movie day, just to name a few. You can mix them with whatever you want as long as it looks cool, whether it be ripped jeans, or a plain skirt, simple black pants, heels, or sneakers. Design t-shirts are most popular among younger people, and they can be customized with the logo of their favorite movie, video game, anime, or simply a funny quote.
Customized prints with cool, powerful, or cheerful messages are very popular these days. For example, if you want to state to the world that your faith is strong, there are beautiful Christian t-shirts for women with powerful and cheerful messages, designed to promote your style, comfortable, and with a variety of colors and designs. This will definitely give a cool vibe to your outfit instead of a monotone one.
Type and style
T-shirts come in many fabrics, styles, and fits. It all depends on your outfit choice, season, and occasion so it's best to have different types to choose from. In fact, t-shirts come in a few different necklines such as crew-neck, boat neck, scoop or V-neck, and styles like babydoll, Henley, or base layers. Depending on your taste you can choose between cropped, fitted, or boyfriend t-shirts.
For example, you can wear a crew-neck type of t-shirt with sweaters or you can tuck them into your favorite jeans, pants, or skirt (such as a pleated midi skirt). A scoop and V-neck show off your collarbone and reveal a bit of cleavage, and they visually lengthen the torso which would be great for curvier or petite women. V-necks can be combined with a cardigan or a blazer. Another important element is the sleeve length. You can choose short-sleeved, long-sleeved or sleeveless shirts. It all depends on your style and combination of outfits.
Choosing the style depends on your silhouette and taste. Young people mostly like to wear cropped tees since they are trendy now. If you want to give off a casual look you can wear the boyfriend tee, and even put on an equally oversized blazer and you get a cool and easygoing look. The fitted t-shirt can give off a tailored style by tucking it into slim jeans or pants, a pencil skirt, or a voluminous one.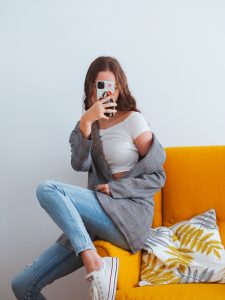 Mix up your outfit
There are plenty of ways to mix up your outfit based on your preference and what you want to convey. Do you want to go for that all-black look, or bright colors, or maybe just a colorful ensemble? Spring weather is perfect for blending colors and designs. T-shirts are the easiest to play with when it comes to making combinations. You can combine the colors and designs on the t-shirt and just wear plain black pants or jeans, or a skirt, whatever you choose will look cool, fun and unique.
The shirt or t-shirt dress is one of those spring pieces that are comfortable, versatile, and look great on almost anyone. Some women prefer wearing a shirt dress instead of a regular one, because we can always fuse it with some fun detail or other clothing such as leggings, over jeans, or with a nice denim jacket.
Some other ideas for a great outfit combo can be throwing on a black leather jacket over a simple white t-shirt with jeans, using a cardigan for the same combination or trying a spring light jacket that goes with anything. Spring is the season for different colors, so why not try a colorful jacket or a blazer that goes well with a simple t-shirt and black pants or blue jeans. Remember the striped t-shirt with black jeans? That would be a perfect combo for a casual outing with friends or a picnic. And lastly don't forget to add a simple accessory like a scarf around your neck, hair, or even handbag.
Final thoughts
Spring is the season for blooming and new beginnings, and for some people, a new season means a new outfit. There is no better outfit than t-shirts to make you feel comfy and chic at the same time, whether it's for a day in the office, brunch with friends, grocery shopping, or even a date. What matters is how you mix it up with other pieces in your wardrobe. Keep in mind that when choosing a t-shirt you need to pay attention to its fabric. Cashmere, for example, can bring an extra touch of elegance to your outfit.
Spring is also a changeable month so you want to be prepared if suddenly the weather changes. You can combine a t-shirt and jeans with any jacket you like whether it's a denim jacket, a blazer, trench coat, or a light coat. That's what makes it fun to blend it with any kind of weather.