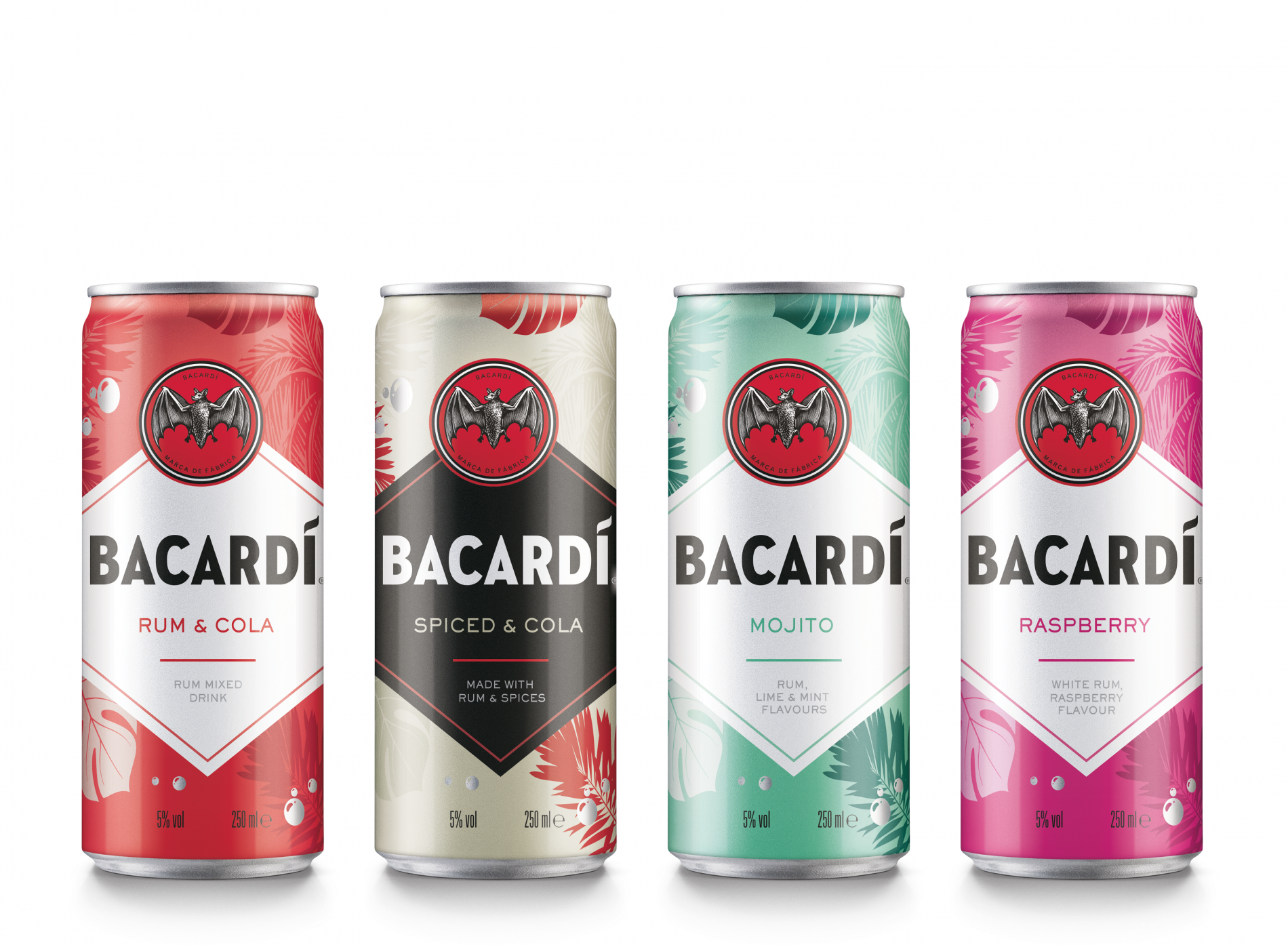 Cocktail lovers rejoice as BACARDÍ, the world's most awarded rum, relaunches its ready-to-drink cocktail cans – just in time to celebrate National Rum Day on 16th August! The stylish cans have been tastefully redesigned and are available in four refreshing-tasting flavours including, of course, the Mojito which was recently voted the UK's favourite cocktail in lockdown.
For those with a taste for something fruitier, look no further than the Raspberry Spritz. And, naturally, no party is complete without the classics, BACARDÍ Rum & Cola and BACARDÍ Spiced & Cola.
"We know the demand for ready-to-drink cocktails is increasing as the sector has grown by 43% growth in the past two years. Consumers need convenience more than ever – but not at the cost of amazing taste, which is why we've brought out some of the nation's favourite cocktails in ready-to-drink cans. We're delighted BACARDÍ fans will get to enjoy these delicious cocktails as they savour the rest of the summer sun," said Tine Van Nevel, Brand Director of BACARDÍ Europe.
The perfect drink to grab if you are on-the-go or simply basking in the sun from the comfort of your own garden, the ready-to-drink cans offer a simple solution to travelling light whilst still enjoying your favourite cocktails this summer.
With National Rum Day just around the corner, why not gather some friends and toast to the occasion in true BACARDÍ style by cranking up the music and enjoying an expertly crafted cocktail wherever you find yourself?
"This summer is all about making the most of our amazing outdoor spaces and soaking up the sun, and what better way to enjoy the heat than with a delicious, chilled cocktail? Our ready-to-drink cocktail cans are easy to keep cold and bursting with vibrant flavour, making them the perfect drink for any summer occasion," commented Metinee Kongsrivilai, UK Brand Ambassador for BACARDÍ.
The BACARDÍ Mojito, BACARDÍ Rum & Coke, BACARDÍ Spiced & Cola and BACARDÍ Raspberry Spritz ready-to-drink cans can be found at Sainsbury's at an RRP of £1.80 per 250ml can.
Each BACARDÍ ready-to-drink can has an ABV of 5%.