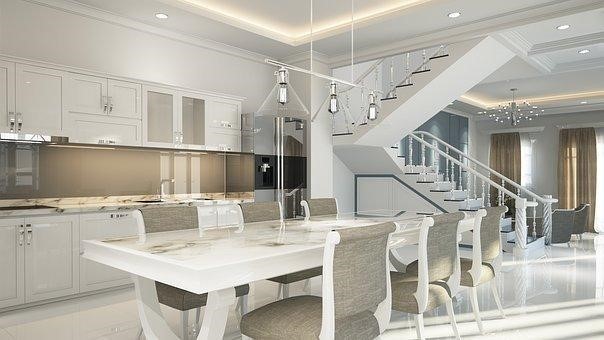 Want to incorporate some luxury into your home to suit your luxurious lifestyle? Well, look no further because we are going to discuss some ideas that you can keep in mind.
If your heart lies with a more luxurious way of living, then upgrading your home to reflect some of the best things life has to offer is a must. The good news is, creating your very own lap of luxury is a lot easier to achieve than what you may think. There are a few simple, timeless touches you can make in order to achieve a more lavish air within your home. Read more to learn about how a few simple updates to your lighting and floors — and adding a few high gloss finishes — can transform your home.
Parquet Flooring
If you want to achieve a luxurious theme when it comes to upgrading your home's interior, then the first thing that you should consider looking into is some new flooring options. There are many different types of flooring for your home, but nothing quite says luxury more than some parquet flooring. It is much easier to achieve a more luxurious look with parquet flooring than it is with other types of flooring, because of the stunning geometric patterns that can be created when it is laid. Just take a look at some of the styles available at woodfloorwarehouse.
High Gloss Finish
Another way that you can upgrade your home's interior to match your luxurious lifestyle is to consider having a look at purchasing some high gloss finish items. This kind of furniture is becoming increasingly popular; the sheen will draw the eye of anyone walking into the room, and make a bold statement — even if you opt for a more classic silhouette. Take a look at some glossy tables, picture frames, lamps and, of course, mirrors. A few pieces will make a significant difference.
Which Lighting?
Something that you should pay attention to when it comes to upgrading your home's interior is the lighting you have throughout your home. The lighting that you have in your home can play a big part in the way your home looks and can completely change the style depending on the type of lighting you have. If you are looking for lighting to match your luxury lifestyle, then you should consider some crystal lighting for a stunning focal point, or a few well-placed spotlights to add light into every corner, without intruding on more minimalist decor.
Display Your Possessions
When it comes to adding those finishing touches, the old adage is 'less is more' — particularly if you are looking to achieve a more modern and luxurious feel within your home. Remember that your possessions are there to accentuate the furniture — not to overwhelm it. Most importantly, remember not to be too rigid with your decor. Aim for plenty of variation in size and shape, and be sure to finish it off with a few special items: beautifully framed photographs, artwork, and heirlooms will lend a personal touch, and prevent your spaces from feeling too 'showhome'.
Keep This Information in Mind
There are many simple changes you can make to upgrade your home's interior to reflect your luxury lifestyle. From transforming your rooms with elegant parquet flooring, to brightening every corner with some spotlighting. Make sure that you keep these ideas in mind and use them to help you upgrade your home's interior.