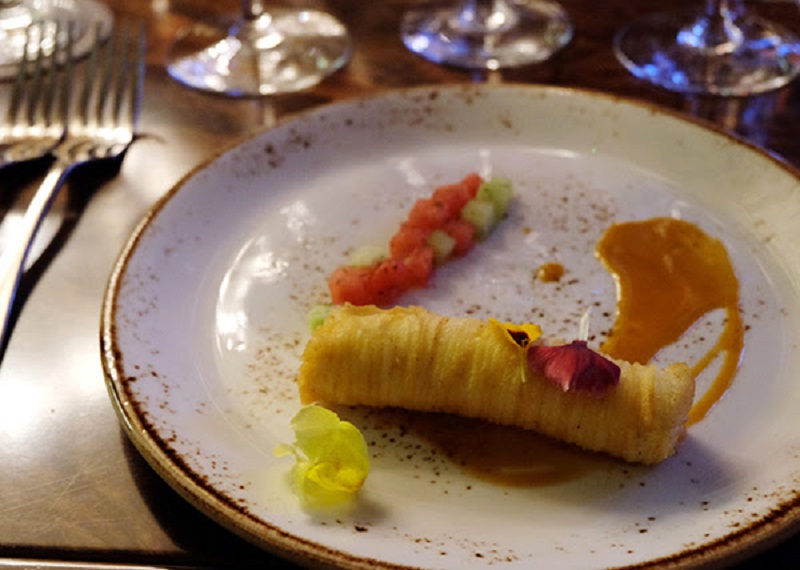 Award-winning chef and Polish Food Ambassador Chef Damian Wawrzyniak has launched two new tasting menus at Peterborough restaurant House of Feasts. The two menus, Feast 5 Menu and Feast 7 Menu, are a showcase of contemporary dishes, with traditional Polish fare meeting local English produce, sourced from the local Cambridgeshire countryside.
The menu features amuse bouche as an appetizer and starters such as the traditional Polish Smalec served with sourdough bread and pickles, aged rib of beef tartare with cured egg yolk, preserved cucumber and smoked cheese, and potato cake served with cottage cheese, ash and chive. The main courses include salt and sugar-cured salmon served with pickled beetroot and cured seaweed, pork knuckle (a very popular dish on Polish plates) served with pear cured in saffron and honey, and hunter stew and preserved meat and Halibut wrapped in desire, with melon and cucumber.
Some of the desserts available include king cheese with raspberry leather, rose petals and beetroot with dark chocolate and matcha.
"I'm really excited about my two new tasting menus. My food philosophy has always been that eating should be founded on a love of the ingredients, paired with great drinks and even better company. I wanted to bring all of these elements together in a new, innovative way. This was the foundation for the new tasting menus, which are delicious, fresh and flavourful showcases of local produce and Polish traditions. The tasting menus are a fantastic way to try a selection of dishes in one go and I hope that diners are as excited about the various dishes as we are," said Chef Damian Wawrzyniak.
Feast 5 Menu is priced at £45, while Feast 7 Menu is priced at £65, both being available at the House of Feasts starting with March 2018.