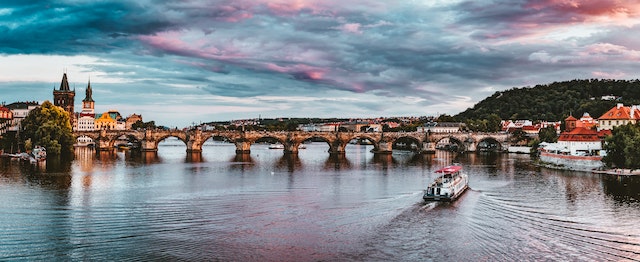 The capital of the Czech Republic, Prague, also known as "The City of a Hundred Spires", is fast becoming one of the most popular destinations for stag parties. It has far more to offer than just historical architecture and vibrant nightlife – the city is home to dozens of adrenaline-filled activities for an unforgettable experience for the groom and everyone else involved!  So, if you are the best man in search of thrilling activities for an active stag party in Prague, here are some of our top suggestions.
Precision shooting
If you are looking for a truly unique and exhilarating experience for the Prague stag weekend at the shooting range – you're in luck. The city is home to some of the very best shooting ranges in Europe! Whether you're a seasoned sharpshooter or a curious novice, Prague's professional shooting facilities cater to all levels.
The opportunity to handle and fire a wide array of firearms, from AK-47s to Magnums, is not just exciting but also truly adrenaline-pumping, as you enjoy a friendly competition of which member of your group is best at aiming for the bull's eye. You will be under the supervision of expert instructors, who will ensure that you have a great time while keeping you safe.
Go karting
The adrenaline doesn't end there, as you are in for yet another exciting activity – high-speed go karting. You can find both indoor and outdoor karting tracks in Prague, where you can either race each other, settling the debate on "who's the best driver" once and for all, or try navigating a challenging obstacle course. Go karting is guaranteed to satisfy the needs of the adrenaline seekers in your stag party, while also being a fun and memorable activity for everyone.
River rafting
River rafting is a perfect blend of team-building and thrill-seeking, ensuring a day filled with laughter and lasting memories. You can enjoy this thrilling activity on the Vltava river that runs through the city's heart, so you will be surrounded by great views throughout the day. For those who prefer a more relaxing yet still active time, canoeing or paddleboarding are also great options, both available in the same area.
Bubble football
Imagine a traditional football game but with a funny twist, and you will get Bubble Football. During this hilarious activity, you are encased in a giant inflatable bubble. The players have to bounce, roll, and crash into each other while trying to score goals, just like in traditional football. The result of this is a ridiculously funny and unforgettable activity for a stag do. Not only does it offer a great physical challenge, but also fosters team spirit among your group!
Beer biking
You cannot leave Prague without getting involved in at least one quintessential Czech beer-related experience, and beer biking is a brilliant option! This activity is essentially a combination of sightseeing and beer tasting, all while pedalling your way through Prague's charming streets. You will get to sip on some of the best Czech beers and learn all about the city's history. The interactive activity is the perfect mix of culture and fun, making it an ideal way to unwind after a day of adventure.
All in all, Prague truly hits the mark when it comes to stag do activities! Combining adrenaline-pumping experiences with hilarious sports and cultural activities, the city has something to offer for all tastes and thrill levels.