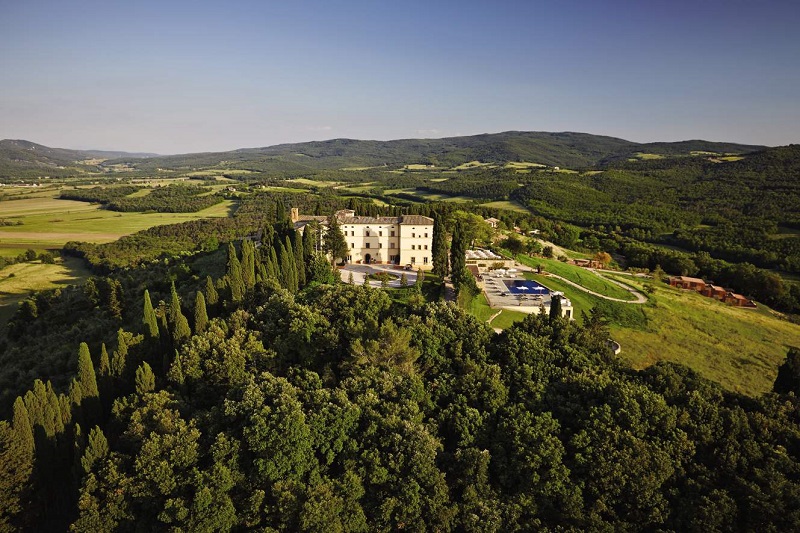 Belmond has added a new hotel to its portfolio – Belmond Castello di Casole – a truly authentic Tuscan retreat, steeped in Etruscan history, fully encapsulating 'The Art of Good Living' and connecting guests with local culture and rich heritage.
The castle hotel and grounds sit within an untouched nature reserve in the Tuscan hills between Siena and Florence. A cypress tree lined private road ascends to the historical estate, situated atop rolling hills with panoramic views of the surrounding villages and patchwork farmland, such as olive groves and vineyards that produce the property's own olive oil and 'C' private label signature wines.
Each one of the 39 all-suite rooms capture the spirit of the region, with design features that include original stone flooring, terracotta colours and traditional alabaster from the local region of Volterra, reflecting the estate's rich history.
The Essera spa is the place to connect with Etruscan history and disconnect from modern day living. Rejuvenating signature treatments using local ingredients, such as rosemary, grape seed and olive oil and ancient Etruscan methods, reflect the spirit of Tuscany and connect guests with the rich surrounding landscapes. Guests can even enjoy a red wine bath and hydro-massage enriched with red wine extracts.
A dynamic mix of local Tuscan and Italian flavours, including classic Venetian dishes, such as tender carpaccio and tagliolini Verdi, are served in the sun-lit courtyard of Cip's Club by sister property, Belmond Hotel Cipriani. Old Tuscan traditional dishes with a modern flair can be found at Tosca, which uses ingredients grown in the hotel gardens.
For those who love the outdoors, the vast acres surrounding the property provide an unrivalled backdrop for a range of activities. Head out with the estate rangers for a sunset safari to see the plethora of wildlife, including deer, wild boars, pheasants, foxes and hares, discover truffle hunting or explore the estate from the many hiking trails or cycle along the tracks amongst the vineyards.
If you wish to book yourself a Tuscan retreat, visit https://www.belmond.com/hotels/europe/italy/tuscany/belmond-castello-di-casole/.