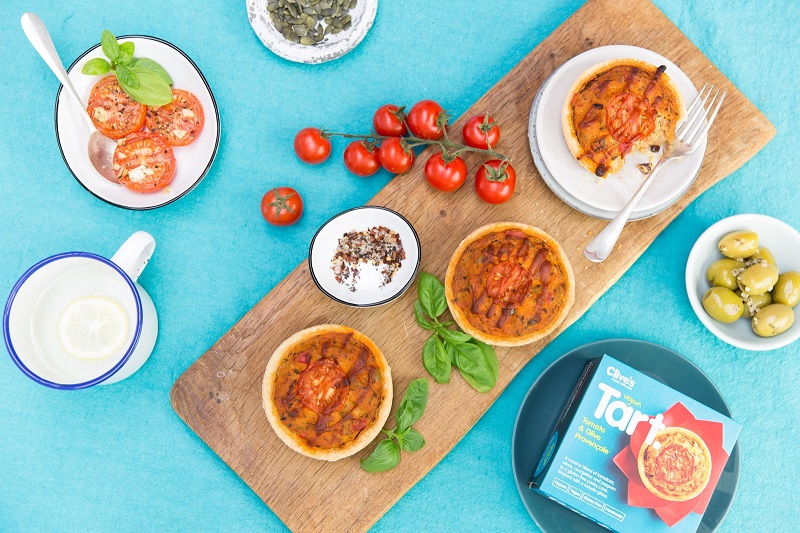 Starting with the 4th of June 2018, Clive's delicious organic vegan goodies will be made available in Waitrose stores across the country. Waitrose will stock the much loved wholemeal Creamy Mushroom Pie and three gluten free products: Clive's Nut Roast, Tomato & Olive Provençale and Lentil & Kale Ragout with Cranberry.
"I can't tell you how excited we are to see our food in Waitrose. As a small business we have been gearing ourselves up to meet this increased demand and are over the moon to see our product alongside bigger brands in Waitrose stores. We can't wait to hear what Waitrose customers think," said Sally Carson, Managing Director at Clive's.
The Creamy Mushroom Pie has been a people's favourite for many years now and the more recent additions – the Nut Roast and the tarts – are becoming increasingly popular as well, particularly on warm summer days. All products are ready to eat and can be served as a snack, a meal on the go or picnic style. They can also be served hot with roasted vegetables or your favourite salad.
Clive's, a family-owned organic vegetarian bakery perched on the edge of Dartmoor in glorious Devon, have been hand making and supplying their delicious fare to health food shops for many years. Clive's are particularly proud of their Soil Association accreditation and three decades of pie making experience, starting with Clive himself.