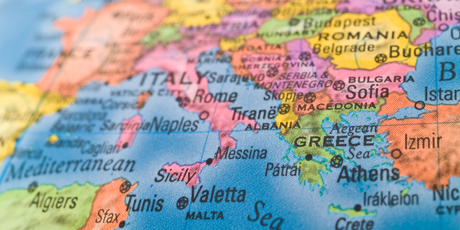 Do you really need to slow down in later life? If you're about to retire or are already enjoying a work-free lifestyle, you may find that you have more free time and cash to do what you want, when you want. So why not travel, the world is your oyster?
Europe as a continent, has something to suit everyone; From culture to history, and a choice between hot and cold climates, depending on where you go. There are plenty of real beauty spots and places of interest to visit, so which ones should you add to your travel list?
Global provider of stair lifts Acorn, share this guide to the must-visit destinations in Europe, to give some inspiration ahead of your trip.
The Highlands in Scotland
Seeking a breath-taking scenery, why not plan a trip to Scotland? With many areas of natural beauty, it's hard to choose just one area to visit, but thankfully given the small size of the country and great transport links on offer, you can explore much of this country in a single trip.
You can choose to travel via rail, which would allow you to navigate Scotland's hilly terrain and see as much of the country as possible, which would give you a panoramic perspective on the beautiful landscape. The West Highland Line is a train service that operates from Glasgow and travels to Oban, Fort William and Mallaig. The route is largely considered to be the most picturesque in the world — and with its rugged mountains, it's easy to see why.
You can also explore the Highlands via boat, include a stop at Moray Firth on your route, which is located close to the tip of Scotland. The water is offers a habitat to around 130 bottlenose dolphins, and regular boat tours operate. You may be able to spot seals, whales and porpoises further out, while you'll also enjoy dazzling views of the coastline.
Once you've seen enough of the countryside, and fancy somewhere a bit livelier, stop by the capital, Edinburgh. This vibrant and historic city has much to see and do, whether you spend your time visiting the zoo, exploring the old town, touring the underground vaults or enjoying a bite to eat in one of the city's many cafes or restaurants. For even more culture, plan a visit in August — the Edinburgh Festival Fringe, the largest arts festival in the world — is in town for much of the month.
The Algarve in Portugal
With a warm temperature that lasts all year-round and beautiful coastline, Portugal is another stunning destination, to mark on your travel wish list. The Algarve, is a choice for many, especially for those who enjoy outdoor pursuits.
Golfers of all levels of skill, can tee-off at one of many golf courses, found in the Algarve. Coastal courses are a perfect choice for panoramic views as you play and, as the country receives a staggering 300 day of sunshine a year, there'll be little chance of rain spoiling play.
Of course, perhaps you're seeking the opportunity to soak up sun and escape the cold climates. Well The Algarve is ideal with its many stretches of sandy beaches and plethora of luxurious hotels and apartments. It is renowned as a tourist destination but take full advantage of not being limited to travelling in the school holidays and visit in the quieter months such as October and June.
If you're one that enjoys learning the historical culture of a destination, lose yourself in one of the many churches that line The Algarve landscape. Unlike the stone churches and cathedrals present in many countries, some of those in Portugal are lined with spectacular tiles and azulejos that make them stand out from any religious building you've seen before. Or head down to the Old Town where you can relax in the Old Town Square (Praça da Vila) and admire the surrounding architecture.
Amalfi Coast in Italy
Stretching at 50-kilometer along the south of Italy's Sorrentine Peninsula, the Amalfi Coast is another great destination to visit. It's famous for its quaint fishing villages and small beaches that many relax upon. If this is somewhere that you are considering travelling to, avoid holidaying between November and Easter as many hotels and restaurants are closed during this period and you will miss the exciting hustle and bustle of the destination. Instead, spring and autumn are perfect times to visit when temperatures are around 15-26°C and precipitation levels are between 3 and 4 inches.
If you want to treat yourself to somewhere truly luxurious and relaxing, travel to the town of Positano. Here, streets are lined with colourful houses, impressive hotels and shops filled with beachwear and ceramics — you can get even your own pair of sandals made for you.
For an outstanding silhouette, stay in Sorrento which faces Mount Vesuvius – a volcano that sits on the Bay of Naples. Sightsee by boat around the coast of Sorrento either on a rented small vessel or as part of a group excursion. There's plenty of photo opportunities such as the rugged coastline of Italy and the turquoise sea.
Visiting the Amalfi Coast, you will never be far from other splendid locations either, such as the ancient town of Pompeii. Here, you can visit the amphitheatre which dates back to 80BC and relax in the preserved baths.
Paris in France
When you think of Paris, no doubt that the iconic Eiffel Tower will flash in your mind. But there's so much more to see and do if you only know where to go…
One of them being the Monet's Gardens, which is located in Giverny. You can take a 45-minute train journey plus a 10-minute bus ride from the capital. The spectacular garden is split into two parts, both of which are equally impressive — one is called Clos Normand and is full off symmetries and complementing colours, and the other is a Japanese inspired water garden.
Although it's recommended to explore Paris on foot, there are plenty of other ways to get around the city, to see what it offers. The open top hop-on, hop-off bus tour takes you to the Louvre, Montmartre and Notre Dame — giving you time to get off where you please or take memorable photos from the comfort of your seat. Many of the buses provide you with headphones too for a private commentary of the attractions you're passing.
If you prefer to travel via water, take on of the city's popular cruises down the River Seine. This is a great opportunity to put your feet up after a long day exploring. Admire the picturesque streets, bridges and cathedral as you're taken on an adventure through the city
Crete in Greece
The largest island of Greece, Crete is known for its rich history and stunning beaches. It is a perfect destination for a balance between culture, relaxation and adventure.
For history lovers, you can explore the Heraklion Archaeological Museum which showcase artefacts that date back between Neolithic to Roman times, (a time span of 5,500 years). This museum taps into the imagination with detailed descriptions of jewelry, pottery and other famous pieces from ancient sites.
If you enjoy being by the sea, then visit Venetian Harbour on the west side of the island, in an old town call Chania. Take a relaxing sunset stroll out to the trademark of the town — a lighthouse that sits near the harbour entrance.
Fantastic destination for food lovers too. Locals produce their own meat, wine, cheeses and even catch their own seafood — it's guaranteed that your dish will be as fresh as it can be. The local wine is tasty too — find the ideal one to complement your meal for a one-of-a-kind taste sensation.
As we've learned, there are many brilliant destinations that are suitable for older travelers – with opportunities to relax and take time out to learn about the history of the area. What are you waiting for? The world is waiting.