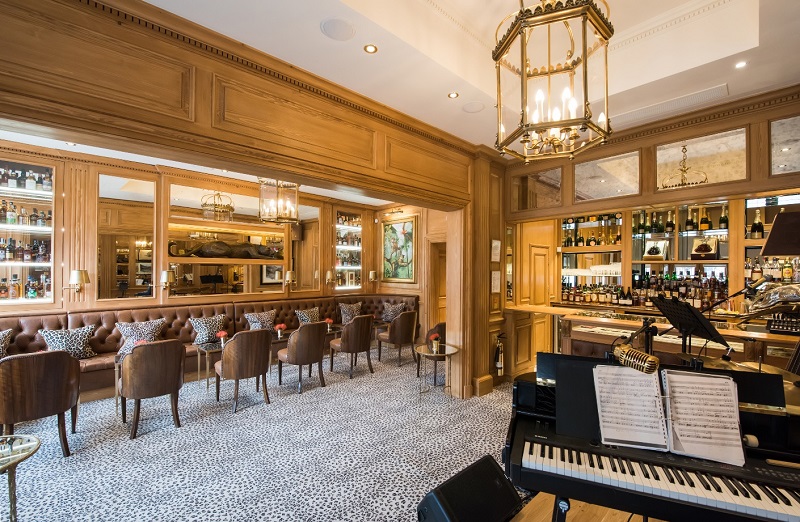 The Leopard Bar at The Rubens at The Palace hotel has opened its doors, bringing a new level of sophistication and elegance to Victoria's nightlife scene. The bar will be serving over 200 whiskies and 30 Champagnes, all against a backdrop of jazz music.
In addition to the impressive selection of whiskies and Champagnes, all of which are available by the glass, including Cristal and Krug Rose, there is also a wide range of cocktails available, such as the classic Bellini to the more adventurous Buddha Punch. Guests looking to grab a bite while enjoying their drinks can order from a selection of finger food, as well as some President and Founder Bea Tollman's much loved and famous Steak Sandwich.
The new bar is the latest addition of the Leopard Bars and Lounger portfolio, which have become signature features of selected Red Carnation properties around the world. It is completed with sumptuous brown leather deep buttoned sofas, glass whisky display cabinets and antique pinewood walls, offering a spacious 35 covers together with an outdoor seating for the warm summer evenings.
"The launch of the Leopard Bar is the final reveal in our extensive and loving refurbishment of the Rubens. The other Red Carnation Leopard Bars and Lounges worldwide have become vibrant destinations in their own right and we are excited that this bar will bring a certain glamour and joie de vivre to the hotel and the wider area," said Malcolm Hendry, general manager.
The new Leopard Bar further enhances the guest experience at The Rubens at the Palace and completes the spectacular multi-million-pound refurbishment of the property which has touched every room and public area. Alongside the striking red New York Bar, the hotel's elegant new fine dining restaurant The English Grill, and the recently opened Curry Room, The Leopard Bar is the final addition to The Rubens' new and regal look.
The Leopard Bar at The Rubens will be open Tuesday to Sunday, from 5pm until midnight.