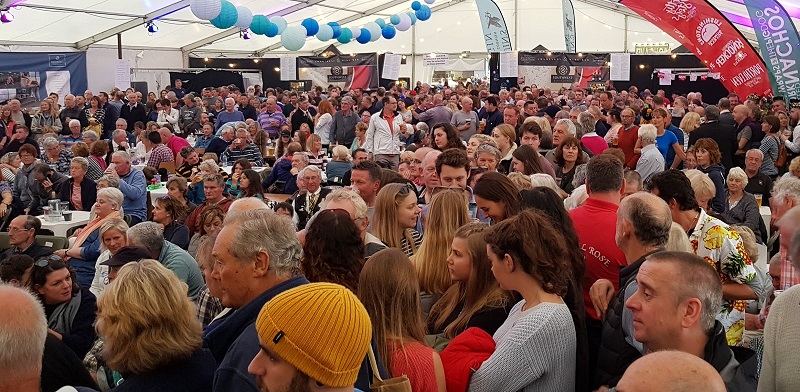 Cornwall's biggest and most-loved culinary event, Falmouth Oyster Festival, is coming back this October to champion the native Fal Oyster. The festival brings together a blend of esteemed local chefs, hardworking oyster fishermen, food and drink enthusiasts and an eclectic mix of musicians, all in celebration of the start of Falmouth's unique oyster fishery season.
The methods used in Cornwall have not changed that much in the last 500 years, with only vessels powered by sail or oar being able to operate. Their catch, the native Fal Oyster, has a salty liquor and sweet flesh that are considered far superior to the Pacific variety.
The festival boasts in cookery demonstration by top chefs and food experts from Cornwall's hotels and restaurants, which inspire visitors to try unusual and exciting seafood combinations and indulge in the tastes of native oysters and local produce. Moreover, experts are on-hand to divulge their tips on choosing, preparing and cooking the great variety of fresh sustainable seafood readily available in Cornwall.
"The number of festivals, in general, has increased considerably in the 22 years that the Falmouth Oyster Festival has been going and in Cornwall, in particular, there is a great variety of festivals for both locals and visitors to enjoy throughout the year. Each event majors on its best strengths and that is no more so than Falmouth Oyster Festival, that each year celebrates the start of the oyster dredging season, a sustainable and environmentally friendly method of fishing, unique to the port of Falmouth. Come and join our celebration, which offers something for everyone," said Mike Rangecroft, Festival Director.
The four-day event takes place between the 11th and 14th of October and it includes Cornish food produce, arts and crafts, real ale and wine bars, oyster and seafood bars, working boat racing, a grand oyster parade and an oyster shucking competition. Daytime entry to the festival is free, however, after dark tickets cost £5.00 available online and at various outlets in Falmouth.