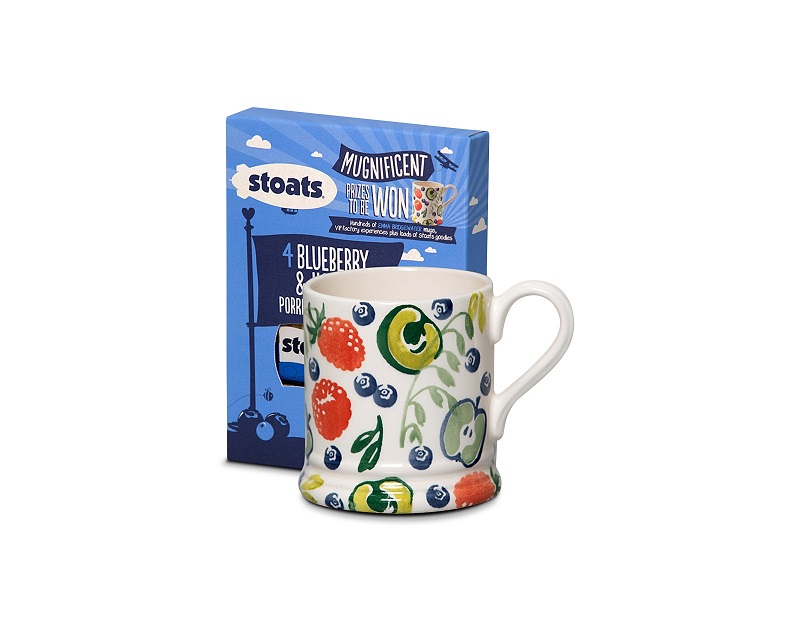 A new partnership between oats company Stoats and the iconic British pottery brand Emma Bridgewater sees the launch of a limited-edition mug as part of an on-pack promotion. UK consumers have the chance to win 800 beautifully designed ½ pint mugs that feature the natural elements that Stoats uses in its bars – oats and fruit – together with VIP experiences and Stoats Goody Bags.
"What better partnership than a cup of tea or coffee in a beautiful Emma Bridgewater mug enjoyed with one of our best-selling porridge oat bars. It's about making those everyday moments a little bit special, enjoying some time in your day to relax and refuel," said Tony Stone, managing director at Stoats.
The two companies have decided to start collaborating due to the similarities in their product values, family business ethos and their approach to using the very best British ingredients and raw materials.
"Stoats and Emma Bridgewater are such an obvious partnership, both home-grown British brands. We are thrilled to have designed a special limited-edition mug for Stoats featuring gorgeous colourful raspberries, blueberries and apricots, which have been applied by hand. We hope customers enjoy pairing their Stoats breakfast with tea or coffee out of an Emma Bridgewater mug," commented Emma Bridgewater.
The on-pack promotion is available on Stoats Porridge Oat Bars multipacks in Tesco, Sainsbury's and Waitrose UK wide, plus all Scottish multiple stores. Customers can choose from Raspberry & Honey, Blueberry & Honey, Apple & Cinnamon and Orange & Dark Chocolate porridge oat bar flavours and have the chance to win a limited-edition mug, a VIP visit to the Emma Bridgewater factory and other prizes.
Stoats specialises in providing good quality oat products that are wholesome, convenient and help satisfy hunger at all points in the day. All Stoats products are made from a unique blend of premium Scottish oats, and only ever combined with the best natural ingredients.