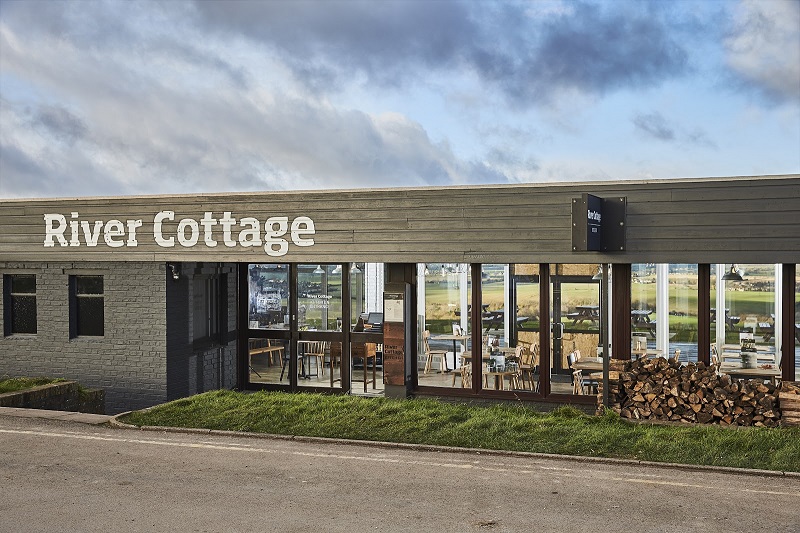 Visitors at ZSL Whipsnade Zoo can now eat on the premises at the River Cottage Kitchen and Deli, a collaboration between Hugh Fearnley-Whittingstall and his River Cottage team. Delicious lunches cooked with the finest seasonal ingredients, ethically and locally sourced, will be available on the menu.
The rustic restaurant overlooks the picturesque Chiltern Hills on one side and the Zoo's herd of white rhinos on the other side, making it a truly unique experience. The menu includes starters such as grilled flatbread, organic hummus and hemp seed dukkah and some of the main meals available are Roast spiced cauliflower, split peas and crisp onions and Baked lamb meatballs with pickled lemon and yogurt. Guests can also indulge in a few desserts, with hazelnut pavlova with roasted apples and custard being one of them.
"We are passionate about the quality of our visitor experience and as a result are in the middle of a £1m investment programme of our catering options at Whipsnade. Underpinned by our shared ethos and commitment to ethically-produced food, River Cottage is the perfect catering partner for ZSL," said Kathryn England, ZSL Head of Commercial. "It is truly an experience like no-other, giving diners the chance to refuel with delicious meals while enjoying a remarkable view of our incredible herd of white rhinos on one side and overlooking the Chiltern Hills on the other. It is the perfect addition for any foodie exploring the UK's largest Zoo."
Hugh Fearnley-Whittingstall and ZSL have worked together before, both being committed to environmental sustainability and conservation. ZSL runs more than 50 such projects worldwide, and many of them focus on Hugh's visions, such as his influential mission to combat the elephant ivory trade. Another similarity is that they are both interested in reducing the levels of consumer waste.