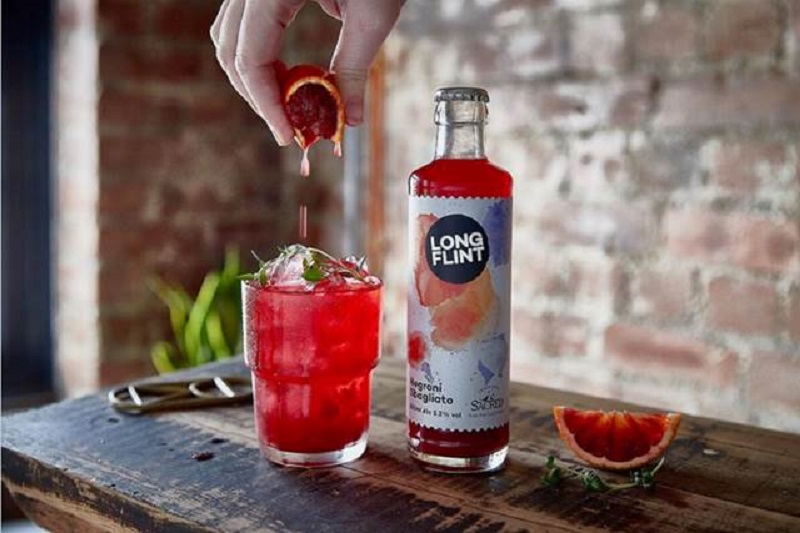 Sauce Communications has introduced The Longflint Drinks Co, a new style of 'long drink' in the UK that uses handmade tonics, sodas, and seltzers combined with craft spirits. Its mission is to bring the excellence and expertise of their background in craft beer under a new form.
"What we do is actually pretty simple. We hand make a range of tonics, seltzers and sodas before matching them with gin, rum, vodka or mezcal from our favourite craft spirits producers," said the co-founder James Law.
Founded in east London, Longflint represents a collaboration between artists who design each of its labels, local suppliers, and independent producers that results into unique and affordable drinks. The range can be found and purchased at the price of £3.50 at Mother Kelly's, Selfridges, and Whole Foods, in the tap rooms of Camden Brewery and Beavertown, and in pubs such as the People's Park Tavern in Victoria Park. It can also be purchased online via Amazon or directly from its website: https://longflint.com/
The founders of Longflint Drinks Co. are James Law and Mark O'Reilly, together with brewer Shane McNamara. They all have a background in craft beer, using it to produce a range of drinks made in collaboration with craft spirits producers. The drinks are carbonated and are around 5% ABV.
The Longflint range includes: A Winter Spiced Pear, Vodka Tonic, a blend of new season British conference pears, East London Liquor's 100% wheat vodka, and a syrup of clementine's, cassia cardamom, ginger, cinchona bark, and cloves; Ginger & Rum Fuego, with spiced rum, pressed ginger juice, and Longflint's own dried chilli tincture Rumbullion; Grapefruit, Sour Cherry & Mezcal Paloma, QuiQuiRiQui mezcal blended with grapefruit juice, and a thyme and rosemary vodka maceration; Hibiscus, Gin Tonic, with cold brewed hibiscus flowers, packed with red stone fruit flavours and Longflint's house tonic; Negroni Sbagliato, using prosecco instead of gin and added Sicilian blood orange juice; Rhubarb & Vodka Seltzer, a blend of pure British rhubarb juice, house-made vanilla tincture, and organic vodka; and Rose Hip & Gin Fizz, organic gin mixed with Longflint's house tonic and rose hip, the fruit of the Rosa Canina.