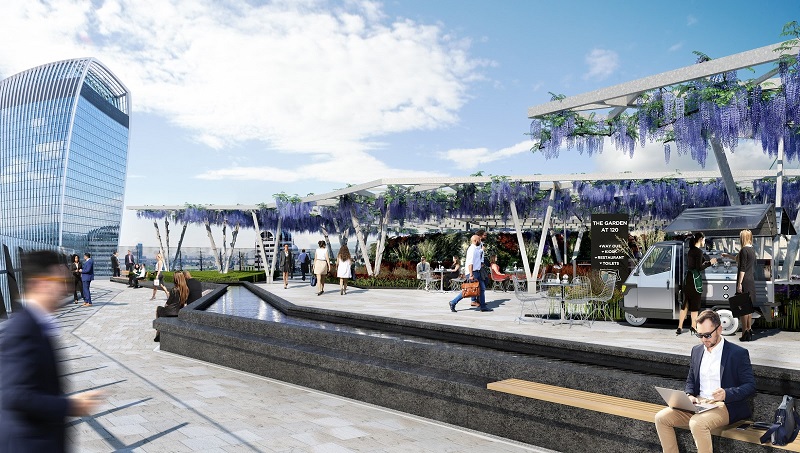 D&D has announced the launch of a 9,257 sq ft restaurant on the 14th floor of a new development on 120 Fenchurch Street in an agreement with Generali Real Estate. Set to open in spring 2019, the restaurant will operate on the floor below a public sky garden and will boast stunning views of the capital, including Tower Bridge, Tower of London, River Thames and The Shard.
Designed by Eric Parry Architects, the building is located adjacent to Leadenhall Market and it will provide 420,000 sq ft of new Grade A listed office accommodation over 13 storey and around 27,000 sq ft of retail space at ground level.
"After a series of regional UK openings, including our recently launched rooftop restaurant 20 Stories in Manchester, and the announcement of our international expansion with Bluebird opening in New York later this year, 120 Fenchurch Street represents a return to London for what will be our largest new venture here since Aster in Victoria. London continues to be a significant part of D&D's growth strategy and the project also reflects our continuing commitment to the City. 120 Fenchurch is a remarkable building and I hope that we can create a restaurant to match," said Des Gunewardena, chairman and CEO of D&D London.
Tina Paillet from Generali Real Estate commented on the agreement as well: "From the outset, our focus as a long term real estate investor has been to carefully curate the retail and restaurant offer within our development at 120 Fenchurch Street, to create a vibrant hub for this part of the City. We are confident that D&D is the perfect fit for our building and look forward to them creating one of London's most exciting rooftop restaurants."
D&D London owns and operates over 30 leading restaurants in London, Leeds, Manchester, Paris, New York and Tokyo and the highly acclaimed South Place Hotel in the City of London. Restaurants in London include Le Pont de la Tour, Coq d'Argent, Bluebird, German Gymnasium and Sartoria.