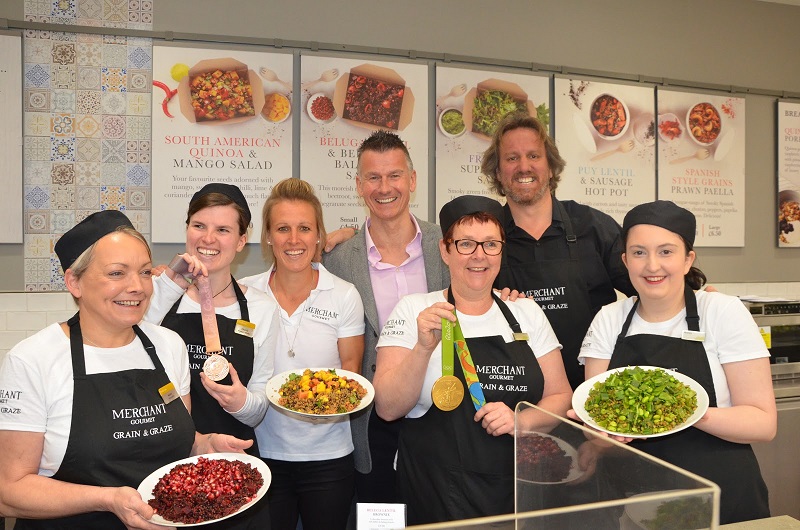 The market leader of healthy pulses, grains, seeds and nuts brand, Merchant Gourmet, has announced its new brand ambassador – Alex Danson MBE, GB and England Hockey Captain. Alex has been a loyal customer of the brand for several years, as well as an athlete and a vegetarian, making her a perfect fit for the role.
"As an athlete, I've always been keen to put nutritious food into my body. Grains and pulses are key ingredients for me being a vegetarian as I need as much protein as I can get. I'm also fairly limited with time due to my training schedule; therefore the pouches have been extremely convenient," explained Alex. "Merchant Gourmet was the first brand I found that I could literally pick straight off the shelf and eat cold out of the pack (half pre and half post-training). I could also take it with me on tour and have the confidence I'm fuelling my body with the right nutrients – a good source of protein and fibre."
This announcement follows an incredibly exciting year for Merchant Gourmet, which has also announced that it will become the latest Official Sponsor of England & GB Hockey and an Official Partner of the Vitality Hockey Women's World Cup 2018.
Moreover, the brand confirmed the reopening of Grain & Grain Islington, a healthy eating pop-up restaurant initially opened on a short-term basis. However, due to its huge success, the space reopened its doors earlier this month.
The second Grain & Graze offering opened in April 2018 in Waitrose Salisbury, offering foodies, fans and shoppers the opportunity to pick up healthy and delicious food on the go, as well as receive step by step recipe cards and purchase products from the wider Merchant Gourmet ready to eat range.
Clive Moxham from Merchant Gourmet commented on Alex's decision to join the brand: "To say we're excited to have Alex come on board as our official brand ambassador is an understatement. We've worked unofficially with Alex for a while now and I couldn't think of anyone better to join us at team Merchant Gourmet. Alex represents everything we stand for – this year we're seeking to encourage the nation to lead healthier lifestyles by eating nutritious food whilst keeping our bodies active, as Alex is the perfect embodiment for this mission! Welcome to the team, Alex!".