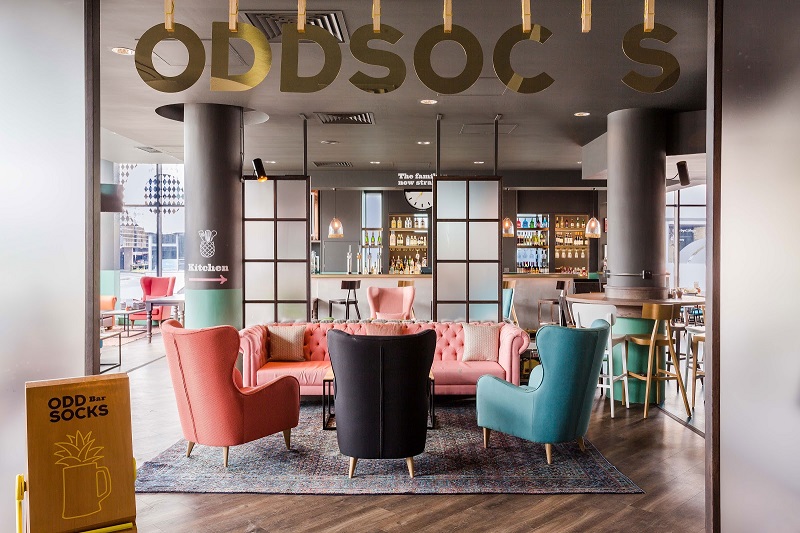 Jurys Inn, Brighton has recently announced the launch of Oddsocks Bar & Kitchen. This new location will be the first hotel to introduce the unique restaurant concept to the Jurys Inn Portfolio.
Oddsocks Bar & Kitchen will offer guests at the hotel and diners a new and unique dining experience through the delivery of amazing food in a beautifully contemporary environment. Le launch of Oddsocks has come as a part of a £1.85 million investment into Jurys Inn in Brighton. The investment has also allowed for a complete redesign of the hotel's 234 bedrooms, nine meeting rooms and has led to a fresh new look for the bar and lobby areas.
The refurbishment work carried out in Jurys Inn Brighton has put the hotel among the leading destinations for conference meetings and events. The nine fully equipped contemporary meeting rooms have all been installed with WiFi and there is a team of professional event staff employed at the hotel, and available to help out.
Guests at the new Oddsocks Bar & Kitchen do not need to be guests of the hotel in order to enjoy the amazing new bar and restaurant. The newly launched location works to offer a relaxed and comfy environment that is perfect for a mid-week meeting or as a place to gather delegates for refreshments after a conference. The restaurant also offers a light and late breakfast option between 7am and 12pm as well as a comprehensive lunch and evening meal menu filled with a delicious choice of meals.
The Oddsocks Bar & Kitchen will also be opened at the Jurys Inn locations at Manchester and Liverpool at some point later this year, which will form a part of a wider investment of over £75 million which has seen work completed at all of the Jurys Inn Hotels over the course of the past five years.