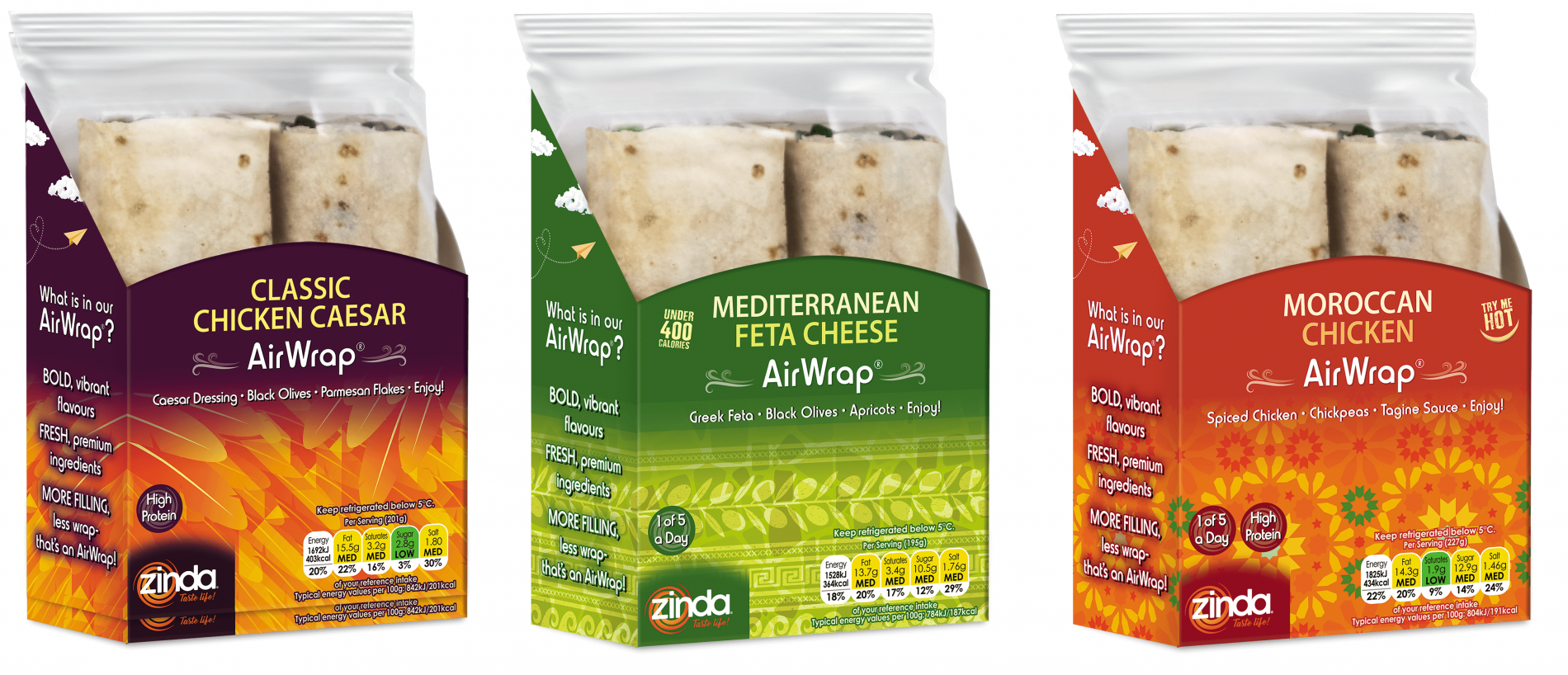 It's time to say goodbye to underwhelming lunches and hello to exciting memorable wraps, which do not skimp on flavour, filling or nutrition, giving your lunchtime more bang for your buck!
Zinda Foods launches its range of ready-to-eat Airwraps®, a deliciously light wrap filled with a mouthwatering range of fillings unlike anything else available, with the promise of a lighter, healthier and tastier way to eat at your desk, in the car, or out and about. The new brand, Zinda, means "Alive" in Sanskrit and was founded by Anishya Kumar, who wanted to revitalise the food-to-go market by giving consumers a whole new eating experience.
AirWrap® is Artisan in every sense of the term, as each one is uniquely handcrafted using all natural ingredients, no preservatives & no palm oil, it's leaner, lighter and softer than traditional tortillas. It also contains less fat & salt giving a far more enjoyable and healthier way to eat on the go. Most of all, because of the paper-thin & wonderfully soft texture, it lets the fillings shine through.
Anishya collaborated with Michelin Chef Alfred Prasad to re-invent two main flavours The Chicken Makhni (Indian Butter Chicken) and The Akuri (Indo-Persian) sauces presenting them in a healthier, wholesome and delicious AirWrap®. Other authentic flavours in the range also promise optimal energy balance – low calorie, high protein with one or more of your five a day. There are no red traffic lights and less saturated fats and salt content than traditional wraps. They are also versatile and can be eaten hot (microwave or grill) or served cold.
Classic Chicken Caesar AirWrap® – tender chicken tossed in a creamy Caesar dressing with black olives, Parmesan flakes, bell peppers, lemon zest and crisp spinach.
Mediterranean Feta Cheese AirWrap® – Greek Feta cheese tossed with bell peppers, olives, onions, apricots, zest of lemon & mint and crisp spinach.
Moroccan Chicken AirWrap – succulent chicken, chickpeas and raisins tossed in a classic aromatic Tagine sauce with warming spices of nutmeg & cinnamon and crisp spinach.
Other seasonal flavours will follow; the first of which is the Chicken Makhni Airwrap® in February.
Egg Akuri AirWrap® – flavour packed, Parsi (Indo-Persian) eggs with a classic Akuri sauce – tomato, onion, ginger balanced with the earthy goodness of turmeric and fresh coriander.
Spicy Tuna Slaw AirWrap® – mildly spicy Tuna with bell peppers, onions, lemon & mint mixed with smokey chipotle mayo and shredded cabbage & carrots.
Mexican Molé Pulled Pork AirWrap® – pulled pork in a delicious smokey chipotle Mexican Molé sauce with fresh crunchy shredded cabbage & carrots.
Chicken Makhni AirWrap® – tender chicken in a mildly spiced butter chicken sauce with fresh crunchy shredded cabbage and carrots.
Zinda's AirWrap® was recognised and awarded a Sammy for Most Innovative Sandwich Product by the British Sandwich Association in 2017, described by the judging panel as a "game changer" and "good alternative to the tortilla".
The range is available in Tesco with RRP from £2.98.