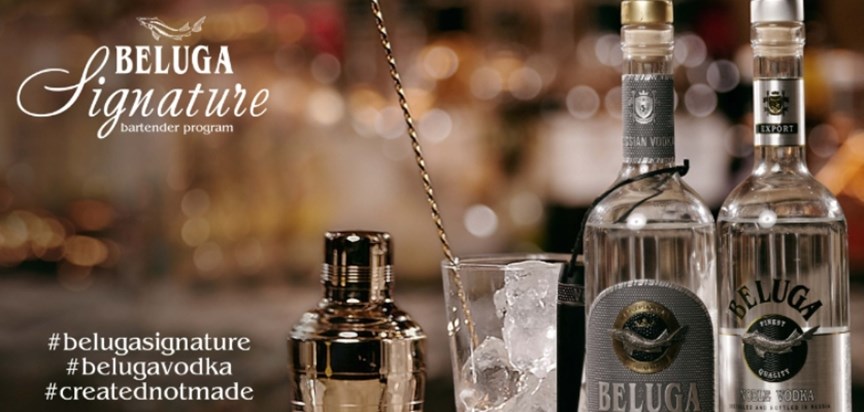 Lucia Montanelli, head bartender at The Dorchester in London, has just been announced as the winner of the UK final of the fourth annual Beluga Signature bartender program. She beat the other 9 semi-finalists with her stand-out signature serve cocktail the Beluga Siberian Treasure, using the Beluga Gold Line Vodka. Montanelli will join the winners of the heats in Russia, France, Germany, Spain, Italy and India in the grand final in Moscow in September 2019 to compete for the title of Beluga Signature Global Ambassador 2020.
Beluga Signature is an international, multistage bartender program encompassing an educational component and creative competition in 7 major markets. Any professional bartender can enter, and each year 30 applicants are chosen from each of the participating countries to join the Beluga Signature Bar Tender School. This is a day of educational masterclasses curated by spirits scene guru and Beluga Signature Educational Director, Philip Duff. All thirty attendees are then assessed in the creative task — to create a luxury drinking experience that combines a unique ritual with the drink serve that is performed by the guest.
It was from these 30 drinks entries that the top 10 UK semi-finalists were chosen. The UK final took place at Hush, Mayfair on 5th June. The judges were Paloma Altos from the Difford's Guide, Lorenzo Rocci, the 2018 Beluga Signature winner and industry stalwart Peter Dorelli — former head bartender of The American Bar at the Savoy Hotel, London.
Montanelli will represent the UK in the grand final, joining the 7 other global finalists on an all expenses paid trip to Moscow to compete for the title of Beluga Signature Global Ambassador 2020. In this role, they will represent the Beluga brand for a year at illustrious industry events like the Bar Convent Berlin, Germany (October 2019), Bar Convent Brazil (June 2020) and Tales of the Cocktail, USA (July 2020). They will also receive a one-week internship in their choice of any of the 50 World's Best Bars.
Congratulations also to second and third place winners Peride Fameli of the Arts Club and Michael Duda of the Library Bar at The Lanesborough. The competition was fierce, but it was Montanelli's homage to Russian history and elegant Martini style serve that earned her top position.  
Website: www.vodka-beluga.com
Facebook: https://www.facebook.com/belugavodka