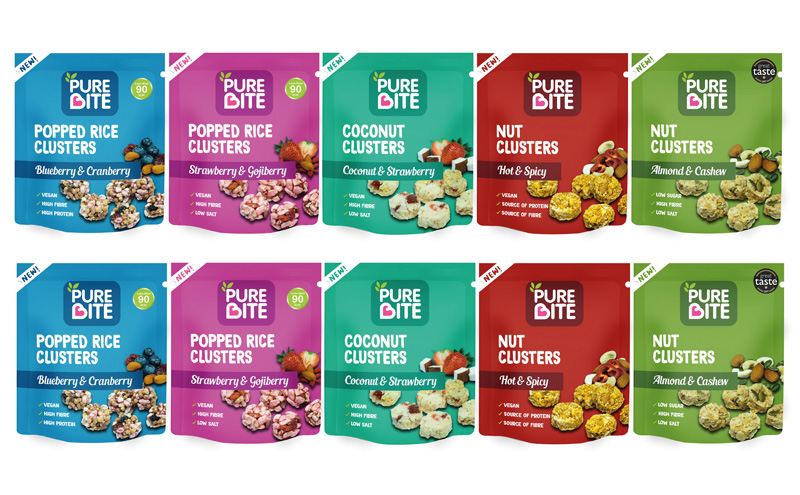 AWARD WINNING PURE BITE SECURES DISTRIBUTION IN NISA, COSTCUTTER & MCCOLLS
Pure Bite, the flagship healthy snack brand in Bite UK Snacks portfolio cements its position in convenient retail with a series of substantial listings across the UK expanding its presence in convenience. Pure Bite goes on sale in 200+ McColls stores, as well as central distribution listing in NISA and Costcutter stores across the UK from this month.
Jonathan Hastings, Ebor Foodmarkets Ltd (Costcutter), said: "We're excited about introducing Pure Bite into the healthy snacking range available in our stores. It will add a fresh and healthy option for customers to enjoy and for our retailers to offer to the growing consumer demand for tasty yet healthy snacks. Our healthy snacking range has grown significantly and we are delighted to introduce an exciting new brand that looks great on shelf and has serious health credentials. We believe that Pure Bite will be a popular choice for our customers."
According to Kantar Worldpanel 92%* of consumers could be encouraged to try a new type of snack (crisps, savoury snacks or nuts) with a third** of people looking for healthier types of snacks all or most of the time.
Founder, Jason Bull, said; "I am so delighted to have such outstanding partners in the convenience sector. The reason that I started Pure Bite was because I couldn't find snacks that delivered on taste and health credentials on the shelves. It just shows how far we are coming in terms of healthy snacking and just how much potential this category has to offer."
Pure Bite Almond Nut Clusters has won a prestigious Great Taste Award. The mission of Bite UK is to create delicious free-from and healthy products and are suitable for people with allergies and intolerances. The Pure Bite range is dairy free, gluten free, vegan, preservative free, high fibre, high protein, low salt, low sugar and low in calories. The current range (£1.69 RRP) is:
Pure Bite Popped Rice Clusters, Blueberry and Cranberry, 20g
Pure Bite Popped Rice Clusters, Strawberry and Gojiberry, 20g
Pure Bite Nut Clusters, Almond, 30g
Pure Bite Nut Clusters, Hot and Spicy, 30g
Pure Bite Crunchy Coconut Clusters, Strawberry, 30g
For further information please contact Helen Trevorrow or Vicky Hague @ Green Row on 0794 000 9138 or email [email protected]