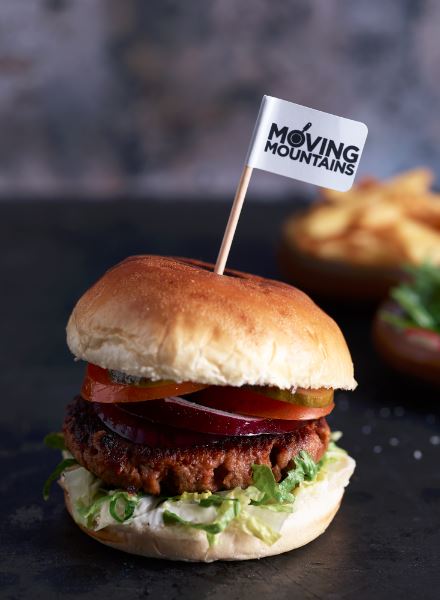 The Alchemist is launching its new winter menu with a first ever plant based, 'bleeding' burger. The new menu, available to all sites by the 31st of October 2018, offers guests a variety of creative dishes across breakfast, lunch and dinner.
The real showstopper of the new menu is the Moving Mountains® Burger, a completely plant based, meatless patty that when perfectly cooked, bleeds just like a real burger but with beetroot juice. Each Moving Mountains® burger is packed with 20gs of plant protein – offering a delicious, environmentally friendly meat alternative for even the biggest carnivore.
The new menu caters for all, including a number of vegetarian and vegan dishes, such as 'Seitan chicken wings' and 'Seitan in a basket'. Moreover, The Alchemist has put its own unique twist on classic British fish and chips, using activated charcoal to transform the batter to black for its 'Alchemy Fish and Chips'. Further delights include melt in the mouth pork belly, a deconstructed lamb kebab – and to help kick-start the morning, ginger and turmeric health shots.
"This season, our kitchen teams have continued to work tirelessly to refresh our menu. We always want to ensure we provide a memorable drinking and dining experience for guests – and of course like to add an Alchemist flare where we can, as the presentation of our food is just as important as the alchemy behind our drinks," said Seamus O'Donnell, Executive Chef at The Alchemist, about the new menu.
A staggering 22 million Brits identify as 'flexitarians' nowadays as a recent report from United Nations' Intergovernmental Panel on Climate Change states that we need to reduce our meat intake to as little as once a week, and if no changes are made, the impacts of food production on the environment will rise by up to 90% by 2050.
"The recent statistics demonstrate the impact meat has on our planet. We believe that small changes can make a huge difference and we are always looking for ways in which we can do our bit – which is why we've teamed up with Moving Mountains® to become one of their first national restaurant partners. The 'bleeding burger' is a delicious and nutritious alternative to meat, and we dare even the biggest of carnivores to try this. It's packed with flavour and protein and will certainly satisfy as a comfort food," explained O'Donnell.