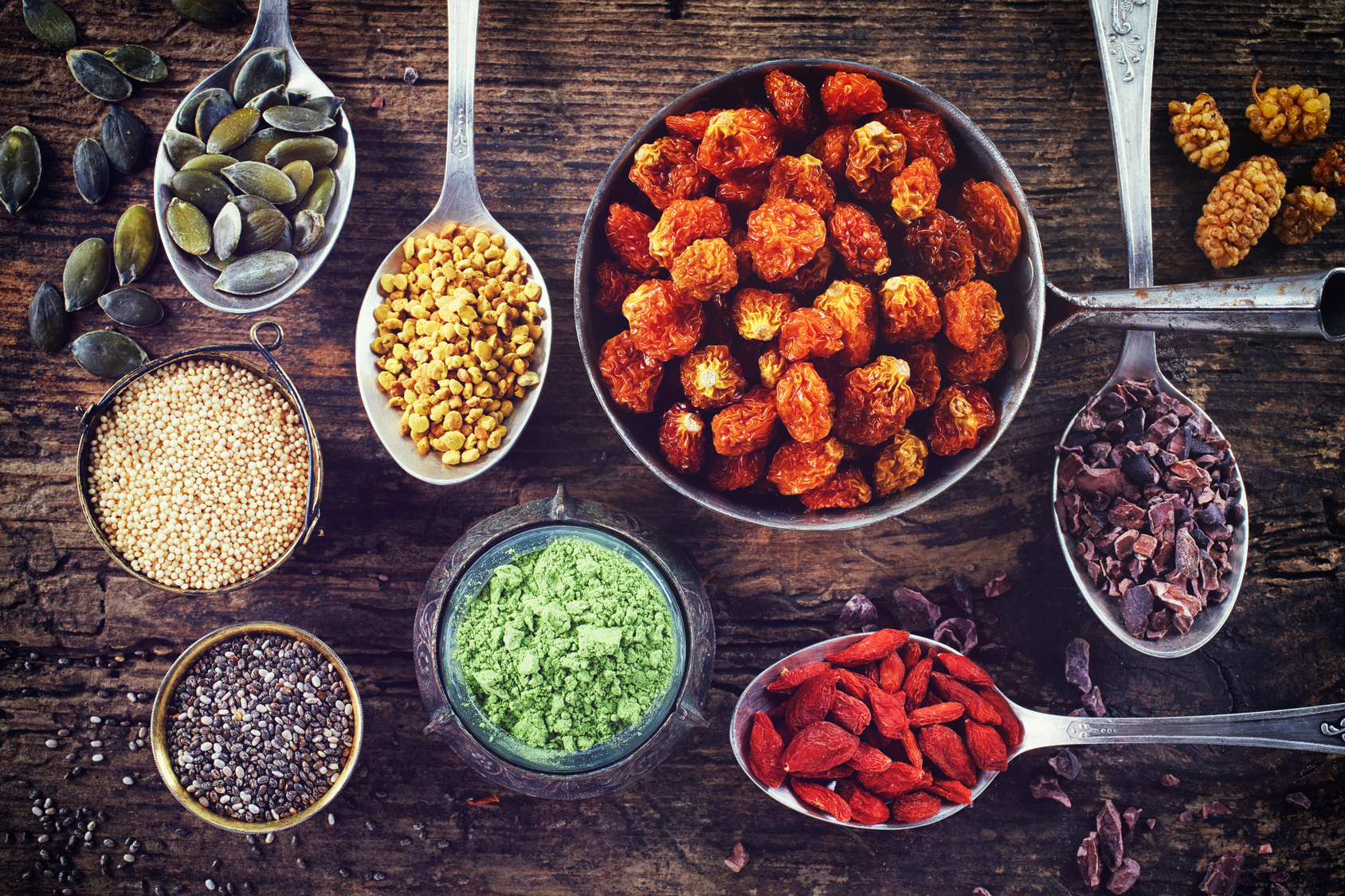 More people than ever are in the pursuit of perfection. Over half of all women in the UK will engage in dieting behaviour this year, while dieting men realise just short of that figure. The food industry cottoned on a long time ago and continues to stimulate people to buy into products marketed as healthy options. Superfood is the latest buzz word on everybody's lips.
Sales of so-called superfoods have soared since the turn of the millennium. The definition of a superfood is problematically hard to pin down but the word commonly refers to, and is emblazoned across the packaging of, foods which are thought to be particularly high in nutrients and which therefore stimulate general wellbeing and may even alleviate certain medical conditions. Though the term originated across the pond, as with most American trends, it was quickly been taken up by the UK as the figurehead of holistic dieting. Thanks to some clever marketing and a whole host of celebrity fans, the industry has totted up a global worth of billions.
In 2007, new EU legislation banned the use of the term superfood where it appeared unattributed to a specific health benefit, combatting concerns raised about customers being misled by advertising and product packaging. Most significantly, the directive "prohibits the use of information that would mislead the purchaser or attribute medicinal properties to food."* Whilst this led many brands to rethink their wording, various products still meet that EU criteria and can therefore be sold under the name 'superfood' legally. Sales of these products show no sign of slowing down.
We took a look at the remaining heroic fare to see what all the fuss was about. Ironically, as well as there being negligible science in the claims of these foods' superiority, looking at what's on the superfood menu only reveals what we already know. Fruit is good for us: superfoodies tend to lean on berries: Açaí, Goji and blueberries appearing in most recipes. Eat your greens: vegetables are a staple in this revolutionary diet. Lean proteins and nuts (the more exotic, the better) are A ok, and even red meat can be enjoyed occasionally, providing it's grass-fed. Herbs and spices are highly recommended for their anti-carcinogen properties but then, we've always been told spicy food is great for metabolism and digestion.
The only difference we could gleam is that a whole new vocabulary is now in place to talk about foods which were previously understood as just healthy. Low-fat, low-carb, low-calorie, clean-eating, skinny, gluten-free*, wholegrain, probiotic etc., as well as a heap of scary jargon at the opposite end: toxins, tanins, high-fat, trans fat, preservatives, additives – the list goes on.
Navigating the market in such conditions is only becoming more difficult as, with each new legislation banning false advertising, we have the emergence of three or four new terms which are unregulated, stamped across our weekly shop. The smart advice is, and always has been, variety. Fad diets are intrinsically transient and will soon run their course at which point the next will be introduced. At present, it might be better to leave outlandishly-priced kale and not-so-appealing green tea off your shopping list and wait out the turbulence.
*According to the C1 Regulation (EC) No. 1924/2006 of the European Parliament and of the Government of 20 December 2006 on nutrition and health claims made on foods.
**Gluten-free food is produced to cater for those with a sensitivity to gluten, a wheat allergy or coeliac disease. For these purposes, there is every reason to opt for a gluten-free which can reduce the symptoms of these conditions. Refer to NHS guidelines before changing dietary habits.