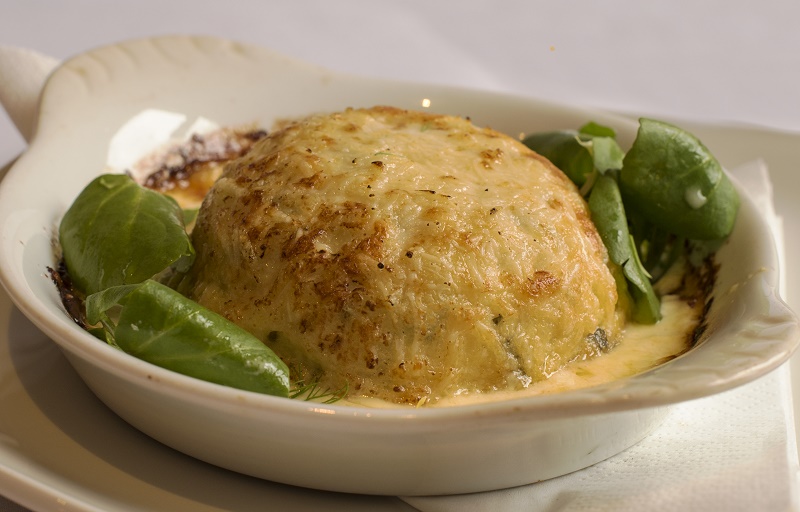 Created by James Cooper, Head Chef at the AA Rosette Coach House Restaurant, this recipe for Twice Baked Cheese Soufflé is easy to make and tastes delicious.
James Cooper is well-known in the Lake District for the way he uses the wonderful local produce and for his creativity skill. His roots are founded in British cooking but his experience takes you well beyond that so expect to find some favourite British dishes but with the odd unexpected twist!
The menu changes regularly at The Coach House Restaurant to reflect the season and its produce; it currently features this Twice Baked Cheese Soufflé dish which has proved to be a hit with diners.
Twice baked cheese soufflé
By James Cooper, Head Chef at The Coach House Restaurant
You will need 4-5 moulds (e.g. porcelain tea cups or dariole moulds) and a deep baking tray
Oven temperature:
Conv 155º C – 45-50 mins
Gas 175º C 50-55 mins
Ingredients
¾ pint/400ml of milk
2oz/50gms butter
2oz/50gms flour
2 medium eggs separated
3 oz/75gms grated cheese, gruyere or strong cheddar
Tsp English mustard
Salt and pepper
Chopped parsley
Grated parmesan
To serve
Double cream
Grated cheese
Method
Grease the moulds with butter and line with finely grated parmesan cheese
Melt the butter in a mixing bowl adding the flour to create a roux. Set aside
Heat the milk in a heavy duty pan to a simmer and then whisk in the roux. Lower the heat and allow the roux to cook for 3-4 minutes stirring with a wooden spoon. Remove from the heat.
Add the mustard, cheese, salt and pepper and parsley to taste. ( At this stage smoked haddock or cooked mushrooms could be added for a different twist)
Whisk the egg whites to a ¾ whip consistency.
Fold the egg yolks into the cheese mixture, followed by 1/3 of the whisked egg whites and then add the remaining whites being careful not to over mix.
Divide between the moulds, filling to just below the top.
Place the moulds into the baking tray and place in the heated oven. Fill the tray with boiling water to half way up the moulds. Close the oven door.
When cooked they should have risen slightly with a brown crust on top.
Remove from the oven and allow the moulds to cool. Then chill in the refrigerator.
To serve
Remove soufflé from the moulds by placing them in a bath of hot water for 10-15 seconds.
Place in a suitable oven proof dish, pour over some cream and top with grated cheese.
Place in a fairly hot oven for about 10 mins until golden brown and bubbling.
The Coach House Restaurant
Bassenthwaite, Keswick, Cumbria, CA12 4QG
www.coachhouserestaurant.co.uk | 017687 76629