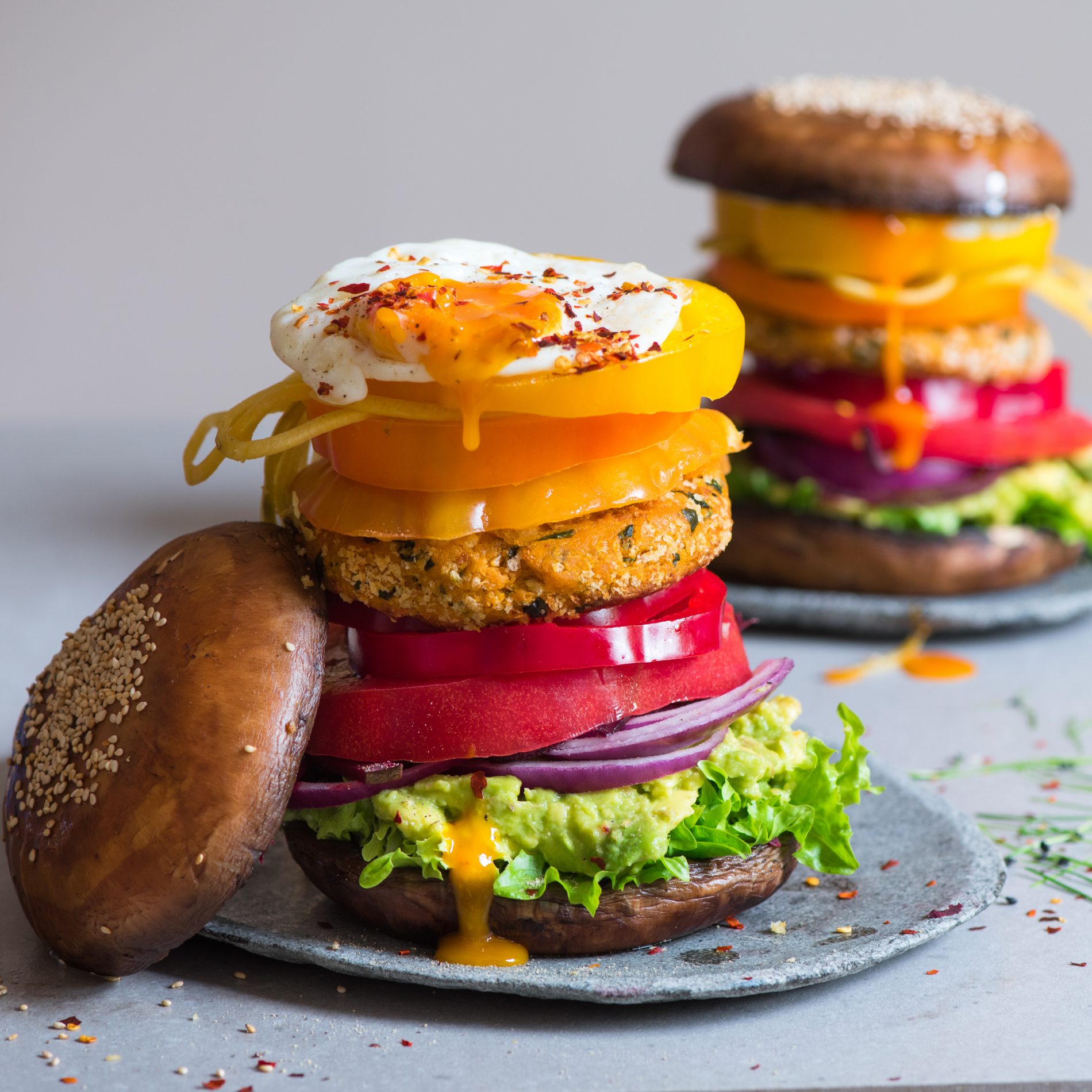 Serves: 1
Cooking Time: 35 minutes
Ingredients:
2 Portobello mushrooms
Handful Spinach/Kale
1 Beef Tomato
Orange peppers
1 Clarence Court Burford Brown Egg
½ Red onion
Avocado
Coconut oil, for pan
For the Burger Patty… ( makes around 4 – Any remaining can be formed into patties and frozen)
1 Small-medium sweet potato, baked
½ can Cannellini beans, drained
¼ cup chopped spinach
1 tbsp tahini
Splash of apple cider vinegar
¼ tsp garlic, onion, cayenne, paprika, black pepper
Additional seasonings – to taste
1/6 cup oat or wheat flour
Panko bread crumbs for crispy 'breading'
Method:
Preheat the oven to 200°C.

Prepare the burger patty first. Bake and peel the sweet potato (to easy-bake you can use the microwave- simply wash, prod with fork several times and wrap in damp paper towel then microwave for 2-3 minutes on either side , till soft)

Add the beans and baked sweet potato to a bowl and mash. Then add chopped spinach, tahini, splash of vinegar and mix.

Add in all seasonings and the flour – if the mixture is still too wet then thicken with extra flour.

Form into patty shape and coat sparingly with panko breadcrumbs for a super-crispy coating. Meanwhile heat ½ tbsp Coconut oil in a frying pan and then cook till browned on both sides ( around 2-3 minutes each side.

To finish the cooking place in the oven for 12-15 minutes.

Meanwhile chop the tomato, red onion and orange pepper into thin slices, ready to stack in the burger bap.

For the mushroom buns- Simply remove stalks and drizzle with oil lightly then season with salt and pepper. Place in a pre-heated grill, stalk-side down for a few minutes ( 5-7 minutes)  turning once towards the end. ( Alternatively you can skip the grill and simply place the mushrooms in the oven at the same time as the sweet potato burger.

When there's only a few minutes left of cooking time then fry a Clarence Court Burford Brown egg in a pan.

Stack burger buns with a layer of spinach or kale, patty, onion, tomato and orange pepper and top with the fried egg.